Central Venous Catheter Market Size, Share & Trends Analysis | Global | 2020-2026 | MedCore | Segmented by: Product Type ( Acute/Chronic, Power-Injectable, Conventional, and Antimicrobial CVCs)
Year:

2020

Scope:

10 Years

Region:

Global

Type:

MedCore
In 2020, the global central venous catheter (CVC) market size was valued at approximately $763 million, with over 27 million CVC insertion procedures performed every year. The global market size is expected to reach $860 million in 2026.
The overwhelming majority of the global central venous catheter market share was controlled by Teleflex, Becton Dickinson, and Cook Medical. Overall, this global market research includes an analysis of global CVC companies spawning across more than 70 countries in the world.
Data Types Included
Unit Sales, Average Selling Prices, Market Size & Growth Trends
Market Forecasts Until 2026, and Historical Data to 2016
Market Drivers & Limiters for Every CVC Market Segment
Recent Mergers & Acquisitions
COVID19 Impact on the Global CVC Market
Disease Overviews and Demographic Information
Central Venous Catheter Market Insights
The acute CVC market segment represented the vast majority of the total CVC market in the United States and North America overall. Growth in the value of the acute CVC segment is expected to apply upward pressure to the size of the North American market by 2026. The acute CVC market is a mature and stable market, and it is expected to continue growing driven by the sales of complex CVC kits.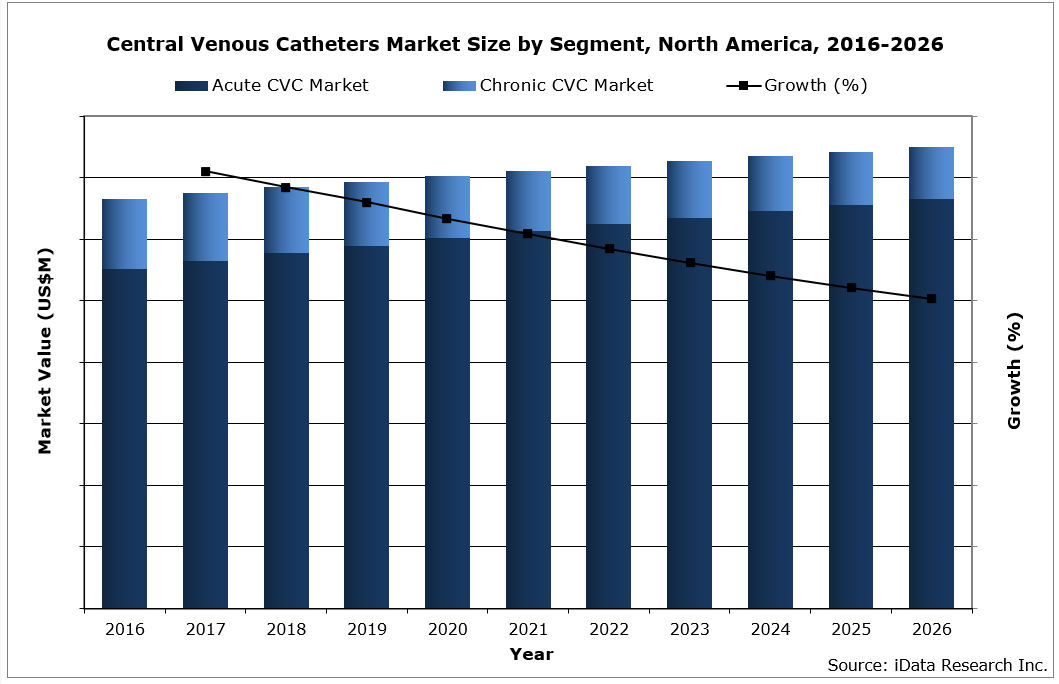 Similar to North America, the largest portion of the European CVC market was taken by the acute market segment. The acute CVC market is expected to experience slight growth over the forecast period, primarily driven by the increasing use of antimicrobial CVCs for high-risk patients. These devices sell at a slight premium to conventional devices, and the conversion to antimicrobial CVCs will lead to growth in the market size in Europe.
Central Venous Catheter Market Share Insight
In 2020, the global CVC market share was controlled by three key competitors – Teleflex, Becton Dickinson, and Cook Medical.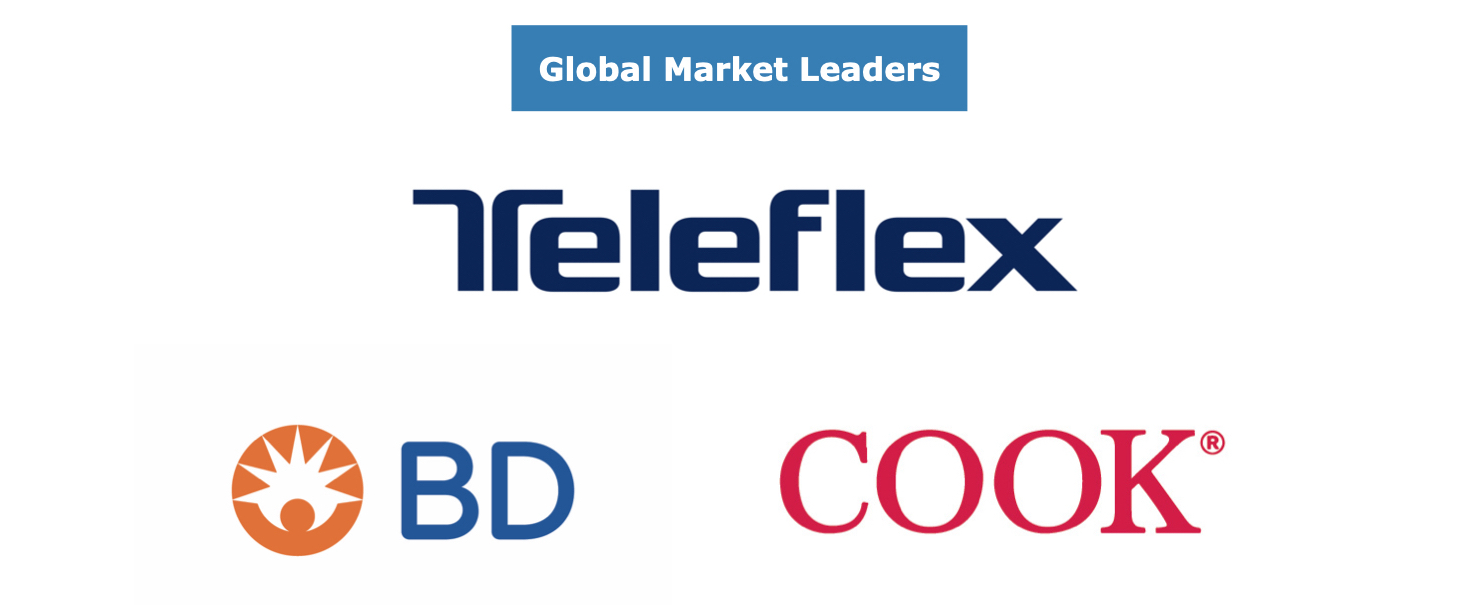 Teleflex was the top-leading competitor within the global Central Venous Catheter market in 2020. The company's ARROWg+ard® coating technology was the first of its kind in the CVC market and has proven to be very effective over the years. Teleflex's success will likely come from adapting this technology to other catheters, owing to the growing concerns of infection and catheter occlusion caused by changes in reimbursement.
Beckton Dickinson (BD) was the second leading competitor in the global market for Central Venous Catheters in 2020.  The company acquired C.R. Bard in 2017, and with that purchase, it also took on Bard's dominating position in the global chronic CVC market. The company's top-selling PowerHohn® CVCs, Hohn® CVCs, PowerLine® CVCs, PowerHickman® CVCs and Hickman® Trifusion® Catheters are indicated for short or long-term use.
Cook Medical was the third leading competitor within the global CVC market. Cook's market share has been relatively stable in the acute CVC market, though there is strong potential for an increase. Cook's Spectrum® CVC is an impregnated antimicrobial CVC that uses minocycline and rifampin.
Report Regional Coverage
Throughout this research series, iData Research has covered several regions in great detail. Each region may be purchased as a stand-alone report, tailoring the data to your needs. The regions covered are:
North America (the United States and Canada)
Latin America (Brazil, Mexico, Colombia, Argentina, Peru, Chile, Venezuela, and Other)
Western Europe (Germany, France, Italy, Spain, Switzerland, Austria, Portugal, Benelux, Scandinavia, and Other)
Central and Eastern Europe (Poland, Turkey, Russia, Greece, Czech Republic, Croatia, Bulgaria, Ukraine, Kazakhstan, Hungary, Romania, Baltic States (Estonia, Latvia, and Lithuania), and Other)
Middle East (Saudi Arabia, UAE, Israel, Iran, Kuwait, Qatar, Bahrain, Oman, and Other)
Asia Pacific (China, Japan, South Korea, India, Australia, Singapore, Indonesia, Malaysia, Thailand, the Philippines, Brunei, Myanmar, Cambodia, Vietnam, New Zealand, Taiwan, Hong Kong, and Other)
Detailed Market Segmentation

DON'T SEE THE SEGMENT OR DATA YOU NEED?
Feel free to contact us or send a request by pressing one of the buttons below.

The
Central Venous Catheters Market Report Suite| Global | 2020-2026 | MedCore
includes analysis on the following companies currently active in this market:
Beckton Dickinson
C.R.Bard
Centurion Medical
Cook Medical
Kimal
MedComp
Medtronic
Merit Medical
Smiths Medical
Teleflex
Vygon
And More
iData's 9-Step Research Methodology
Our reports follow an in-depth 9-step methodology which focuses on the following research systems:
Original primary research that consists of the most up-to-date market data
Strong foundation of quantitative and qualitative research
Focused on the needs and strategic challenges of the industry participants
Step 1: Project Initiation & Team Selection During this preliminary investigation, all staff members involved in the industry discusses the topic in detail.
Step 2: Prepare Data Systems and Perform Secondary Research The first task of the research team is to prepare for the data collection process: Filing systems and relational databases are developed as needed.
Step 3: Preparation for Interviews & Questionnaire Design The core of all iData research reports is primary market research. Interviews with industry insiders represent the single most reliable way to obtain accurate, current data about market conditions, trends, threats and opportunities.
Step 4: Performing Primary Research At this stage, interviews are performed using contacts and information acquired in the secondary research phase.
Step 5: Research Analysis: Establishing Baseline Estimates Following the completion of the primary research phase, the collected information must be synthesized into an accurate view of the market status. The most important question is the current state of the market.
Step 6: Market Forecast and Analysis iData Research uses a proprietary method to combine statistical data and opinions of industry experts to forecast future market values.
Step 7: Identify Strategic Opportunities iData analysts identify in broad terms why some companies are gaining or losing share within a given market segment.
Step 8: Final Review and Market Release An integral part of the iData research methodology is a built-in philosophy of quality control and continuing improvement is integral to the iData philosophy.
Step 9: Customer Feedback and Market Monitoring iData philosophy of continuous improvement requires that reports and consulting projects be monitored after release for customer feedback and market accuracy.
Explore Options
Central Venous Catheter Market Size, Share & Trends Analysis | Global | 2020-2026 | MedCore | Segmented by: Product Type ( Acute/Chronic, Power-Injectable, Conventional, and Antimicrobial CVCs)
$295 – $8,995
2020

10 Years

Global

MedCore
Request Sample Sheets
Request Customization
Related Reports