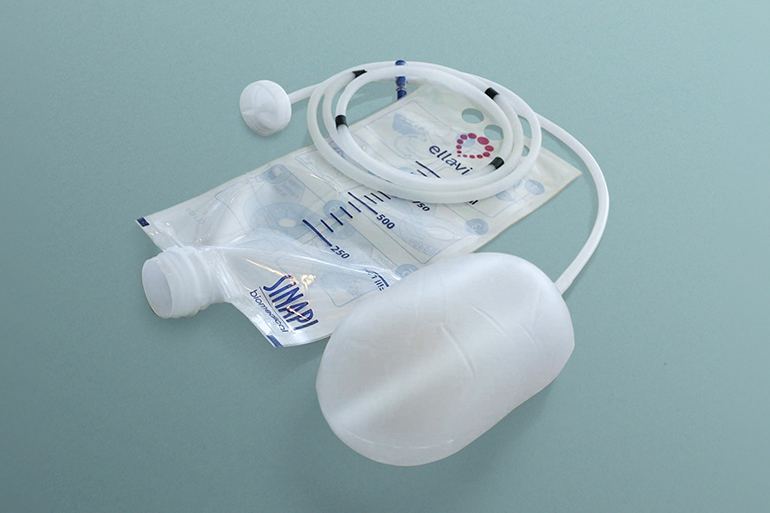 Register to receive a free U.S. Market Report Suite for Gynecological Devices report synopsis and brochure
PATH, a global healthcare organization, and Sinapi Biomedical, a company based in South Africa, have successfully launched Ellavi, the first commercially available, low-cost, fully assembled uterine balloon tamponade that has received internationally-recognized CE marking. In many developing countries, such as those in sub-Saharan Africa, CE marking allows streamlining the procurement of this innovative medical device.
The current World Health Organization recommends identifying the UBT as an emergency intervention for PPH when drug treatment fails or is not available. Current UBT products that have been used for decades in hospitals in high-resource countries cost hundreds of dollars each—putting them out of reach of many health facilities in low-resource countries. Instead, these health facilities rely on improvised balloon tamponades that are assembled on the spot with supplies such as a male condom or latex glove and a catheter pieced together with a string.
"PPH can happen to any pregnant woman, anywhere in the world. These deaths can be prevented; however, the mothers who are most likely to die from PPH are those living in sub-Saharan Africa, reflecting the inequities in access to health care and appropriate technologies," said Elizabeth Abu-Haydar, UBT Product Manager at PATH. "We championed an innovative solution that could prevent the deaths of thousands of pregnant women—a low-cost UBT that performs to the same high standards as those used to save lives in high-resource hospitals, yet is affordable and preassembled for ease of use in health facilities in resource-poor communities."
PATH and Sinapi Biomedical collaboratively developed the Ellavi UBT with assistance from physicians, midwives, and maternal health experts. When the Ellavi balloon is positioned in the uterus by a health care provider, the balloon fills in less than one minute with water from a supply bag. The device is manufactured in Sinapi's factory in Stellenbosch, South Africa, and is certified by the International Organization for Standardization (ISO). Sinapi provides Ellavi at the ex-factory price of US$7.50 for the public sector in low- and lower-middle-income countries. The price to end users will vary based on country-specific tariffs and distribution costs.
According to iData Research, the U.S. market for gynecological devices is valued at over $1.11 billion. This market includes assisted reproduction devices, global endometrial ablation devices, endometrial resection devices, uterine fibroid embolization devices, hysteroscopes, colposcopes, female sterilization devices, female urinary incontinence slings, pelvic floor electrical stimulation devices, fluid management equipment, pelvic organ prolapse repair devices and HSG catheters. Advanced technology in the home-based pelvic floor electrical stimulation device market is also expected to fuel sales in this segment.
iData Research reports that this new technology is expected to facilitate the effortless use of home based devices by improving feedback, comfort and results. Moreover, new technology tends to push up ASP as well as increase sales through aggressive marketing during product launch, both of which drive up the overall market value. As technological innovations in optics and imaging ability improve within resectoscopes, hysteroscopes and colposcopes, the ASP will increase. Especially within this economic climate, it is hospitals that are making the majority of these purchases. Incidentally, hospitals tend to require more higher-end devices with better technological advancements and amenities. This increases the overall ASP of these devices.
"Unique design innovations include our pressure-controlled, free-flow system that applies optimal pressure to the uterine wall to arrest bleeding in minutes, allowing the woman's uterus to contract and relax when its normal function is restored," says Chris De Villiers, Managing Director at Sinapi Biomedical. "We designed Ellavi to be intuitive to use by providers during the most critical moments of their job."
For Further Information
More on the gynecological device market in the U.S. can be found in a series of reports published by iData Research entitled the U.S. Market Report Suite for Gynecological Devices