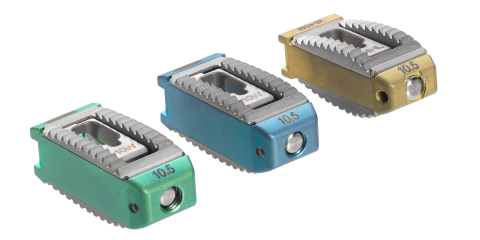 Orthofix International N.V., a global medical device company focused on musculoskeletal healing products, announced the 510(k) clearance and U.S. limited market launch of the FORZA® XP Expandable Spacer System.
Designed to restore normal disc height in patients suffering from degenerative disc disease, the FORZA XP Expandable Spacer System can be expanded after insertion into the disc space in order to fit the patient's anatomy. Made primarily of titanium alloy, these expandable interbodies are used for PLIF (Posterior Lumbar Interbody Fusion) and TLIF (Transforaminal Lumbar Interbody Fusion) procedures. Unlike the incremental expansion offered by some expandable interbody devices, the Orthofix System allows for a continuous controlled expansion and a custom fit to the disc space. Once the desired expansion is achieved the device features automatic locking which further adds to its ease of use.
"The FORZA XP Expandable Spacer System is a strong addition to our robust portfolio and makes Orthofix competitive in one of the fastest growing segments in spine," said Ray Fujikawa, President of Orthofix Spine Fixation. "This new system offers an industry-leading 6.5mm starting height and also enables surgeons to place bone graft material inside the device after implantation. The ability to pack our new expandable device with bone graft post expansion is extremely important to ensure proper contact of the material with the vertebral endplates."
The FORZA XP Expandable Spacer System is indicated for spinal fusion procedures in skeletally mature patients with degenerative disc disease (DDD) at one or two contiguous levels in the lumbar spine. The FORZA XP Expandable Spacer System is intended for use with autograft and/or allograft comprised of cancellous and/or corticocancellous bone graft and supplemental fixation such as the Orthofix Trinity ELITE® allograft tissue and the Firebird® Spinal Fixation System.
About Orthofix
Orthofix International N.V. is a global medical device company focused on musculoskeletal healing products and value-added services. The Company's mission is to improve patients' lives by providing superior reconstruction and regenerative orthopedic and spine solutions to physicians worldwide. Headquartered in Lewisville, Texas, the Company has four strategic business units: BioStim, Extremity Fixation, Spine Fixation, and Biologics. Orthofix products are widely distributed via the Company's sales representatives and distributors.
For Further Information
More on the spinal implants and VCF market in the US can be found in a series of reports published by iData entitled the US Market Report Suite for  Spinal Implants and VCF. This report covers the following market segments: traditional cervical and thoracolumbar fixation devices, interbody devices, motion preservation devices, vertebral compression fracture (VCF) treatment, and spinal instrumentation.
The iData series on the market for spinal implants and VCF covers the U.S., Latin America (Brazil, Mexico, Argentina), and 15 countries in Europe including Germany, France, the United Kingdom (U.K.), Italy, Spain, Benelux (Belgium, Netherlands and Luxemburg), Scandinavia (Finland, Denmark, Sweden and Norway), Portugal, Austria and Switzerland. Reports provide a comprehensive analysis including units sold, procedure numbers, market value, forecasts, as well as detailed competitive market shares and analysis of major players' success strategies in each market and segment. To find out more about spinal implants and VCF market data or procedure data, register online or email us at info@idataresearch.net for a US Market Report Suite for Spinal Implants and VCF brochure and synopsis.