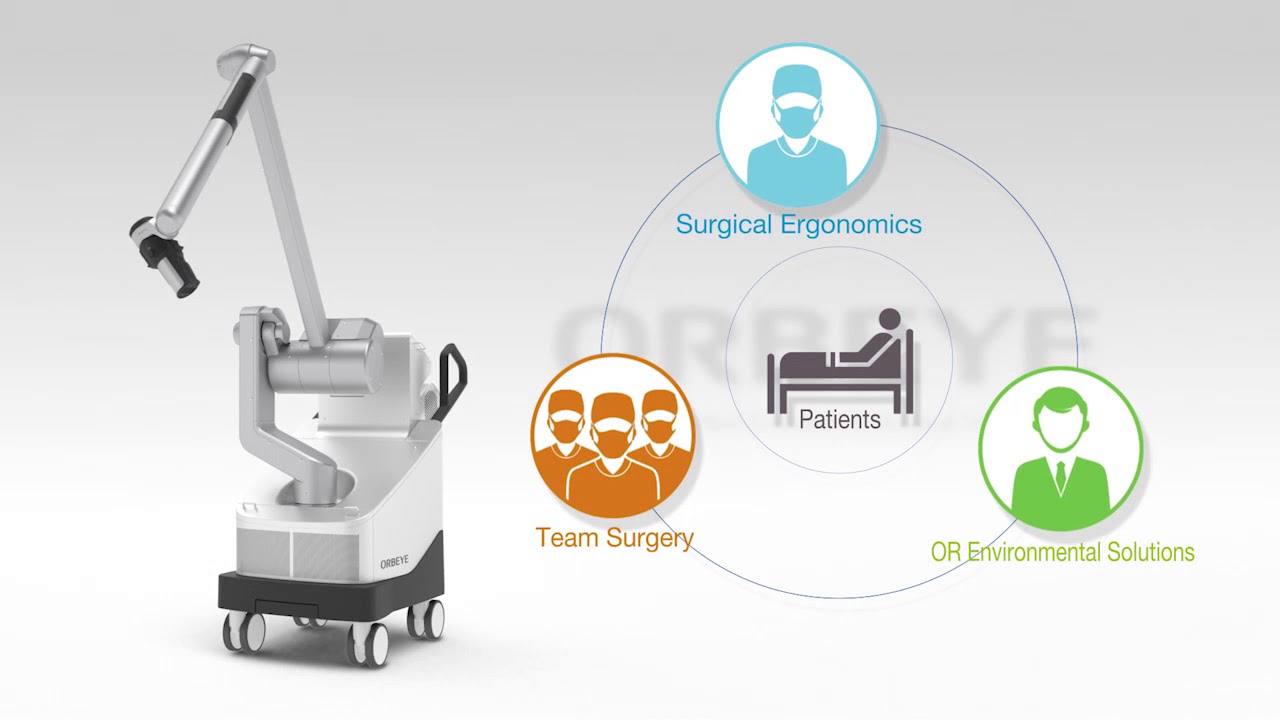 Olympus, a global technology leader in designing and delivering innovative solutions for medical and surgical procedures, among other core businesses,  won Gold in the Digital Imaging category at the 2018 Edison Awards™ with its 4K-3D Video Microscope, ORBEYE. The distinguished awards, inspired by Thomas Edison's persistence and inventiveness, recognize innovation, creativity and ingenuity in the global economy.
"We are thrilled and honored to receive Gold in the digital imaging category of the Edison Awards," said Randy Clark, Group Vice President of Sales and Marketing at Olympus America Inc. "ORBEYE represents the next generation of operative imaging across a range of surgical specialties. Winning this award is an indicator of the change we are bringing to the optical and imaging market for surgeons. On behalf of Olympus, I would like to thank everyone globally at SOMED, Olympus and Sony who have contributed to ORBEYE in making this award possible."
The precise 4K-3D digital images from the ORBEYE video microscope can enable more accurate surgery by providing high-resolution 3D imaging of the structure of tissue, blood vessels and other features. By displaying the progress of surgical procedures on a large 55-inch monitor, the new model has the potential to both reduce surgeon fatigue by eliminating the need for extensive viewing via microscope eyepieces and to include the entire surgical team in the view of the procedure. Because the use of digital technology has made the microscope unit approximately 95 percent smaller in volume than the previous model, it additionally helps free up surgical space and shortens setup times. The microscope unit was also made 50 percent lighter than the previous model to facilitate its transportation between operating rooms.
The benefits of ergonomics, improved precision and ease of positioning in the OR are the result of the following features:
High-resolution

4K

-3D digital images supporting precision surgery — The two Sony

4K

ExmorRTM CMOS image sensors deliver high-sensitivity, low-noise images. The system deploys an image processing circuit designed to work across a wide color range as well as with four times the pixel count of the Full High Definition standard to provide high-resolution digital images during surgery. Because it additionally minimizes the delay associated with the large amounts of data that need to be processed by

4K

-3D systems, ORBEYE provides zero image latency for smoother viewing and manipulation of the target location.
Use of 55-inch

4K

3D monitor helps reduce surgeon fatigue and facilitates team surgery — The new model displays via a monitor and has no eyepiece. This helps reduce surgeon fatigue by allowing a more comfortable working posture without requiring surgeons to spend long periods peering into a microscope lens. Moreover, because the large 55-inch monitor enables the entire surgical team to view the same image, it allows more than one surgeon to operate and improves efficiency by allowing information to be shared with other surgical staff.
Significant reduction in microscope size (95 percent smaller than previous model) helps free up surgical space and shortens setup times — The use of digital technology has made the microscope unit much smaller and it therefore provides the surgeon with additional space to perform operations. The unit's reduced size also allows faster setup times by eliminating the need to make often awkward adjustments to the balance of the arm, and by allowing use of a smaller and easier-to-fit surgical drape to keep the microscope clean.
The name ORBEYE, a combination of "orb" and "eye", expresses the idea of being able to approach things from an angle or direction that was not possible using existing microscopes. It also references the product's potential for global reach. ORBEYE was developed by Sony Olympus Medical Solutions Inc., (SOMED) a joint venture between Olympus Corporation and Sony Imaging Products & Solutions Inc.
Edison Award nominees were judged by more than 3,000 senior business executives and academics from across the nation whose votes acknowledged the Finalists' success in meeting the award's stringent criteria of quality.
Source: https://www.prnewswire.com/news-releases/olympus-receives-prestigious-gold-award-in-2018-edison-awards-for-digital-imaging-300629250.html
For Further Market Information
More can be found in a series of reports published by iData Research entitled the U.S. Market Report Suite for Video and Integrated Operating Room Equipment 2018. The U.S. market for video and integrated operating room (OR) equipment includes integrated OR components, hybrid OR components and imaging systems, surgical camera systems, digital image capture and recording devices, surgical displays and PACS monitors, medical photo printers, surgical lighting, booms, tables, microscopes, and integrated OR management software.
iData's suite of reports on this subject cover the United States, 15 countries in Europe as well as Japan, China, and South Korea. These include a comprehensive analysis on units sold, market values, average selling prices, forecasts, as well as detailed competitive market shares and analysis of all major players.
Email us at info@idataresearch.net or register online for a U.S. Market Report Suite for Video and Integrated Operating Room Equipment 2018 brochure and synopsis.