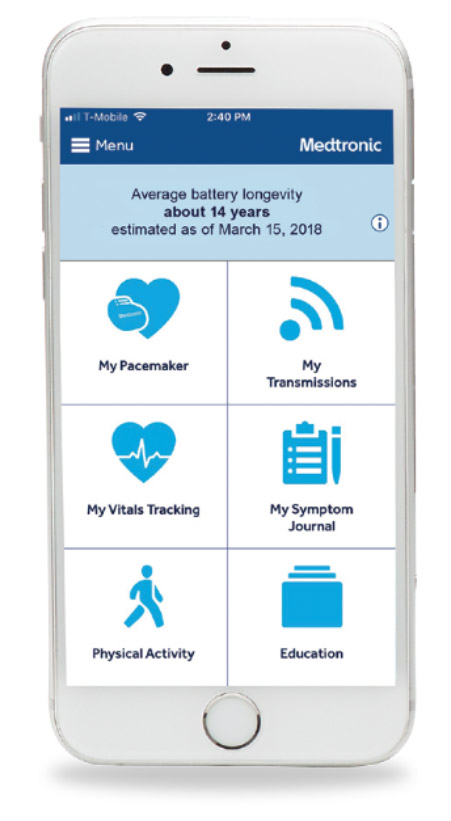 On January 15th, Medtronic announced their launch of MyCareLink Heart™, the world's first companion mobile app for their smartphone-enabled portfolio of pacemakers. The product line equipped with smart connectivity includes the Azure™ pacemaker and the Serena™ and Solara™ quadripolar cardiac resynchronization therapy pacemakers.
The MyCareLink Heart™ app is compatible with Medtronic products enabled with BlueSync™ technology and is intended to wirelessly transmit data to the CareLink™ network securely. As this product utilizes existing smart technology in the patient's lifestyle, it eliminates the need for extraneous bedside monitors or other remote monitoring hardware.
The CareLink™ network provides physicians with convenient alerts for significant patient events and allows certain pacemaker data to be accessible to patients, including battery information, transmission success logs, updates on physical activity, and answer to common questions about life with a pacemaker. In total, the MyCareLink™ mobile app provides 7 key features: transmission history, vitals tracking, battery longevity, symptom journal, personal device information, general pacemaker education, and physical activity logs.
In addition to the benefits of the aforementioned features, the product ecosystem prioritizes high-level security capabilities. The security measures implemented in both the BlueSync™-enabled devices and the MyCareLink Heart™ application itself include thorough encryption and select access restrictions in order to protect the device system and its data transmissions.
According to the U.S. Cardiac Rhythm Management report published by iData Research, new technologies such as the MyCareLink™ app and BlueSync™ technology are strong driving forces in the pacemaker industry. Additionally, advances in detection and treatment software are expected to press the market forward as similar data transmission devices become more commonplace for the diagnosis of certain cardiac events that are difficult to detect.
"For the first time, pacemakers have the ability to communicate securely and directly with technology that patients use every day like smartphones and tablets," said Aisha Barry, vice president and general manager for the Connectivity & Insights business, which is part of the Cardiac and Vascular Group at Medtronic. "This brings the benefits of remote monitoring seamlessly into patients' lives, potentially leading to enhanced and more efficient patient engagement with their physicians."
For Further Information
More on the cardiac rhythm management (CRM) market in the US can be found in a series of reports published by iData entitled the US Market Report Suite for Cardiac Rhythm Management. This report encapsulates the CRM market as a whole and explores Medtronic's position in the CRM industry.