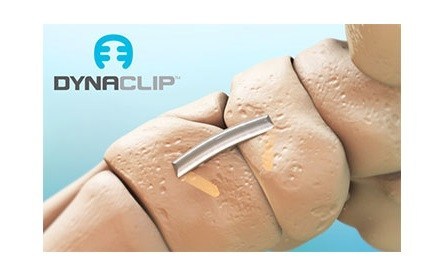 Register to receive a free Small Bone and Joint Orthopedic Devices Market Report Suite for US synopsis and brochure
MedShape has recently announced the full commercial launch of the DynaClip™ Bone Fixation System, which utilizes superelastic nickel titanium (NiTiNOL) technology. The DynaClip provides benefits in the bone stapling industry by providing not only dynamic compression, but also reliable durability in order to withstand the complex loading conditions of the foot and ankle. For additional efficiency during surgery, the system is provided sterile with consolidated all-disposable instrumentation.
NiTiNOL staples are often hailed as easy-to-use, with the ability to continuously apply compression force across the site of fusion post-procedure. While typical staple designs create stress concentrations at weak points due to the narrow metal bridge shape, the DynaClip's patented design uses a broad bridge with thickened legs to properly distribute stresses as naturally as possible across the bridge and away from implant corners. This gives the system a heightened bending strength and break resistance under cyclic fatigue when compared to competitor staples.
Alexander Pappas, M.D., with OrthoSC in Myrtle Beach was one early adopter of the DynaClip. "I have been impressed with the DynaClip staple's solid fixation," said Dr. Pappas. "The DynaClip's simple and intuitive instrumentation also allows for a quick implantation."
Similar devices may also require a different drill guide for each staple size, while the DynaClip uses a universal drill guide for all size offerings. The array of options includes nine different sizes, including multiple leg lengths, to properly cater to all patient anatomy in the forefoot, midfoot and hindfoot without compromising utility. Additionally, the disposable instrumentation that is included with the DynaClip system ensures that the procedure is streamlined and that no time is wasted in the operating room.
Market research in small joint orthopedics, offered by iData Research, reveals that the staple fixation market is exhibiting impressive growth. The growth rate, having just surpassed 12%, is projected to increase even further throughout the forecast period, closing in on 13%. Currently, shape memory staples constitute a much larger portion than mechanical compression staples, due to better clinical outcomes. Additionally, shape memory staples can be offered in NiTiNOL –such as the DynaClip – which carries a much higher average selling price, propelling market growth.
"We are pleased to continue to leverage our NiTiNOL technology to provide foot and ankle surgeons with smart, innovative devices like the DynaClip," said Kurt Jacobus, Chief Executive Officer of MedShape, Inc.  "The DynaClip with its durable design, instrumentation, and numerous size offerings, is an excellent complement to MedShape's growing foot and ankle product portfolio."
For Further Information
More on the small bone and joint orthopedic devices market in the U.S. can be found in a series of reports published by iData entitled the U.S. Market Report Suite for Small Bone and Joint Orthopedic Devices.