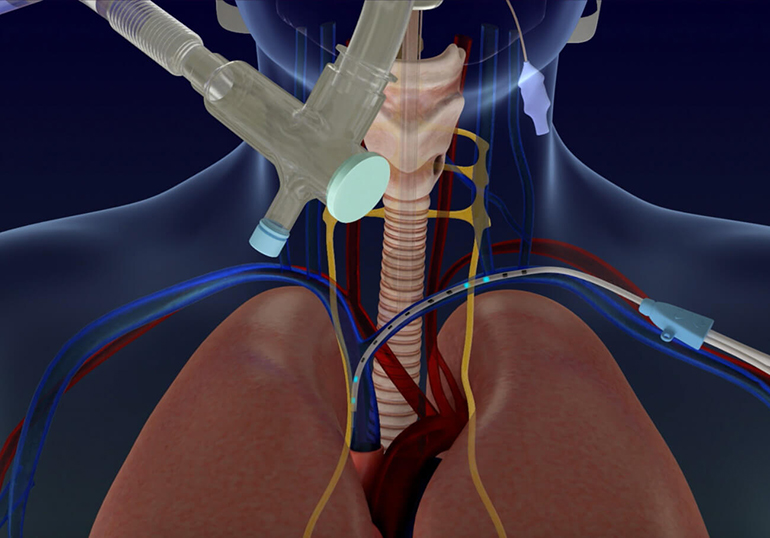 Vancouver-based company Lungpacer Medical has developed a single-use multi-electrode stimulating catheter that is inserted into the left subclavicle vein. It is used to stimulate the left and right phrenic nerves, providing support to the functioning of the diaphragm in patients who have respiratory issues. The device is paired with an external, reusable control unit to administer the delivery of the electrical charges.
Patients that are connected to ventilators for prolonged periods of time are more at risk of complications from ventilator use, such as diaphragmatic dysfunction, and atrophy of the diaphragm muscle. These complications place patients at risk when they are weaned off of ventilator use. COVID-19 infection has led to higher rates of prolonged usage of ventilators, leading to a need for new strategies to improve weaning off of ventilation. The Diaphragm Pacer Therapy (DPT) system from Lungpacer electrically stimulates the diaphragm to support the respiratory system of patients who have suffered from complications of ventilator use. This reduces their symptoms of diaphragmatic complications, and it allows for safer weaning off of ventilators.
The FDA has now stated that "the Lungpacer DPTS may be effective at treating patients during COVID-19 by helping wean patients off ventilators in healthcare settings, thereby reducing their risks of prolonged mechanical ventilation and increasing the availability of ventilators during the COVID-19 pandemic." As a result, they have approved the emergency use authorization of the Lungpacer DPT system.
Doug Evans, the CEO of Lungpacer, expressed the potential importance of this device, stating that "this amazing honor provides a unique opportunity to help improve outcomes for many patients affected by this global health crisis."
COVID-19 has already caused significant social and economic impacts on medical device organizations worldwide. At iData Research, it is our prime responsibility to keep you updated on the latest market trends in the industry. We are working hard to update the contents of our report library to reflect on changes in the market due to the effects of the coronavirus. Through our MedSKU service, our clients are able to track the changes within different market segments based on hospital purchasing data.
In addition, we have created a dedicated page, COVID-19: Implications for the Medical Device Industry, to post news updates and provide information on the current market situation. It is our intention that this page can help industry leaders ask the right questions, and shed light on what the future might hold for medical device markets.
CMS Recommends Reopening Healthcare in Areas of Low COVID-19 Cases CMS Recommends Reopening Healthcare in Areas of Low COVID-19 Cases