KaVo Kerr's Universal Cement that Simplifies Cementation Processes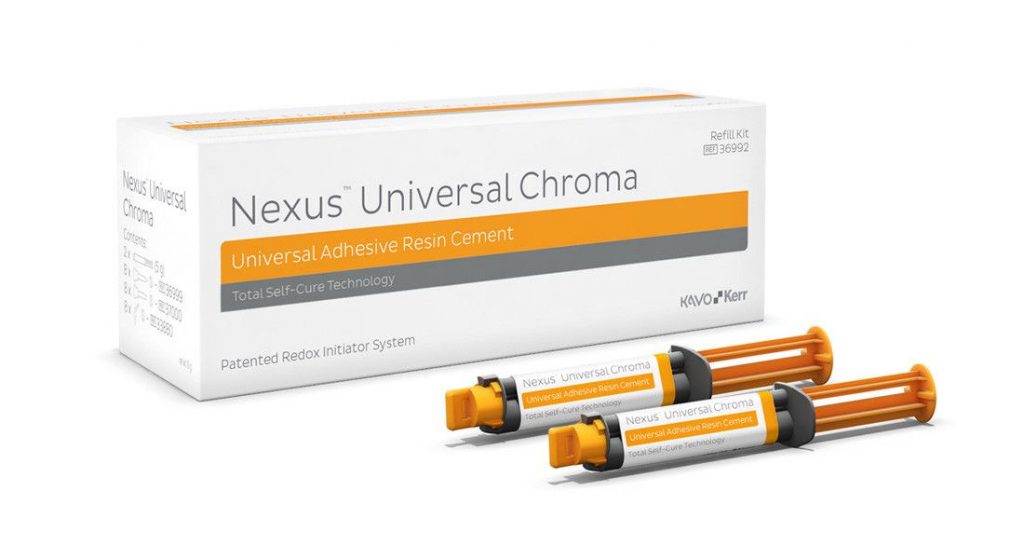 Kavo Kerr releases Nexus Universal, a universal adhesive resin cement that simplifies the cementation process and reduces the number of steps needed by almost half. Kavo Kerr claims universal cement adheres to any substrate with up to 2x the bond strength.
Nexus Universal is compatible with a full range of indirect restorations and any universal bonding agent, including gold-standard OptiBond adhesives. The cement offers Kavo Kerr's One-Peel Cleanup or a smart pink indicator which fades with time to alert the technician the best window of time to clean off excess cement. The cement uses a proprietary redox indicator system that eliminates colour discoloration for long-lasting results. Overall, Nexus Universal is able to simplify practitioners' tasks without dictating how the practitioner uses the product.
"Nexus Universal provides the simplicity and flexibility clinicians are looking for… With Nexus Universal, clinicians have the choice of using a primer or not, light curing, using a dual-cure activator, or skipping those steps entirely with a quick dark cure. They can continue using their preferred protocols, and be confident in a strong bond."

– Yoshita Chaudhri, Senior Marketing Manager at KaVo Kerr
The elderly population in the U.S. is growing and as this happens, people will experience more wear and tear on their teeth and will require more dental work. With the growing number of patients, dental practices will need to expand in order to accommodate. This expansion will contribute to universal growth across the market. According to iData's recent study on the dental equipment market, the U.S. dental operatory equipment market is expected to increase at a CAGR of 4.9%, to approach a value of $2.9 billion by 2025.
For Further Information
To get in an in-depth global market analysis including interviews, procedural volumes, and forecasts until 2025, please refer to iData Research's 987 page study titled Dental Equipment Market Analysis, Size, Trends | 2019-2025 | MedSuite