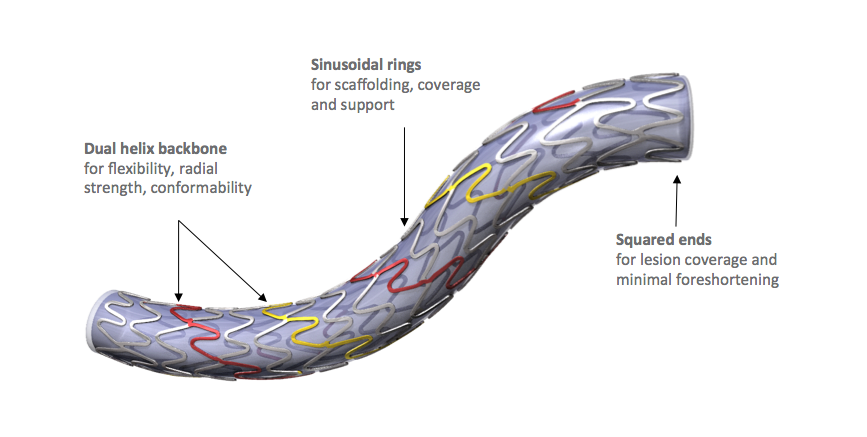 Tokyo-based OrbusNeich Medical K.K., has received Shonin approval by the Ministry of Health Labour, and Welfare (MHLW) for their COMBO Plus Coronary Stent. This new entrant into the coronary stent segment of the interventional cardiology market is designed to address risks correlated to delayed healing times found with conventional drug-eluting stents (DES). If left unresolved, a prolonged wound heal can lead to stent thrombosis.
Register to receive a free Interventional Cardiology Market Analysis, Size & Trends Report synopsis and brochure
The COMBO Plus Coronary Stent is the first DES that utilizes the proprietary endothelial progenitor cell (EPC) capture technology from OrbusNeich. It is used with with an abluminal sirolimus drug elution, which is delivered from a biodegradable matrix polymer. The polymer matrix has a pro-healing antibody surface coating for an improved EPC capture from the circulating blood, which results in wounds healing more completely, while also improving endothelial functionality
According to iData Research, the drug-eluting stent market continues to represent the largest segment in the total coronary stent market. The continued publication of clinical studies supporting the safety and efficacy DES as the gold standard for stenting procedures is a large contributing factor. This recent approval for OrbusNeich follows this trend through its multi-center HARMONEE (Harmonized Assessment by Randomized, Multi-center Study of OrbusNEich's COMBO Stent) review. The COMBO Plus Coronary Stent can expect to drive positive change in the coronary stent segment of the interventional cardiology market
"The OrbusNeich Combo DES with endoluminal biologic endothelial progenitor cell capture technology has just become the first coronary device approved for clinical use in Japan based on the HARMONEE study," said Dr Mitchell Krucoff, Duke University Medical Center, Durham, N.C, USA, and the Global Co-Principal Investigator for the HARMONEE trial. "Not only is this a huge success for the COMBO DES, but it is also a first-in-kind proof of concept for the Japan-USA Harmonization by Doing program (HBD)."
CEO of OrbusNeich Medical, David Chien, believes that "the market approval of the COMBO Plus Coronary Stent in Japan is a tremendous achievement for the entire OrbusNeich organization." He emphasized that "a well-coordinated global effort was required to obtain the Japan market approval of a unique product such as the COMBO Plus Coronary Stent.  We expect this approval to allow OrbusNeich build on our strong market position in the Japan percutaneous interventional market."
For Further Information
To get in an in-depth market overview of 18 countries, with insight through primary research and procedural volumes, please read iData Research's' 3,263 page Interventional Cardiology Market Analysis, Size & Trends Report.