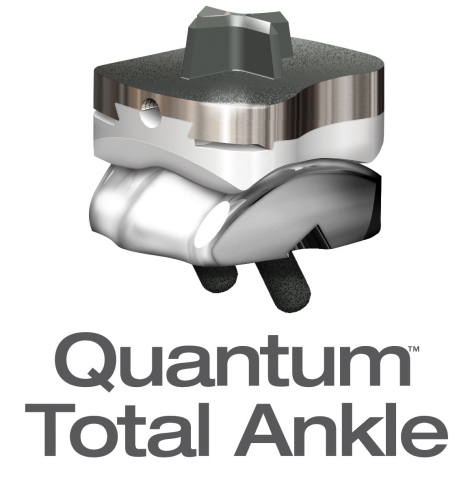 In2Bones, a global extremity company, receives FDA 510(k) clearance for its Quantum Total Ankle.
The ankle replacement is designed to improve the mobility and stability for patients suffering from arthritis.
The implant's talus has a dual radius of curvature which improves dorsi and plantar flexion. Unlike other total ankles, the vertical stem in the tibia of the Quantum total ankle is cruciate-shared in order to increase stability and fixation.
The Quantum Total Ankle will include In2Bones' OrthoPlanift Patient-Specific Instrumentation (PSI), which will generate 3D printed guides to be used during the surgery.
"There is a huge need for innovation in PSI for the total ankle, and the benefit to the surgeon and the patient with OrthoPlanify far exceeds what's currently available to them."

– Jon Simon, Sr. VP of Marketing at In2Bones
A controlled market release of the Quantum Total Ankle will begin this summer, with a full market release by early 2021.
iData Research's analysis of the total market for small bone and joint orthopedic device market shows that the market has been driven by new developments in its two largest segments: shoulder reconstruction and the foot and ankle device market. The foot and ankle market experienced increasing product diversity, fueled by disease complications and patients' demographic changes (ageing, coupled with an increasing number of younger patients). The small joint reconstruction market is strongly interlinked with trauma fixation and sports medicine, forcing orthopedic surgeons to constantly expand their skills and techniques in related fields.
In 2018, the U.S. small bone and joint orthopedic device market was found to be valued at $2.5 billion. iData Research's analysts expect the market value to increase at a CAGR of 5.9% to reach nearly $3.8 billion by 2025.
For Further Information
To receive an in-depth, global market analysis refer to iData Research's report titled, Foot and Ankle Devices Market Analysis, Size, Trends | Global | 2019-2025.