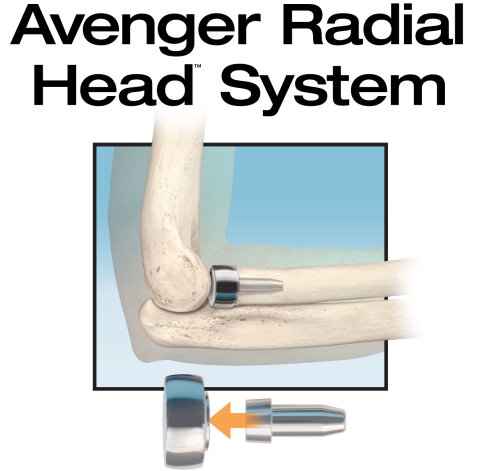 In2Bones launches Avenger Radial Head Prosthesis System for primary and revision radial head replacement surgery.
The prosthesis, which restores elbow joint function, is the first radial head implant to include sterile, single-use instrumentation.
Severe radial head fractures, commonly resulting from elbow trauma, require radial head replacement surgery. Single-use instrumentation is much more readily available for emergency trauma surgery, reduces the risk of instrument contamination, and can have cost savings up to $400 per surgery.
Jon Simon, Sr. Vice President of Marketing at In2Bones comments on the importance of single-use instrumentation:
"Currently, radial head implant suppliers ship non-sterile instrument sets nationwide for short-notice cases, which can cause potential delays and can increase costs. The Avenger Radial Head System can be placed on shelves and be ready for immediate use, on-demand. Additionally, surgeons and caregivers can be assured that the sharp, precision instrumentation will only ever contact one patient."
Trauma can cause inflammation around the elbow joint, making the joint difficult to access during surgery. The Avenger System uses a smooth stem radial head with a shorter, tapered stem for easier surgical insertion. In addition to making the insertion process easier, studies show that smooth stem implants have better long-term results for patients.
Small Bone & Joint Device Market
Overall, the total small bone and joint device market is maturing and its continuing growth is slowing down. This can be attributed to increasing product diversity and competition, price deterioration and regulatory and financial barriers to enter the market. However, the niche markets, such as hand and wrist devices and elbow repair, continue to provide an opportunity for emerging competitors with new implants, like the Avenger System. Despite the overall continuous market growth slowing, the market value is still expected to increase at a CAGR of 5.9% to reach nearly $3.8 billion by 2025.
To get in an in-depth global market analysis including interviews, procedural volumes, and forecasts, refer to iData Research's report suite Small Bone and Joint Devices Market Analysis, Size, Trends | Global | 2019-2025 | MedSuite, or read our focused segment on Elbow Repair Devices Market Analysis | United States | 2017-2023 | MedCore.