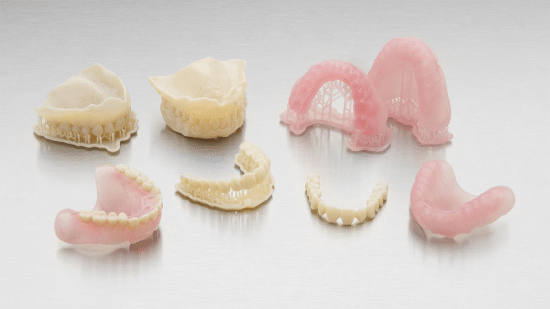 Register to receive a free U.S. Market Report Suite for Dental Prosthetics report synopsis and brochure
Formlabs has introduced Digital Dentures, a direct 3D-printed dental prosthetic that has undergone rigorous testing with dental technicians. The products' materials, entitled Denture Base Resin and Denture Teeth Resin, allow dental practices and labs to create fully 3D-printed dentures with precision and reliability.
Non-3D-printed dentures are time-consuming and labor-intensive to make, requiring several patient visits and production steps. The high level of skill required for denture manufacturing leads to many technician staffing issues for dental labs, as there is a shortage of professionals with this specific skillset.
3D printing benefits and simplifies the typical denture manufacturing process. For instance, 3D-printed dentures have a much lower production cost, with material costs of around $10 while traditional dentures' materials cost $50. Also, this new technology is able to produce dentures more accurately and consistently than traditional methods, with intuitive and adaptive tools. Remakes are also simplified and quick, since digital denture designs are reusable, shareable and modifiable while being easy to reproduce with 3D printing. Finally, this technology allows the patient to have truly custom teeth, rather than remanufactured denture cards.
Market research on the dental prosthetics industry published by iData Research reveals that digitization is prominently driving growth in the denture market. This concept encompasses both CAD/CAM and 3D printing methods, such as Formlabs' Digital Dentures. While a large portion of the digital denture market is currently in clinical, model or trial stages, more innovations are expected to emerge in this category, and thus market approvals will be more common. As digital products are offered with a slightly marked up selling price due to their low materials cost, the digital market is expected to grow substantially throughout the forecast period, with their growth driving the total denture market upward.
Source
For Further Information
More on the dental prosthetics market in the U.S. can be found in a series of reports published by iData entitled the U.S. Market Report Suite for Dental Prosthetics.