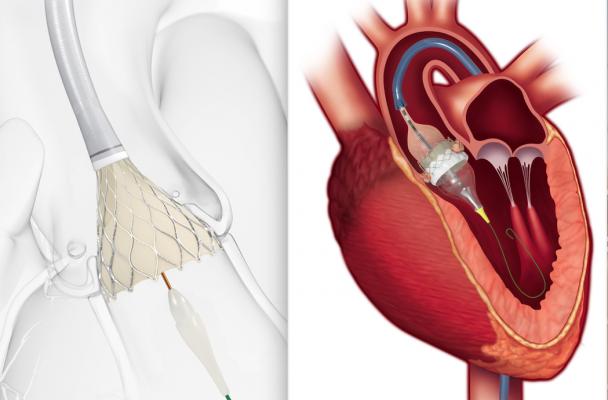 Register to receive a free U.S. Market Report Suite for Cardiac Surgery  report synopsis and brochure
Previously, minimally invasive procedures for replacing a heart valve have targeted patients considered too risky for open-heart surgery. Recently, the FDA has announced that younger and potentially more active patients can take that option as well. Medtronic and Edward Lifesciences both state that their devices can be used in all surgical risk categories. The company's clinical trial proved that the TAVR procedure is safe and effective in low-risk patients across three device generations and was coupled with shorter hospital stays and improved quality of life.
According to iData Research Inc., the largest segment of the cardiac surgery market is the transcatheter heart valve replacement (TAVR) market. TAVR is a rapidly growing segment and is projected to maintain its dominance in this market. The growth comes from the trend towards minimally invasive procedures, allowing it to cannibalize the surgical heart valve market which is used in open heart procedures.
"This new approval significantly expands the number of patients that can be treated with this less invasive procedure for aortic valve replacement and follows a thorough review of data demonstrating these devices are safe and effective for this larger population," said Bram Zuckerman, M.D., director of the Office of Cardiovascular Devices in the FDA's Center for Devices and Radiological Health.
Zuckerman elaborates: "As the FDA assesses new medical technologies or expanded uses for previously approved products such as these, the agency remains committed to evaluating evidence from clinical trials and real-world clinical data in both the premarket and postmarket settings to ensure patients have access to high-quality, safe, and effective medical devices."
"Low-risk approval effectively eliminates the 'risk class' criteria for evaluating patients' aortic valve replacement (AVR) treatment plan. Moving forward, the standard of care for AVR will shift towards transcatheter aortic valve replacement (TAVR) for younger, healthier patients, with the average TAVR patient age declining from about 80 today to 65 over the next few years", explains Sean Collins, Analyst Manager at iData Research.
"Nonetheless, the lack of long-term data on transcatheter aortic valve durability will limit the expansion of TAVR into the <65 demographic" Collins states.
"We expect to see significant cannibalization of the surgical aortic heart valve replacement (SAVR) market as TAVR advances. However, not all segments of the SAVR market will be impacted equally. Mechanical heart valves (typically implanted in patients 50-65 years of age) and stentless allograft valves (typically implanted in pediatrics and younger adults) address younger target populations than TAVR and, as a result, are well equipped to weather the storm. In contrast, stented tissue heart valves (typically implanted in patients 55-75 years of age) will now target a similar demographic as TAVR and will take the largest hit" Collins says.
iData Research reports that Edwards Lifesciences is a major market player in the United States cardiac surgery market. The majority of Edwards Lifesciences' market share comes from their dominance in the transcatheter heart valve replacement segment. However, as of August 21, 2019, one of their newest products, the SAPIEN 3 Ultra, has been hit with a class 1 FDA recall. Despite this recall, the products have not been pulled off the shelf, but rather, cautionary instructions given to physicians regarding proper use.
Medtronic trails closely behind Edwards in the cardiac surgery market. Medtronic's strong position comes from their presence in the transcatheter heart valve replacement segment with their CoreValve Evolut R® Transcatheter Aortic Valve Replacement product. Medtronic also has a strong presence in the ventricular assist device, off-pump coronary artery bypass device and extracorporeal membrane oxygenation segments.
For Further Information
More on the cardiac surgery and heart valve market can be found in a series of reports published by iData entitled the U.S. Market Report Suite for Cardiac Surgery.