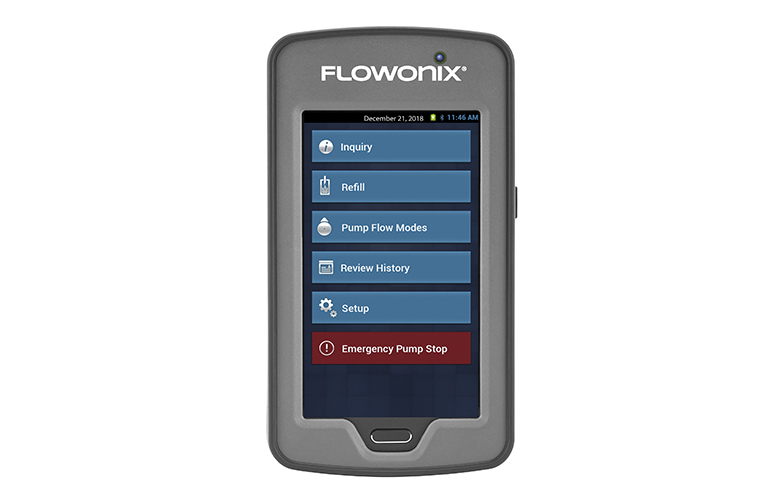 Register to receive a free U.S. Market Report Suite for Infusion Therapy Device –MedSuite report synopsis and brochure
Flowonix Medical, Inc. announced on February 5th that the United States Food and Drug Administration (FDA) has granted them market approval for their Maestro™ Software for Clinician Programmers. The product is intended to benefit user experience for patients and practitioners. The software update is set to be introduced in practices nationwide by the end of this month.
"Physicians continue to be drawn to the Prometra System due to its ability to provide consistently accurate dosing using a novel micro-bolus delivery mechanism that delivers medication rapidly and broadly to the spinal cord," said Jason Poston, MD, an interventional pain physician in Idaho Falls, Idaho. "The easy-to-use Flowonix Maestro Software will further simplify the process of introducing this pump technology into physicians' practices, and, more importantly, increase the opportunities for patients to benefit from it."
The new software update includes improvements such as automatic calculation capabilities, Periodic Flow and Multiple Rate Flow enhancements, and a decreased complexity in programmer workflow. These measures are intended to increase flexibility of dosing during bridge blousing and ensure that each critical step is correctly accomplished during device programming. These changes are meant to complement the already easy-to-use and robust design implemented in the Prometra Clinician Programmer.
The device affected is the Prometra® II Programmable Infusion System, which is used for intrathecal drug infusion. Therapies include Infumorph, a preservative-free morphine sulfate sterile solution; sodium chlorine injection, a preservative-free 0.9% saline solution; and baclofen, an intrathecal baclofen injection.
Infusion therapy market research published by iData Research reveals that 'Smart Pumps' such as the Prometra® II are significant drivers to the infusion pump market. This is due to several factors, including a reduction in errors due to the pumps' connection to a hospital information management system, as well as frequent evaluations of treatment sequence and patient reaction. This grants systems on both an individual and hospital level the capability of monitoring, detecting, and correcting patient issues more efficiently.
"We are excited to introduce the Flowonix Maestro Software into clinics around the country, as the enhancements included in the software were driven by feedback provided directly by our customers," said Larry Heaton, President and CEO, Flowonix Medical, Inc. "We are confident the combination of the Flowonix Maestro Software and the novel drug delivery mechanism of the Prometra Pump will strengthen our position in the marketplace and set the company up for long-term success in targeted drug delivery."
For Further Information
More on the infusion therapy device market in the U.S. can be found in a series of reports published by iData entitled the U.S. Market Report Suite for Infusion Therapy Devices.