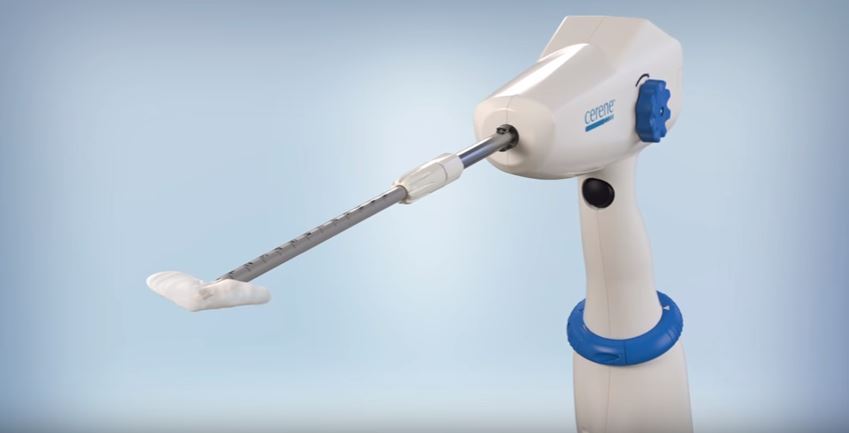 Register to receive a free U.S. Market Report Suite for Gynecological Devices report synopsis and brochure
The U.S. Food and Drug Administration (FDA) has recently approved Channel Medsystems' Cerene® Cryotherapy Device, a new innovation for the treatment of heavy menstrual bleeding in premenopausal women. The device is intended to reduce future menstrual bleeding in those who are not planning to become pregnant.
The Cerene device utilizes cryotherapy to freeze the uterine lining, resulting in a noticeable reduction of future menstrual bleeding. The procedure does not require general anesthesia due to the numbing nature of cryotherapy, and can thus be performed in a gynecologist's office. In contrast, heat-based endometrial ablation procedures often require general anesthesia and are performed in hospitals or surgery centers.
This device underwent the CLARITY pivotal study, which supported the safety and effectiveness of the Cerene device and its FDA approval. CLARITY included the treatment of 242 subjects total, and at 12 months, a reduction in menstrual bleeding was observed to be greater than the predetermined treatment goals. CLARITY is the first to provide the benefit of data on both patient pain experience and post-ablation cavity access, two key factors for gynecologists when selecting an endometrial ablation device. Subjects reported a median pain score from 0 to 2 on a 10-point numeric pain scale with no patients requiring general anesthesia. Additionally, hysteroscopies performed a year following the procedure showed an accessible uterine cavity in 98.7% of the 223 available patients.
Market research on the gynecological device market published by iData Research demonstrates that the endometrial ablation device segment is the largest in the overall market, representing approximately one-third of the total market value. Types of endometrial ablation include thermal balloons, hydrothermal, radiofrequency and of course, cryoablation. Cryoablation was the least used type of device, mainly due to the long procedure time of approximately 20 minutes. However, as more technological advancements make this segment more viable with a lowered procedure time, modest growth is expected to continue throughout the forecast period.
"We are extremely pleased by the results of the CLARITY study and the positive feedback we have received about the Cerene Device, both from study investigators and numerous gynecologists surveyed," stated Ric Cote, President and CEO of Channel Medsystems. "The Cerene Device provides gynecologists with the first realistic option for treatment in their office, a setting that is more comfortable for women and significantly less expensive for the healthcare system. The shift away from the operating room that the Cerene Device enables could potentially reduce the cost to treat heavy menstrual bleeding by hundreds of millions of dollars annually."
For Further Information
More on the gynecological device market in the U.S. can be found in a series of reports published by iData Research entitled the U.S. Market Report Suite for Gynecological Devices