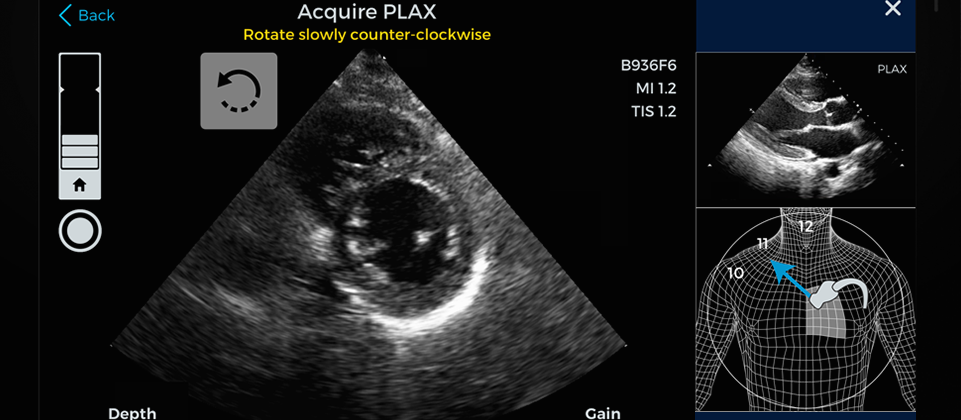 The FDA has announced approval and authorization of Caption Health's AI software, Caption Guidance, to analyze and assist with cardiac ultrasounds (echocardiography).
Heart disease kills approximately one out of every four Americans each year according to the Center for Disease Control and Prevention. Electrocardiograms (ECGs), Holter monitors and echocardiograms are most commonly used to identify and diagnose heart conditions. An echocardiogram, performed by a registered cardiac sonographer, is an ultrasound of the heart that captures the structure and blood flow within the heart.
The Caption Guidance system guides health care practitioners to perform a diagnostic ultrasound of the heart without the presence of a sonographer. This would allow registered nurses in emergency rooms, for example, to quickly and effectively treat and diagnose patients experiencing chest pains and shortness of breath.
The software utilizes machine learning to provide real-time image quality feedback and capture images of diagnostic quality. While a sonographer may not need to present for the procedure, a cardiologist will still be required to assess the images for a diagnosis.
Currently, the software is only being used as an accessory in conjunction with Teratech's diagnostics ultrasound systems. The use of the Caption Guidance system may be permitted on other ultrasounds imaging systems if their technical specifications are consistent with the range of systems used in the development and testing.
Robert Ochs, Ph.D., deputy director of the Office of In Vitro Diagnostics and Radiological Health in the FDA's Center for Devices and Radiological Health states:
"Today's marketing authorization enables medical professionals who may not be experts in ultrasonography, such as a registered nurse in a family care clinic or others, to use this tool. This is especially important because it demonstrates the potential for artificial intelligence and machine learning technologies to increase access to safe and effective cardiac diagnostics that can be life-saving for patients."
Cardiac Rhythm Management Market
Heart failure affects over five million people annually in the U.S. alone and is the costliest cardiovascular illness, with upwards of $30 billion spent on managing heart failure each year. Cardiac rhythm management devices, such as pacemakers, ICDs and CRT devices, are implanted in patients with arrhythmias to correct cardiac pacing and/or to restart the heart after a sudden cardiac event. Sudden cardiac arrest (SCA) is one of the leading causes of death in the U.S. and is responsible for over 350,000 deaths annually.
To get in an in-depth global market analysis including interviews, procedural volumes, and forecasts, refer to iData Research's report: Cardiac Rhythm Management Market Analysis, Size, Trends | Global | 2019-2025 | MedSuite.