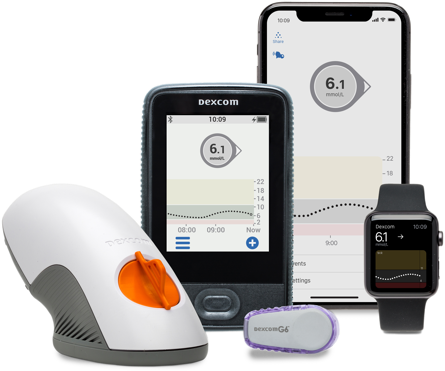 Dexcom has announced that its G6 continuous glucose monitoring (CGM) system has won the CE Mark for use during pregnancy and will be available in the United Kingdom as soon as Spring 2020.
During pregnancy, hormones that help the baby grow block the mother's natural production of insulin and can cause insulin resistance. If insulin levels are not properly monitored throughout pregnancy, serious health problems can develop for both the mother and child.
"Women with Type 1 or Type 2 in pregnancy or those with gestational diabetes usually require six or more fingersticks per day. These are required during the night, before meals, as well as after eating meals and snacks," says Helen Murphy, MD, professor of medicine and women's health at the University of East Anglia and Kings College London. "CGM eliminates the need for fingersticks and provides patients with regular updates and alerts throughout the day and night."
The Dexcom G6 CGM will make glucose monitoring for pregnant women with type 1, type 2 or gestational diabetes easier to manage and ensure both the mother and baby remain healthy throughout the pregnancy.
Additionally, the Dexcom G6 app can share glucose information with up to five family members or physicians using the Dexcom Follow App, providing peace of mind to family and seamless sharing with health care professionals.
It may still be a while until the Dexcom G6 CGM is available for women in the Unities States, as there is limited research on diabetes technology for the pregnant population.
Via: BusinessWire
European Diabetes Monitoring, Treatment and Drug Delivery Market
The diabetes monitoring, treatment and drug delivery market has increased in value in the past few years and growth is expected to continue, driven by increasing unit sales and moderated by ASP depreciation. The primary driver of growth will be the expanding diabetic population in Europe and the increasing number of patients that require various diabetes care devices to manage their disease on a daily basis.
The CGM market has recently experienced notable growth in Europe primarily attributed to the growing installed base of personal CGM users and the commercial launch of new devices. Personal CGM devices have been available in the European market for over ten years and, since their introduction, they have experienced a consistent trajectory of growth and technological innovation.
The insulin pump market was the second-fastest-growing segment, which was primarily attributed to the growing installed base of durable pump and patch pump users. Medtronic maintained its dominant position in the insulin pump market but has recently faced increased competition from Tandem's t:slim X2™, as well as Dexcom's G6® in the CGM market.
Overall, the European diabetes monitoring, treatment and drug delivery market is expected to increase at a CAGR of 4.3% to exceed €9 billion by 2025.
To get in an in-depth market analysis including interviews, procedural volumes, and forecasts, refer to iData Research's reports:
Diabetes Market Analysis, Size, Trends | Europe | 2019-2025 | MedSuite
Diabetes Market Analysis, Size, Trends | United States | 2019-2025 | MedSuite