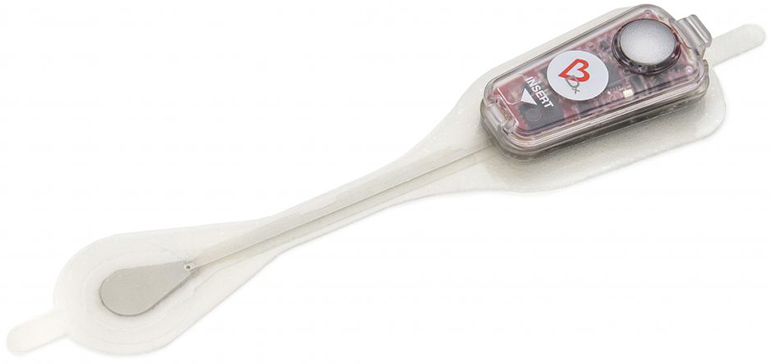 Bardy Diagnostics' 14-day Carnation Ambulatory Monitor (CAM) patches have previously been used in U.S. hospital settings, but they have now been granted a CE mark for these products. The patches allow for a longer period of monitoring than previous products, that were used for 2 or 7-day periods. Longer monitoring periods provide healthcare providers with the opportunity to potentially detect infrequent arrhythmias that may go unnoticed during a shorter period of time.
CAM patches are now increasingly being prescribed for home use, as hospital space has become limited. These devices have also seen an increase in prescription as some U.S. residents were recently experimentally given hydroxychloroquine (HCQ) to treat COVID-19 symptoms. HCQ use sometimes carries dangerous and life-threatening side-effects such as drug-induced sudden cardiac death, according to the CDC.
Because the CAM can be worn on patients and tracked remotely, this means patients can be monitored while in the comfort of their own home, and hospital settings benefit from increased space. Monitoring more individuals remotely will also help to lessen the spread of COVID-19.
Ken Nelson, the CCO of Bardy Diagnostics, stated that "To help address the evolving needs of physicians and patients in this public health emergency, facilitate the rapid transition to telehealth for clinics around the country and to ensure uninterrupted access to our CAM patch, our team has worked around the clock to increase our manufacturing capacity and expand our internal business operations to enable patients to receive and apply our disposable, single-use CAM patch at home. The home application program eliminates the need for in-person patient and healthcare provider contact, reduces the potential for exposure to COVID-19, streamlines care, and allows healthcare personnel who are already resource-constrained to focus on other areas of critical need."
Via: BardyDx, MassDevice
Telehealth Market
The telehealth monitoring market has grown tremendously in recent years, fueled by increasing awareness of the benefits of remote monitoring and home healthcare. Growth was heavily driven by telehealth monitoring for disease management, which represented approximately more than half of the total telehealth market value in 2018.
Currently, the U.S. boasts the most mature telehealth market in the world, as well as a diverse competitive landscape, attributable to a trend towards reimbursement reform and successes of large-scale deployment initiatives. Moreover, the Veteran's Health Administration (VHA), America's largest purveyor of home telehealth, continues to rapidly expand the size of its remote patient monitoring (RPM) programs and funding.
In 2018, the total market for telehealth monitoring valued at approximately $1.1 billion, a 12.6% increase over 2017, and is expected to grow at a CAGR of 11.4% by 2025.
To read more on the telehealth market, refer to iData Research's report page: Telemedicine Market Analysis, Size, Trends | Global | 2019-2025 | MedCore