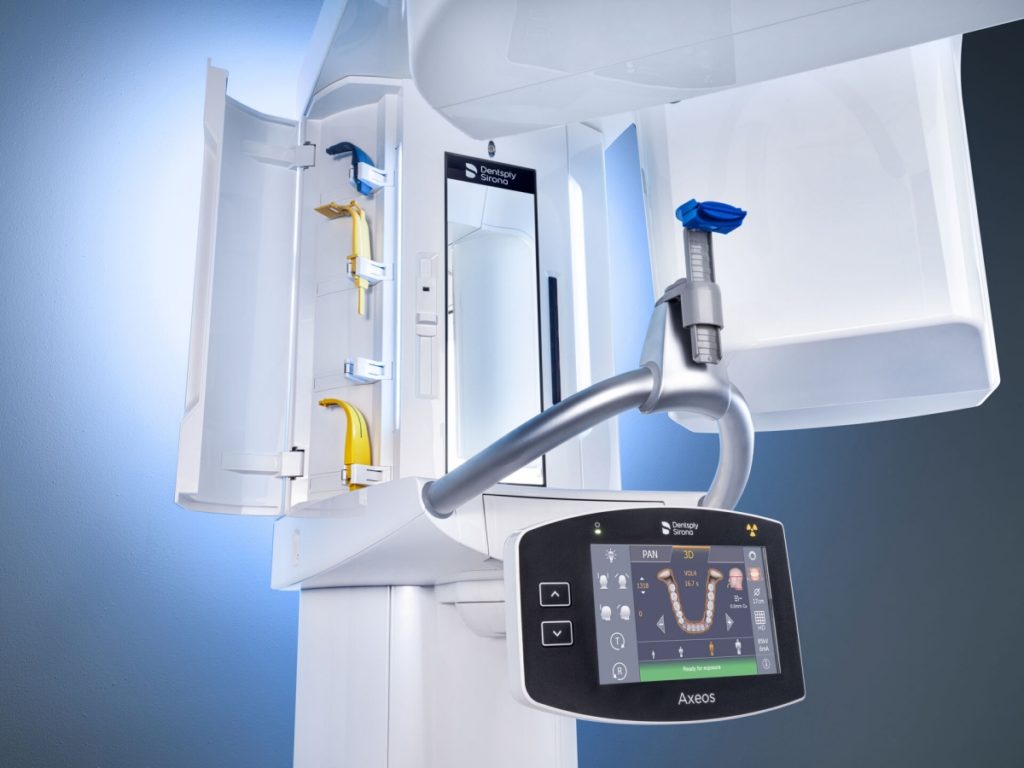 iData Research analysts have found that the continually expanding line of Orthophos devices has given Dentsply a broad range of devices to suit all a clinic's needs, the Axeos is another addition to their already large suite of devices.
The large range of FoV's allows for many different treatment areas, including specialized 3D imaging. The new unit offers outstanding imaging quality with intelligent low dose exposure while maintaining a high level of patient and user comfort. The Axeos includes smart height adjustments and quick scan times, resulting in exceptional patient experiences. Further accessibility can be provided through the comfortable wheelchair positioning in the unit.
"Our purpose is to support dental professionals in providing healthy, happy smiles. Working with dentists to understand their needs and translating those into product solutions is what drives us. With our new imaging solution, we not only offer outstanding image quality, clinical safety and an easy-to-use interface but also smart integration to ensure seamless workflows and procedures"

– says Don Casey, Chief Executive Officer at Dentsply Sirona.
Extraoral X-Ray Imaging Devices
In 2019, the Extraoral X-Ray imaging market saw over 65M procedures being performed, accounting for over 6% of procedures within the Dental X-ray Imaging Market.
Extraoral X-ray units are used in most dental offices to diagnose and monitor the health and development of a patient's jaw and skull. Dentists use the technology to gain a broader perspective of the development of a patient's mouth by examining the growth and health patterns of a patient's bone structures, such as the jaw and teeth.
A panoramic X-ray system displays the bone structure of the entire mouth on a single X-ray image. These systems consist of a straight arm that holds the X-ray generator on the back end and an image capture screen, which holds the film, PSP plate or sensor, at the front end. The mechanism rotates around the patient's head, taking one seamless image, and providing a full view of the entire structure of a patient's mouth. A panoramic X-ray is typically an alternative to taking a full-mouth series of a patient's mouth using intraoral X-rays and can be performed much faster with less radiation exposure.
The main target audience for extraoral dental imaging includes orthodontists, prosthodontists, and oral surgeons. As dental offices continue to consolidate and expand in size, this type of imaging will continue to be mostly conducted in a clinical setting versus hospitals or imaging centers.
Dental Imaging Market Forecast
The Extraoral X-Ray Imaging Market is expected to increase to over $107M by 2025, accounting for over 12% of the entire Dental Imaging Devices Market in the US. Within this segment, the biggest market driver is the increasing preference for scheduled panoramic images since more dentists are preferring to incorporate panoramic images into patients' schedules.
Register to receive a free U.S. Market Report Suite for Dental Imaging Devices 2019 – 2025 synopsis
Constant innovations will also continue to drive the market as dentists are always striving for increased clarity of images and precision. Overall, the dental imaging device market was valued at $791.4 million in 2018, which is expected to slightly increase and reach over $823 million by 2025.
Via: Dentsply Sirona