Surgical visualization is a key tool in the operating room. While this technology has traditionally been used for diagnostic procedures that required endoscopy, it also has useful applications in minimally invasive procedures. As the minimally invasive approach continues to become standard procedure, demand for surgical visualization equipment will continue to rise.
To achieve proper visualization of the lumen, a large array of medical devices is needed.  An endoscopic tower typically houses all the hardware needed to produce an accurate video feed. This video equipment then is integrated with the rest of the equipment in the operating room using a high-tech router. As video resolution has progressed from standard definition (SD) to high definition (HD), the relevant hardware has been upgraded to accommodate the jump in signal complexity.
Initially, when 4K technology was proposed for the operating room, there was considerable skepticism whether the higher resolution capacity of 4K devices warranted the added cost. There was concern that the resolution of 4K exceeded what was perceptible by the human eye, depending how far the screen was positioned relative to the viewer. Compared to standard HD — which comprises about two million pixels — 4K, also known as Ultra High Definition (UHD), boasts well over eight million pixels. This upgrade in visual acuity is larger than any previous resolution enhancement and, consequently, demands the largest spike in information processing requirements.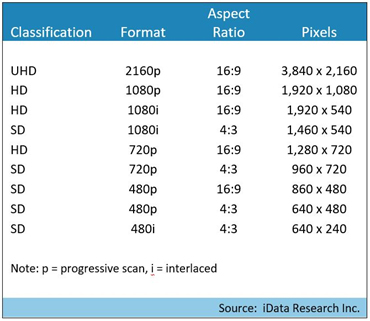 However, the adoption rate of 4K technology in the operating room has experienced significant growth in the last few years. This growth initially came from partial system upgrades, where not all components of the surgical visualization system were upgraded to 4K. These upgrades allowed for upscaling from HD, but the resolutions achieved did not reach true 4K.
In the last two years, true 4K resolution technology has been embraced by the industry and clinical data has been reporting the benefits of this form of visualization in a variety of procedures.1 With true 4K, it becomes much easier to distinguish various pathologies while performing procedures, and the improved contrast and color gamut adds to greater clarity of the visual field. Larger surgical displays — exceeding the traditional >24" HD displays — can be used without a loss of detail, and can be placed closer to physicians, affording a superior view of the surgical landscape. True 4K displays also offer high dynamic range (HDR) technology, which delivers more visibility in darker areas.
What's Slowing Growth In 4K Operating Room Technology?
Despite these benefits, full adoption of 4K technology requires a large investment. A primary limiter is the task of integrating the native 4K signal through a variety of distribution channels inside and outside the operating room. Streaming data, taking still pictures, recording footage, and transferring footage to the electronic health record (EHR) all require significant infrastructure to handle the load. All the hardware in this system must be able to accommodate the more burdensome 4K signal, and full 4K infrastructure has yet to be installed in many integrated operating rooms. The amount of data storage needed for electronic medical records (EMR) also is very large, requiring investments from hospitals to expand their network storage capabilities.
This article was originally published on Med Device Online, to read more please visit https://www.meddeviceonline.com/doc/k-operating-room-technology-advancing-despite-initial-doubts-0001.
or Further Market Information
More can be found in a series of reports published by iData Research entitled the U.S. Market Report Suite for Video and Integrated Operating Room Equipment 2018.
iData's suite of reports on this subject cover the United States, 15 countries in Europe as well as Japan, China, and South Korea. These include a comprehensive analysis on units sold, market values, average selling prices, forecasts, as well as detailed competitive market shares and analysis of all major players.
Email us at [email protected] or register online for a U.S. Market Report Suite for Video and Integrated Operating Room Equipment 2018 brochure and synopsis.