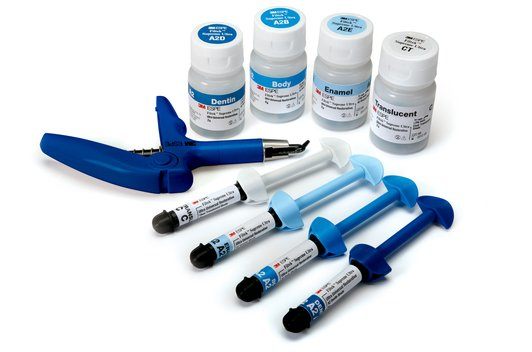 Register to receive a free US Dental Materials Market Report Suite synopsis and brochure
On April 1st 2019, 3M introduced a new universal composite that offers a modernized technique to both anterior and posterior restorations, that result in a strong and esthetic outcome for the patient.  The 3M™ Filtek™ universal restorative is user-friendly, and has an accessible shading process. According to 3M, for an estimated 80% of the cases performed, dentists choose to use only 1 shade.
To change this approach, 3M has revolutionized the shade selection process by using NaturalMatch technology to produce eight designer shades and an Extra White bleach shade; the shades have one universal opacity to meet most clinical applications. NaturalMatch technology is a synthesis of 3M's composite technological innovations to result in longevity and an appealing esthetics. It utilizes nanofillers to create an accurate nanocomposite, while also reducing shrinkage stress by effectively using proprietary low-stress monomers.
"Dentists are pulled in many different directions every day, with countless to-dos that stack up while they serve their patients. That's why 3M wanted to create a solution that helped them cut down on steps and removed some of that stress," said Sebastian Arana, President & General Manager, Oral Solutions Division of 3M. "The new Filtek Universal Restorative combines a unique shading system in an innovative material that not only provides efficiency but a highly esthetic and long-lasting result."
According to research on the U.S. 2016 direct restorative material market provided by iData Research, this market is valued at $539.3 million, an increase over the previous year. This market comprises composite, amalgam and GI and RMGI materials used in direct restorations produced by dentists in their clinics.
Growth in the market will be driven by the increasing popularity of direct composites which are expanding both in price and unit sales. As new technologies improve the quality and durability of composite materials, their price will gradually rise with unit sales fueled by the needs of an aging population. Over the next 5 years, the total direct restorative material market is forecasted to exceed $663 million. This is great for 3M's Filtek™ universal restorative composite, as the market's conditions are quite suitable for this launch.
For Further Information
More on the dental materials market in the US can be found in a series of reports published by iData entitled the US Market Report Suite for Dental Materials.