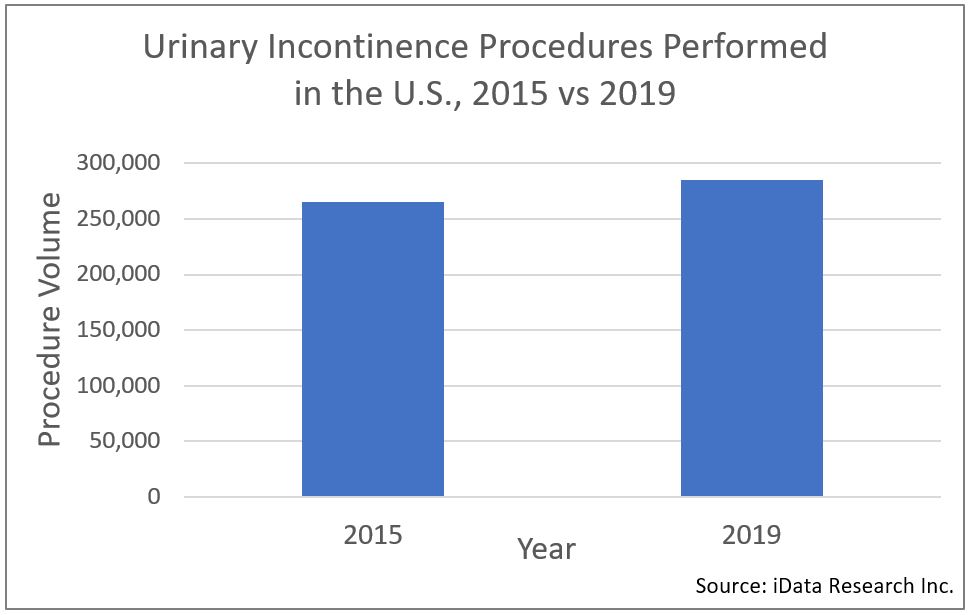 Register to receive a free U.S. Market Report Suite for Urological Devices – MedSuite report synopsis and brochure.
iData Research, a leading international medical market research and consulting firm, has released a new suite of reports which details the U.S. urological device market, including urinary incontinence statistics for 2019.
A procedure volume analysis by iData Research shows that over 285,000 urinary incontinence procedures are being performed annually in the United States, as of 2019. This number has grown approximately 7.5% over the 2015 procedure volume, when there were an estimated 265,000 procedures performed. This volume represents a portion of the 11 million overall urology procedures performed every year. iData's analysts attribute the growth of this segment primarily to the high-volume, and growing use of urinary catheters as part of the treatments.
The total market for urinary incontinence treatments, valued at over $1.2 billion in the U.S. in 2019, includes urinary catheters, urethral bulking agents and incontinence management devices. The urinary catheter market is segmented into intermittent, Foley and male external catheters. Urinary incontinence (UI) is a common disorder characterized by involuntary urination. There are four different types of UI: stress incontinence, urge incontinence, overflow incontinence and functional incontinence. Options for treatment include behavioral techniques, pelvic floor muscle, electrical stimulation, medications, medical devices, interventional therapies, surgery, absorbent pads and catheters.
The incidence of urinary incontinence generally increases with age. In that regard, the aging population, combined with longer life expectancies, will help drive the market for urinary incontinence treatments. Over the forecast period, the population of men and women over 40 is expected to grow steadily. In the elderly, urinary incontinence may result from a confluence of factors, including comorbid conditions, medications, neuro-urinary pathology and etc.
"Due to a lack of reimbursement for catheter-related UTIs acquired during hospitalization, there has been a growing trend towards antimicrobial urinary catheters," explains Jeffrey Wong, Analyst Director at iData Research. "These devices carry a price premium relative to conventional devices and are expected to continue to gain market share over the forecast period."
Within the last 10 years, the FDA released Public Health Notifications regarding vaginal sling procedures. Declines in sling implant procedures, arising from industry wide class action lawsuits against many leading manufacturers, greatly reduced the market for incontinence sling products. Since then, the lawsuit controversy has subsided and female incontinence sling procedures have recovered and are expected to continue to exhibit positive growth over the forecast period.
In accordance with changing perceptions of incontinence, more Americans living with incontinence are finding ways to maintain active lifestyles. However, there has been in increase in the number of younger patients who experience urinary incontinence.  As urinary incontinence becomes more prevalent in an increasingly younger demographic, the demand for products that allow consumers to stay physically active are expected to grow, thus propelling the urinary incontinence statistics for the future market value.
For Further Information
More on the urinary incontinence device market can be found in a series of reports published by iData entitled the U.S. Market Report Suite for Urological Devices.