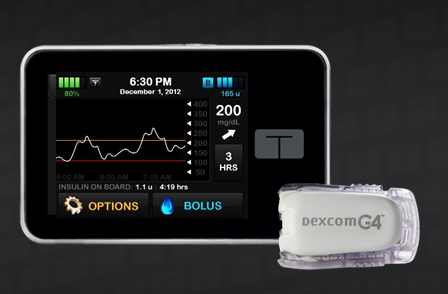 Tandem Diabetes Care®, Inc, a medical device company and manufacturer of the only touchscreen insulin pumps available in the United States, today announced that it has entered into a distribution agreement with Rubin Medical to commercialize Tandem's t:slim X2™ Insulin Pump, insulin cartridges, and t:lock™ family of Infusion Sets in Sweden, Norway and Denmark.
"This represents the first pump distribution agreement for Tandem Diabetes Care outside of the United States and is a significant step forward for our international commercialization strategy," said Kim Blickenstaff, president and CEO of Tandem Diabetes Care. "Rubin Medical's proven success with insulin pumps in Sweden, Norway and Denmark, and their demonstrated support of patients and clinicians impacted by diabetes, make them an ideal distributor for us in these countries."
"We are thrilled to be able to bring the first touchscreen insulin pump to our diabetes communities in Scandinavia," said Karl-Johan Öhman, CEO and Managing Director of Rubin Medical. "We believe the t:slim X2 Pump will be well received in these countries. We're very happy to add this product to our portfolio and to be one of the first markets outside of the United States to offer this exciting option to patients and clinics."
Under the terms of the arrangement Rubin Medical will perform all sales, marketing and customer training and support for Tandem's products. Timing for availability of Tandem products in Sweden, Norway and Denmark has not been announced.
About Tandem Diabetes Care, Inc.
Tandem Diabetes Care, Inc. is a medical device company dedicated to improving the lives of people with diabetes through relentless innovation and revolutionary customer experience. The Company takes an innovative, user-centric approach to the design, development and commercialization of products for people with diabetes who use insulin. Tandem manufactures and sells the t:slim X2™ Insulin Pump, the only pump capable of remote feature updates using a personal computer, now available with Dexcom G5® Mobile CGM integration, and the t:flex® Insulin Pump, the first pump designed for people with greater insulin requirements. Tandem is based in San Diego, California.
About Rubin Medical
Rubin Medical AB is a medical device company fully dedicated in the marketing and sales of products in diabetes. The company is the exclusive distributor of the Animas® insulin pump product in Sweden, Norway and Denmark, where it has reached a strong market position. Rubin is a part of Indutrade AB, a company noted on the Swedish stock exchange.
Source: https://www.businesswire.com/news/home/20180215006422/en/Tandem-Diabetes-Care-Rubin-Medical-Announce-Agreement
For Further Information
More on the diabetes device market in Europe can be found in a series of reports published by iData Research entitled the Europe Market Report Suite for Diabetes Diagnosis, Treatment and Drug Delivery. The suite covers reports on the following markets: blood glucose meters, blood glucose test strips, lancets and lancing devices, continuous glucose monitoring (CGM), insulin, inulin pens, insulin syringes and insulin pumps.
The iData report series on diabetes devices covers the U.S. and 15 countries in Europe including Germany, France, the United Kingdom (U.K.), Italy, Spain, Benelux (Belgium, Netherlands and Luxemburg), Scandinavia (Finland, Denmark, Sweden and Norway), Portugal, Austria and Switzerland. Reports provide a comprehensive analysis including units sold, procedure numbers, market value, forecasts, as well as detailed competitive market shares and analysis of major players' success strategies in each market and segment. To find out more about diabetes device market data or procedure data, register online or email us at info@idataresearch.net for a Europe  Market Report Suite for Diabetes Diagnosis, Treatment and Drug Delivery brochure and synopsis.