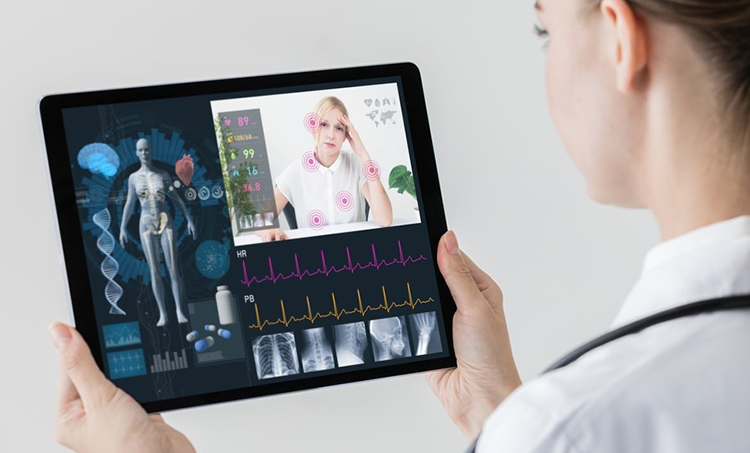 The U.S. market for patient monitoring devices and equipment includes products that are designed to measure and observe changes in vital signs or the neurological, homodynamic, and cardiac functions of a patient. Due to the effects of COVID19, health care workers have recently begun the shift to remote patient monitoring (RPM) options, such as telehealth devices. 
Telehealth refers to the remote monitoring and clinical management of a patient's vital signs through the use of devices in the home environment. Vital signs data are transmitted to a central server, where information can be viewed by a clinician or the patient. This allows caregivers to monitor a patient's condition and take appropriate action to manage health.
Factors Driving the Global Acceptance of Remote Monitoring
Patient Habits – Major innovations often lurk on the edges of acceptance for some time before seeing a critical mass of adopters able to embrace the technology for themselves. Now that patients are more receptive to remote consultations due to the massive changes forced into place by COVID, providing remote data for the consults has become a more natural behavior.
Reimbursement – There have been gradual reimbursement improvements over the years for RPM, but the RPM floodgates opened with COVID-driven expansion of telehealth. The U.S. Center for Medicare and Medicaid Services (CMS) has created several RPM reimbursement codes with clear guidelines on what qualifies for payment. Beyond the integration of RPM into traditional Fee for Service billing, the spread of Value-Based Reimbursement into new conditions has accelerated incentives to manage the patient outside of fixed visits with physicians. Additionally, systems have more frequently embraced the opportunity to reach patients in their homes or on-the-go when monitoring and influencing them can substantially affect their outcomes.
Increased Age Demographics – In 2018, over 45 million people in the U.S. were over 65 years old, accounting for 14.4% of the population. By 2024, this demographic is expected to grow to exceed 17% and will reach 20% by 2050. A growing elderly population will require more access to healthcare in the future, thereby driving the growth of the telehealth market.
Leading Companies in the Telehealth Market
In 2019, the leading competitor in the telehealth market was Medtronic, with over 35% market share. Medtronic's ongoing partnership with the VHA's Care Coordination and Home Telehealth (CCHT) program following Bosch Healthcare's exit has fortified their position as the market leader within the total telehealth market.
The second-leading competitor in the telehealth market was Honeywell Life Sciences, with almost 20% market share. The Genesis Touch™ v2 is a remote patient monitoring device with 3G, 4G, and Wi-Fi connectivity that collects health metrics and transmits this data to their LifeStream™ Management Suite. Honeywell also offers tailored, symptom-specific management with their Genesis DM™, which features voice-enabled, disease-specific symptom management (DSSM) questions and tools, as well as LifeStream™ Management Suite integration.
Other competitors include Philips, Abbott, Boston Scientific, Biotronik, A&D Medical, Advantage Home Telehealth, Aerotel Medical Systems, Ambio Health, AMC Healthcare, and more.
Remote Patient Monitoring Market Analysis and Forecast
In 2019, the total telehealth market size was valued at over $1 billion, with a 12.6% increase over 2018. With the new implications COVID has caused, there is a high growth rate to be expected within this market over the coming years.
Register to receive a free US Market Report Suite for Patient Monitoring Equipment 2019 – 2025 synopsis
After many overblown forecasts in the past, RPM seems to have finally reached escape velocity. Healthcare processes change slowly due to the many processes that must realign to support such major disruptions. However, when it begins to occur, the momentum can be unstoppable, much like what has begun with RPM.