REIMBURSEMENT TRACKER
The issue of medical reimbursement rates is a unique one to the United States healthcare industry. In other areas, achieving market success is much less dependent upon the whims of insurance companies. For this reason, it is critical that you as a medical device provider or reimbursement consultant are aware of current medical reimbursement trends and what they may mean for your business.
Reimbursement changes in healthcare could dramatically affect the market viability of various medical devices, so you need to be aware of these changes as quickly as possible so you can act accordingly.
 Our Reimbursement TrackerTM is a revolutionary medical reimbursement policy consulting tool for reimbursement consultants and medical device product teams to view, search, receive notifications and compare insurance policies in the United States. We track hundreds of insurance companies with over 60,000+ policies across all therapeutic areas to save you time and help you make intelligent business decisions. We've also included the ability to view changes and browse Medicare reimbursement rates by CPT code.
FEATURES TO MAKE REIMBURSEMENT TEAMS MORE EFFECTIVE
Customized Dashboard to Track Your Specific Therapeutic Area, CPT or ICD-10 Codes and Keywords

Search the Entire Database of 60,000+ Active, Future and Draft Policies from Government and Private Insurers

Receive Real-Time Email Notifications and Avoid the Time-Consuming Manual Tracking of Policies

View Policy and Rate Changes Over Time to Identify Trends

View Medicare Reimbursement Rates By CPT Code, Time Period and Location

Act Before Changes Happen With The Policy Review Date Calendar
HOW DOES OUR POLICY TRACKING WORK
How iData Research Can Keep You Ahead of Medical Reimbursement Trends
To maximize your chances of staying successful and ahead of the competition in the medical device world, we recommend you take advantage of the iData Research Reimbursement Tracker™. This simple tool will tell you which companies reimburse for which medical devices and how.
Reimbursement Tracker™ will alert you to any classification changes that may affect whether a certain medical device is eligible for reimbursement. You will need to arm yourself with this information to present to investors and plan your strategy around various medical devices.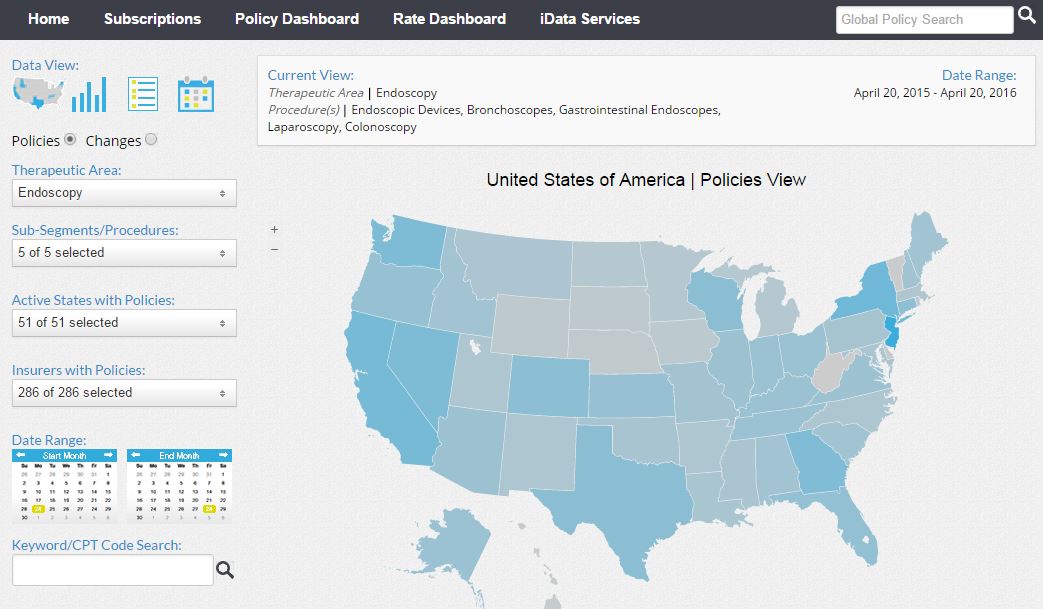 You will be able to understand what policies are coming up for review and have your team advocate and lobby for changes that will improve your position and help advance the medical industry. Your technology will impact lives and deserves the recognition and approval of insurers such as Blue Cross Blue Shields, Humana, Cigna and more.
Our Reimbursement Tracker medical reimbursement policy consulting combines an internal reimbursement team with a proprietary software system that reviews each insurance company's policies based on the criteria you specify (Therapeutic Area, Codes, Keywords etc.). Any policy changes that are found relating to your account are then passed through a screening process to determine if a relevant update to a policy has occurred. These updates are then sent to you via email with a direct link to the policy for reference.
Not only that, but these changes are logged into the system to make them accessible and searchable for your team at any time.
Common Challenges Associated With Medical Reimbursement
The sheer volume and complexity in the issue of reimbursement makes it imperative that companies of all sizes use whatever means they can to help navigate the many challenges. iData's medical reimbursement policy consulting tool helps them cut through the confusion and quickly obtain the information they need. If you are developing and marketing a device, our tool can help you determine a reimbursement strategy that will help your device succeed in the market.
If a company does not have a full understanding of the reimbursement landscape, that can make it extremely difficult to not only obtain coverage, but also to attract investors who are averse to risk. Determining whether or not a device is reimbursable — as well as determining the cost of reimbursement — could even play a major role in a product's commercial success or failure.
It can be incredibly frustrating, trying to make sense of such a complex system. With a variety of health insurance payers and a variety of reimbursement plans, as well as carrying different contracts with health systems and individual practices, keeping track can be overwhelming for even the largest companies.
For example, the varying types of reimbursement plans can sometimes result in one healthcare system charging a certain price for services within that system, and another price for services provided outside of that system. And these prices are often adjusted in extremely confusing ways. Payers have a maximum payment allowed for each and every CPT code, but that's only a beginning point for determining how much they will ultimately pay.
Claim edits are often used to adjust this maximum payment, and these edits are often used as the reason why payment will be disqualified in some instances.
These complexities can make it extremely difficult to understand the rules of the reimbursement environment, let alone keeping up with seemingly ever-changing rules. In order to stay ahead in this fast-moving environment, efficiency will be the key to success. iData helps increase that efficiency through our Reimbursement Tracker tool, providing a tremendous advantage to our clients.
Why You Need iData Research for Medical Reimbursement Trend Information
There are hundreds of insurance companies, all with hundreds or thousands of policies. The time it takes to even just filter through and find related policies is enormous, let alone staying on top of these medical reimbursement changes over time. Reimbursement Tracker™ will save your team time and ensure you know exactly when policy changes related to your devices affect you.
What is the maximum payment each payer allows for each CPT code? What is the reimbursement for a given device from a given insurer within different healthcare systems? It's too easy for critical information to slip through the cracks.
Fortunately, thanks to iData Research and Reimbursement Tracker™, you don't have to keep track of it all. We do it for you. Our medical reimbursement tracking tool allows you to search for insurance information about your device and receive needed notifications over hundreds of insurance companies and tens of thousands of policies over all segments of medical device markets.
You can even check Medicare reimbursement rates and view changes using CPT codes. This tool is integral to medical device manufacturers, reimbursement teams, and reimbursement consultants. Once you use start using it you will wonder how you ever managed without it.
See the iData Research Reimbursement Tracker™ in Action Today
To truly see the benefits of the iData Research Reimbursement Tracker™ in action, you will want to view it for yourself. We're more than happy to show it to you. To get started, simply contact us to see a demonstration of our Reimbursement Tracker™ today.
Available Focus Areas
Anesthesiology

Biomaterials

Cardiology

Cosmetic Surgery

Dental
Diabetes

Diagnostics

Endoscopy

Audiology

Infusion Therapy
Ophthalmics

Patient Monitoring

Spine

Urology
Women's Health

Wound Management

Orthopedics

Neurology
REAL TIME POLICY UPDATES
Receive real-time updates regarding policy changes directly on your online dashboard or mobile device via email. iData's Reimbursement Tracker medical reimbursement policy consulting tool will save you time, money and allow you to improve customer satisfaction. Time spent manually searching for reimbursement policies online can be saved. Calling or emailing insurance companies can be avoided, allowing you and your team to allocate your time and resources to more important tasks.
POWERFUL SEARCH AND FILTERS
Search across your subscribed therapeutic area or across all policies within seconds. Search using all relevant ICD-9, ICD-10, CPT, HCPCS codes, medical device brand names, procedure names, procedure specific terminology and anything else you can think of in one place. Filter your therapeutic area's policies or changes by insurer, region, date or subcategory.  You no longer need to track down hard-to-find policies. Everything has been categorically indexed within our professionally developed, enterprise-level search engine.
REIMBURSEMENT ANALYSIS
Adjust strategies based on historical trends and stay informed about upcoming policy changes. Enjoy instant visual access to important policy information such as: original date, effective date, last review, next review, etc.
COMPREHENSIVE POLICY SOURCE
Reimbursement Tracker™ tracks hundreds of insurance companies and 60,000+ policies across all therapeutic areas in the United States. Insurer list includes government and private insurers such as Medicare, BCBS, Group Health Cooperative (GHC), Blue Cross and many more
CUSTOMIZED REPORTING DASHBOARD
Our online dashboard can be customized exactly to your specifications so you can easily view the information most important to you at a glance.
MEDICARE REIMBURSEMENT RATE TRACKER
Search medicare reimbursement rates by CPT Code at the national, state or city/county level
Quarterly updates on all reimbursement rate changes
Track changes by quarter from 2011 to date
Compare facility versus non-facility reimbursement rate updates
National view heat map for specific reimbursement rates across each state
Start Advancing Your Strategies
Stop making decisions based on guesses and don't waste any more time scouring policies for details and changes. Request a guided demonstration of the Reimbursement Tracker medical reimbursement policy consulting product. Our specialists will walk you through exactly how you can use this easy-to-navigate dashboard to find key information on the insurance and rate policies that affect your business.
Learn More About Us
iData offers a wide range of services in addition to the Reimbursement Tracker medical reimbursement policy consulting tool. Not only do the experts with iData have a firm grasp on the reimbursement environment, we know the affect it can have on a company's marketing and sales strategies. We're also intimately familiar with the market for a wide variety of medical devices and technologies, and clients have turned to us for more than a decade to take advantage of our research.
Whether you are trying to determine the best way to allocate your company's marketing funds, or looking for the best way to introduce a new device to the market, we can perform a thorough analysis of any segment or sub-segment to provide you with the information you need to make the best possible decisions.
If you would like more information on any of the services we offer, please call 1 (866) 964-3282 or contact us online.
Reimbursement Tracker