Peripheral Vascular Devices Market Analysis, Size, Trends | Europe | 2020-2026 | MedSuite
Year:

2020

Scope:

2016-2026

Region:

Europe

Pages:

914

Published Date:

04/28/2020

Type:

MedSuite
In 2020, the European peripheral vascular device market size was valued at about €1.3 billion, with over 1.15 million peripheral vascular procedures performed every year. The market size is expected to increase at a compound annual growth rate (CAGR) of 2.9% to reach €1.6 billion in 2026.
Throughout this medical market research, we analyzed 65 peripheral vascular companies across Europe and used our comprehensive methodology to understand the market sizes, unit sales, company market shares, and to create accurate forecasts.
While this MedSuite report contains all the EU Peripheral Vascular Devices market data and analysis, each of the market segments is also available as stand-alone MedCore reports. This allows you to get access to only the market research that you need.
Data Types Included
Unit Sales, Average Selling Prices, Market Value & Growth Trends
Peripheral Vascular Procedure Volumes
Forecasts Until 2026, and Historical Data to 2016
Market Drivers & Limiters for Each Peripheral Vascular Device market
Competitive Analysis with Market Shares for Each Segment
Recent Mergers & Acquisitions
Disease Overviews and Demographic Information
Company Profiles, Product Portfolios and SWOT for Top Competitors
Market Value and Industry Trends
A meta-analysis by Katsanos, published in the Journal of the American Heart Association in December 2018, demonstrated a late-mortality signal from paclitaxel use in the peripheries. In response, the Food and Drug Administration in the United States issued a statement in January 2019 that it would investigate the efficacy of these devices. This statement had a worldwide impact on physicians' practices, which resulted in a large negative shock to both drug-coated balloons and drug-eluting stents, the majority of which use paclitaxel coatings.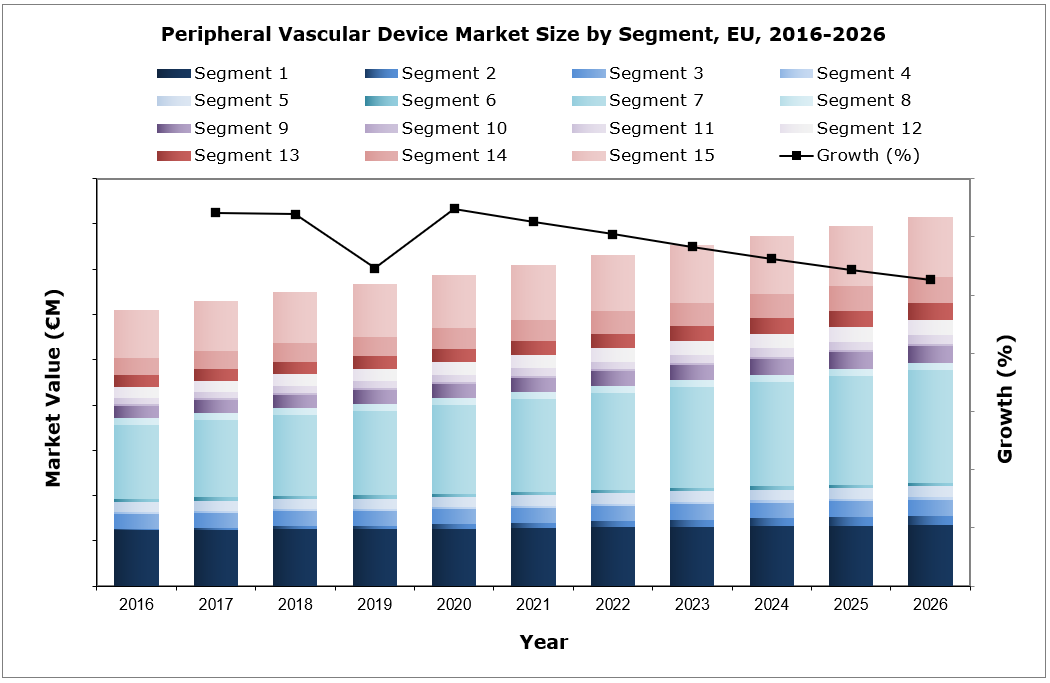 The growth of venous treatments in Europe is expected to accelerate in the coming years as clinical knowledge continues to develop and expertise in the medical community is diffused. While currently consolidated within select regions in the United Kingdom, Germany, France, Austria and Switzerland, venous treatment centres are expected to be developed across Europe to facilitate both the diagnosis and treatment of venous disease.
Treatment of the peripheral arterial disease is slowly continuing to increase its penetration in the treatable population. As Europe continues to age, the total number of procedures is expected to grow over the forecast period. As reimbursement tensions continue, treatment techniques have continued to be refined towards the most cost-effective, long-term option for patients.
Competitive Analysis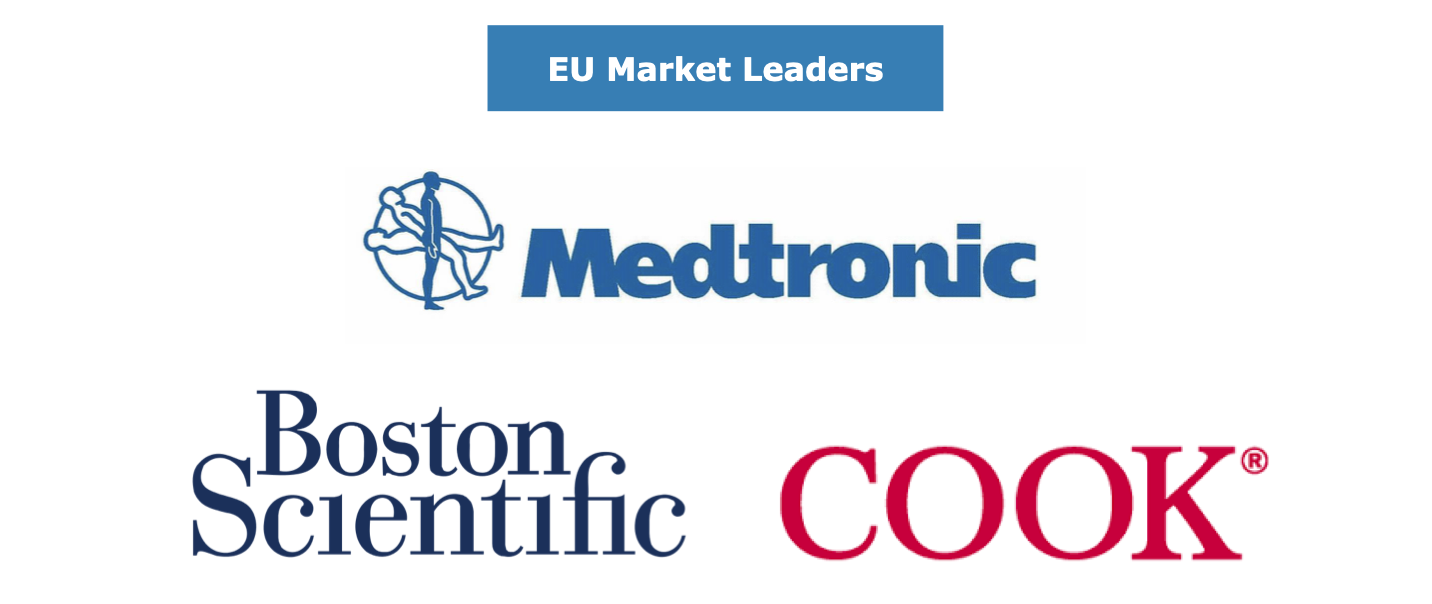 The market leader in Europe during 2019 was Medtronic. Due to its strong presence within the Stent Graft market, and its broad product portfolio, Medtronic secured large shares of the high-value markets. This has also given market power to the company to bundle its less expensive products together, increasing its total market presence. Medtronic's most notable products in this market include the Admiral IN.PACT™ drug-coated balloons, and its array of Endurant™ and Valiant™ stent grafts, although the broader portfolio of stents and PTA balloons also generate significant revenue for the company.
Boston Scientific, following the merger with BTG in 2019, became the second-leading competitor in the European market. The company has impressively developed its venous treatment and transcatheter embolization portfolios following the acquisition and secured the leading position in both markets.
Cook Medical was able to secure the third-leading position in the peripheral vascular market, largely due to the company's strong presence in the stent graft market. Cook Medical led the IVCF market, though it is not a significant revenue generator for the company, due to the small market size.
Research Regional Coverage
Throughout this research series, iData Research has covered several countries in great detail. Each country may be purchased as a stand-alone report, tailoring the data to your needs. The countries covered are:
Germany
France
U.K.
Italy
Spain
Benelux (Belgium, Netherlands, and Luxembourg)
Switzerland
Austria
Scandinavia
Segments Covered
Feel free to click on any of the segments below to view detailed market segmentation.
Detailed Market Segmentation



DON'T SEE THE SEGMENT OR DATA YOU NEED?
Feel free to contact us or send a request by pressing one of the buttons below.

For a Full Table of Contents, please

contact

iData.
Table Of Content for the European Peripheral Vascular Report
TABLE OF CONTENTS ILIST OF FIGURES XVIILIST OF CHARTS XLIIIEXECUTIVE SUMMARY 1EUROPEAN MARKET FOR PERIPHERAL VASCULAR DEVICES OVERVIEW 1COMPETITIVE ANALYSIS 4MARKET TRENDS 9MARKET DEVELOPMENTS 13PROCEDURE NUMBERS 14MARKETS INCLUDED 16VERSION HISTORY 18
RESEARCH METHODOLOGY 19
Step 1: Project Initiation & Team Selection 19Step 2: Prepare Data Systems and Perform Secondary Research 22Step 3: Preparation for Interviews & Questionnaire Design 24Step 4: Performing Primary Research 25Step 5: Research Analysis: Establishing Baseline Estimates 27Step 6: Market Forecast and Analysis 28Step 7: Identify Strategic Opportunities 30Step 8: Final Review and Market Release 31Step 9: Customer Feedback and Market Monitoring 32
DISEASE OVERVIEW 33
2.1 BASIC ANATOMY 332.2 DISEASE TREATMENTS & DIAGNaOSTICS 342.2.1 Aortic Aneurysms 342.2.2 Atherosclerosis 352.2.3 Peripheral Arterial Disease (PAD) 362.2.4 Deep Vein Thrombosis (DVT) 372.2.5 Pulmonary Embolism (PE) 382.3 PATIENT DEMOGRAPHICS 402.3.1 Aortic Aneurysms 402.3.2 Atherosclerosis 402.3.3 Peripheral Arterial Disease (PAD) 402.3.4 Deep Vein Thrombosis (DVT) 412.3.5 Pulmonary Embolism (PE) 41
PRODUCT PORTFOLIO 43
3.1 INTRODUCTION 433.2 PRODUCT PORTFOLIOS 433.2.1 Peripheral Vascular Stent 433.2.2 Venous Stent 463.2.3 Percutaneous Transluminal Angioplasty (PTA) Balloon 473.2.4 Drug-Coated Balloon 513.2.5 Atherectomy Device 533.2.6 Chronic Total Occlusion (CTO) Device 553.2.7 Intravascular Lithotripsy 573.2.8 Surgical Graft 583.2.9 Stent Graft 613.2.10 Embolic Protection Device 633.2.11 Peripheral Thrombus Management Device 653.2.12 Inferior Vena Cava Filter 683.2.13 Carotid Shunt 693.2.14 Diagnostic and Interventional Catheters 703.2.15 Diagnostic and Interventional Guidewire 733.2.16 Introducer Sheath 773.2.17 Vascular Closure Device (VCD) 813.2.18 Transcatheter Embolization Device 833.2.19 Peripheral IVUS Catheter 863.3 REGULATORY ISSUES AND RECALLS 873.3.1 Abbott 873.3.1.1 Carotid Shunt 873.3.1.2 Vascular Closure Device 873.3.2 Argon Medical 883.3.2.1 Introducer Sheaths 883.3.3 Arrow International 893.3.3.1 Introducer Sheaths 893.3.4 Atrium Medical 913.3.4.1 Peripheral Vascular Stent 913.3.5 BD 923.3.5.1 Inferior Vena Cava Filter 923.3.5.2 Introducer Sheaths 923.3.5.3 Stent Graft 933.3.6 Boston Scientific 943.3.6.1 Atherectomy Devices 943.3.6.2 Diagnostic and Interventional Catheters 953.3.6.3 Introducer Sheaths 963.3.6.4 Peripheral Thrombus Management Devices 973.3.7 Cardinal Health 983.3.7.1 Vascular Closure Devices 983.3.8 Cardiovascular System (C.S.I.) 993.3.8.1 Atherectomy Devices 993.3.9 Cook Medical 1013.3.9.1 Diagnostic and Interventional Catheters 1013.3.9.2 Introducer Sheaths 1013.3.9.3 Inferior Vena Cava Filters 1023.3.9.4 Peripheral Vascular Stents 1033.3.9.5 Stent Grafts 1033.3.10 Cordis (Cardinal Health) 1043.3.10.1 Diagnostic and Interventional Catheters 1043.3.10.2 Inferior Vena Cava Filters 1043.3.10.3 Peripheral Stents 1053.3.11 Endologix 1063.3.11.1 Stent Grafts 1063.3.12 Edwards Lifesciences 1083.3.12.1 Chronic Total Occlusion Devices 1083.3.13 Maquet 1093.3.13.1 PTA Balloons 1093.3.14 Medtronic 1103.3.14.1 Carotid Shunts 1103.3.14.2 Diagnostic and Interventional Catheters 1103.3.14.3 PTA Balloon Catheters 1103.3.14.4 Peripheral Stents 1123.3.14.5 Stent Grafts 1123.3.14.6 Transcatheter Embolization Devices 1133.3.15 Spectranetics (Philips) 1143.3.15.1 Atherectomy Devices 1143.3.15.2 Chronic Total Occlusion Devices 1153.3.16 Shockwave Medical, Inc. 1163.3.16.1 Intravascular Lithotripsy 1163.3.17 Terumo 1173.3.17.1 Introducer Sheaths 1173.3.17.2 PTA Balloon Catheters 1173.3.18 Other Companies 1173.3.18.1 Atherectomy Devices 1173.3.18.2 Introducer Sheaths 1183.3.18.3 PTA Balloon Catheters 1183.3.18.4 Peripheral IVUS Catheters 1193.3.18.5 Stent Grafts 1193.3.18.6 Vascular Closure Devices (VCD) 1203.4 CLINICAL TRIALS 1213.4.1 Abbott 1213.4.1.1 Peripheral Vascular Stent 1213.4.1.2 Other Peripheral Vascular Related Studies 1243.4.2 B. Braun 1253.4.2.1 Diagnostic and Interventional Catheters 1253.4.2.2 Peripheral Vascular Stent 1253.4.3 Boston Scientific 1263.4.3.1 Atherectomy Devices 1263.4.3.2 Drug-Coated Balloons 1273.4.3.3 Peripheral Vascular Stents 1293.4.3.4 Other Peripheral Vascular Related Studies 1303.4.3.5 Venous Stents 1303.4.4 C.R. Bard (BD) 1313.4.4.1 Diagnostic and Interventional Catheters 1313.4.4.2 Drug-Coated Balloons 1313.4.4.3 Venous Stents 1333.4.4.4 Other Peripheral Vascular Related Studies 1343.4.5 Cardinal Health 1353.4.5.1 Other Peripheral Vascular Related Studies 1353.4.6 Cook Medical 1363.4.6.1 Drug-Eluting Stents 1363.4.6.2 Inferior Vena Cava Filters 1373.4.6.3 Peripheral Vascular Stents 1383.4.6.4 Venous Stents 1393.4.7 Cordis (Cardinal Health) 1403.4.7.1 Peripheral Vascular Stents 1403.4.8 Medtronic 1413.4.8.1 Atherectomy Devices 1413.4.8.2 Drug-Coated Balloons 1423.4.8.3 Other Peripheral Vascular Related Studies 1483.4.9 Merit Medical 1503.4.9.1 Stent Grafts 1503.4.10 Philips/Spectranetics 1513.4.10.1 Atherectomy Devices 1513.4.10.2 Peripheral IVUS Catheters 1513.4.10.3 Spectranetics 1523.4.10.3.1 Drug-Coated Balloons 1523.4.10.3.2 Atherectomy Devices 1553.4.11 Shockwave Medical, Inc. 1563.4.11.1 Lithoplasty System 1563.4.12 Surmodics 1573.4.12.1 Drug-Coated Balloons 1573.4.13 Terumo 1583.4.13.1 Drug-Coated Balloons 1583.4.13.2 Peripheral Vascular Stents 1583.4.14 W.L. Gore 1593.4.14.1 Peripheral Vascular Stents 1593.4.14.2 Stent Grafts 1603.4.14.3 Expandable Balloons 1613.4.15 Other Companies 1623.4.15.1 Carotid Shunt / Endarterectomy 1623.4.15.2 Drug-Coated Balloons 1633.4.15.3 Peripheral Vascular Stents 1673.4.15.4 Other Peripheral Vascular Related Studies 170
PERIPHERAL VASCULAR DEVICE MARKET OVERVIEW 171
4.1 INTRODUCTION 1714.1.1 Atherosclerosis 1714.1.2 Peripheral Arterial Disease (PAD) 1724.2 CURRENCY EXCHANGE RATE 1734.3 MARKET OVERVIEW 1744.4 TREND ANALYSIS 1824.5 DRIVERS AND LIMITERS 1864.5.1 Market Drivers 1864.5.2 Market Limiters 1874.6 COMPETITIVE MARKET SHARE ANALYSIS 189
COMPANY PROFILES 197
4.7.1 Abbott 1974.7.2 Becton Dickinson (BD) 1984.7.3 Boston Scientific 1994.7.4 Cardinal Health 2004.7.4.1 Cordis (Cardinal Health) 2004.7.5 Cook Medical 2014.7.6 Maquet 2024.7.7 Medtronic 2034.7.8 Teleflex 2054.7.9 Terumo Interventional System (TIS) 2064.7.10 W.L. Gore 2074.8 SWOT ANALYSIS 2084.8.1 Abbott 2094.8.2 B. Braun 2104.8.3 Boston Scientific 2114.8.4 BD 2124.8.5 Cardinal Health 2134.8.6 Cook Medical 2144.8.7 Integra Lifesciences 2154.8.8 Maquet 2164.8.9 Medtronic 2174.8.10 Merit Medical 2184.8.11 Phillips 2194.8.12 Teleflex 2204.8.13 Terumo 2214.8.14 W.L. Gore 2224.9 MERGERS AND ACQUISITIONS 223
COUNTRY PROFILES 228
5.1 INTRODUCTION 2285.1.1.1 Population 2285.1.1.2 Median Age 2285.1.1.3 GDP Per Capita 2285.1.1.4 Price Index 2285.2 GERMANY 2295.3 FRANCE 2305.4 UNITED KINGDOM 2315.5 ITALY 2325.6 SPAIN 2335.7 BENELUX 2345.8 SCANDINAVIA 2355.9 AUSTRIA 2365.10 SWITZERLAND 2375.11 PORTUGAL 238
PROCEDURE NUMBERS 239
6.1 PROCEDURES 2396.1.1 Total Procedures 2396.1.2 Bare Metal Stent Procedures 2416.1.2.1 Iliac Bare Metal Stent Procedures 2466.1.2.2 Femoral Popliteal Bare Metal Stent Procedures 2476.1.2.3 Infra-Popliteal Bare Metal Stent Procedures 2486.1.2.4 Renal Bare Metal Stent Procedures 2496.1.2.5 Carotid Bare Metal Stent Procedures 2506.1.3 Venous Stenting Procedures 2516.1.4 Angioplasty Procedures 2536.1.5 Atherectomy Procedures 2556.1.6 Chronic Total Occlusion Procedures 2576.1.7 Embolic Protection Device Procedures 2586.1.8 Stent Graft Procedures 2606.1.8.1 AAA Stent Graft Procedures 2616.1.8.2 TAA Stent Graft Procedures 2626.1.8.3 Fenestrated Stent Graft Procedures 2636.1.9 Surgical Graft Procedures 2646.1.9.1 Lower Limb Surgical Graft Procedures 2656.1.9.2 AV Access Surgical Graft Procedures 2666.1.9.3 Aorta Repair Surgical Graft Procedures 2676.1.9.3.1 AAA Surgical Graft Procedures 2696.1.9.3.2 TAA Surgical Graft Procedures 2706.1.9.4 Extra-Anatomical Surgical Graft Procedures 2716.1.10 AV Access Thrombectomy Procedures 2726.1.13.2 Coil Embolization Procedures 2896.1.13.3 Liquid Embolization Procedures 2906.1.14 Drug-Coated Balloon Procedures 2916.1.16 Lithotripsy Procedures 2936.1.17 IVUS Procedures 294
PERIPHERAL ARTERIAL STENT MARKET 295
7.1 INTRODUCTION 2957.1.1 Off-Label Use 2967.1.2 Covered Stents 2967.1.3 Drug-Eluting Stents 2977.1.4 Stent Length 2987.2 MARKET OVERVIEW 3007.3 MARKET ANALYSIS AND FORECAST 3067.3.1 Total Peripheral Arterial Stent Market 3067.3.2 Total Bare-Metal Stent Market 3147.3.2.1 Bare-Metal Illiac Stent Market 3247.3.2.2 Bare-Metal Femoral-Popliteal Stent Market 3317.3.2.3 Bare-Metal Infra-Popliteal Market 3387.3.2.4 Bare-Metal Renal Stent Market 3457.3.2.5 Bare-Metal Carotid Stent Market 3527.3.2.6 Total Bare-Metal Stent Unit Analysis by Indication 3597.3.3 Covered Stent Market 3677.3.4 Drug-Eluting Stent Market 3747.4 DRIVERS AND LIMITERS 3827.4.1 Market Drivers 3827.4.2 Market Limiters 3837.5 COMPETITIVE MARKET SHARE ANALYSIS 385
PERIPHERAL VENOUS STENT MARKET 390
8.1 INTRODUCTION 3908.2 MARKET ANALYSIS AND FORECAST 3928.3 DRIVERS AND LIMITERS 4008.3.1 Market Drivers 4008.3.2 Market Limiters 4008.4 COMPETITIVE MARKET SHARE ANALYSIS 402
PTA BALLOON CATHETER MARKET 405
9.1 INTRODUCTION 4059.1.1 Types of PTA Balloon Catheters 4059.2 MARKET OVERVIEW 4079.3 MARKET ANALYSIS AND FORECAST 4139.3.1 Total PTA Balloon Catheter Market 4139.3.2 Standard PTA Balloon Catheter Market 4209.3.3 High-Pressure PTA Balloon Catheter Market 4279.3.4 Large PTA Balloon Catheter Market 4349.3.5 Small PTA Balloon Catheter Market 4419.3.6 Specialty PTA Balloon Catheter Market 4489.4 DRIVERS AND LIMITERS 4509.4.1 Market Drivers 4509.4.2 Market Limiters 4519.5 COMPETITIVE MARKET SHARE ANALYSIS 452
ATHERECTOMY DEVICE MARKET 457
10.1 INTRODUCTION 45710.2 MARKET ANALYSIS AND FORECAST 45910.3 DRIVERS AND LIMITERS 46710.3.1 Market Drivers 46710.3.2 Market Limiters 46810.4 COMPETITIVE MARKET SHARE ANALYSIS 470
CHRONIC TOTAL OCCLUSION DEVICE MARKET 475
11.1 INTRODUCTION 47511.2 MARKET OVERVIEW 47611.3 MARKET ANALYSIS AND FORECAST 48111.3.1 Total Chronic Total Occlusion (CTO) Device Market 48111.3.2 Recanalization CTO Device Market 48311.3.3 Re-Entry CTO Device Market 48511.4 DRIVERS AND LIMITERS 48711.4.1 Market Drivers 48711.4.2 Market Limiters 48811.5 COMPETITIVE MARKET SHARE ANALYSIS 489
EMBOLIC PROTECTION DEVICE MARKET 492
12.1 INTRODUCTION 49212.1.1 Protection Mechanism 49212.1.1.1 Filter Basket 49212.1.1.2 Distal Balloon Occlusion 49312.1.1.3 Flow Redirection 49312.2 MARKET ANALYSIS AND FORECAST 49412.3 DRIVERS AND LIMITERS 50112.3.1 Market Drivers 50112.3.2 Market Limiters 50112.4 COMPETITIVE MARKET SHARE ANALYSIS 503
STENT GRAFT MARKET 506
13.1 INTRODUCTION 50613.2 MARKET OVERVIEW 50713.3 MARKET ANALYSIS AND FORECAST 51213.3.1 Total Stent Graft Market 51213.3.2 AAA Stent Graft Market 52013.3.3 TAA Stent Graft Market 52713.3.4 Fenestrated Stent Graft 53413.4 DRIVERS AND LIMITERS 54213.4.1 Market Drivers 54213.4.2 Market Limiters 54313.5 COMPETITIVE MARKET SHARE ANALYSIS 545
SURGICAL GRAFT MARKET 550
14.1 INTRODUCTION 55014.2 MARKET OVERVIEW 55114.3 MARKET ANALYSIS AND FORECAST 55614.3.1 Total Surgical Graft Market 55614.3.2 Lower Limb Surgical Graft Market 56314.3.3 AV Access Surgical Graft Market 57014.3.4 Total Aorta Repair Surgical Graft Market 57714.3.4.1 AAA Surgical Graft Market 58714.3.4.2 TAA Surgical Graft Market 59414.3.5 Extra-Anatomical Surgical Graft Market 60114.4 DRIVERS AND LIMITERS 60814.4.1 Market Drivers 60814.4.2 Market Limiters 60914.5 COMPETITIVE MARKET SHARE ANALYSIS 611
AV ACCESS THROMBECTOMY DEVICE MARKET 615
15.1 INTRODUCTION 61515.1.1 Other Peripheral Applications of Thrombectomy Devices 61515.2 MARKET ANALYSIS AND FORECAST 61715.3 DRIVERS AND LIMITERS 62415.3.1 Market Drivers 62415.3.2 Market Limiters 62415.4 COMPETITIVE MARKET SHARE ANALYSIS 626
INFERIOR VENA CAVA FILTER MARKET 629
16.1 INTRODUCTION 62916.2 MARKET ANALYSIS AND FORECAST 63116.3 DRIVERS AND LIMITERS 63816.3.1 Market Drivers 63816.3.2 Market Limiters 63816.4 COMPETITIVE MARKET SHARE ANALYSIS 640
DIAGNOSTIC AND INTERVENTIONAL CATHETER MARKET 644
17.1 INTRODUCTION 64417.2 MARKET OVERVIEW 64517.3 MARKET ANALYSIS AND FORECAST 65017.3.1 Total Diagnostic and Interventional Catheter Market 65017.3.2 Diagnostic Catheter Market 65717.3.3 Interventional Catheter Market 66417.4 DRIVERS AND LIMITERS 67117.4.1 Market Drivers 67117.4.2 Market Limiters 67217.5 COMPETITIVE MARKET SHARE ANALYSIS 674
STANDARD AND HYDROPHILIC GUIDEWIRE MARKET 678
18.1 INTRODUCTION 67818.2 MARKET OVERVIEW 67918.3 MARKET ANALYSIS AND FORECAST 68418.3.1 Total Standard and Hydrophilic Guidewire Market 68418.3.2 Standard Guidewire Market 69118.3.3 Hydrophilic Guidewire Market 69818.4 DRIVERS AND LIMITERS 70518.4.1 Market Drivers 70518.4.2 Market Limiters 70518.5 COMPETITIVE MARKET SHARE ANALYSIS 708
INTRODUCER SHEATH MARKET 712
19.1 INTRODUCTION 71219.2 MARKET ANALYSIS AND FORECAST 71319.3 DRIVERS AND LIMITERS 72019.3.1 Market Drivers 72019.3.2 Market Limiters 72019.4 COMPETITIVE MARKET SHARE ANALYSIS 722
VASCULAR CLOSURE DEVICE MARKET 725
20.1 INTRODUCTION 72520.2 MARKET OVERVIEW 72720.2.1 Vascular Closure Device Market Overview by Device Type 72720.2.2 Vascular Closure Device Market Overview by Approach 73220.3 MARKET ANALYSIS AND FORECAST 73720.3.1 Total Vascular Closure Device Market 73720.3.2 Vascular Closure Device Market by Device Type 74420.3.2.1 Invasive VCD Market 74420.3.2.1.1 Small Bore Invasive VCD Market 75420.3.2.1.2 Large Bore Invasive VCD Market 76120.3.2.2 Non-Invasive VCD Market 76920.3.3 Vascular Closure Device Market by Approach 77620.3.3.1 Femoral VCD Market 77820.3.3.2 Radial VCD Market 78520.4 DRIVERS AND LIMITERS 79220.4.1 Market Drivers 79220.4.2 Market Limiters 79320.5 COMPETITIVE MARKET SHARE ANALYSIS 795
TRANSCATHETER EMBOLIZATION DEVICE MARKET 799
21.1 INTRODUCTION 79921.1.1 Particle Embolic Devices 79921.1.2 Coil Embolic Devices 80021.1.3 Liquid Embolic Devices 80021.2 MARKET OVERVIEW 80221.3 MARKET ANALYSIS AND FORECAST 80721.3.1 Particle Embolic Device Market 80721.3.2 Coil Embolic Device Market 81621.3.3 Liquid Embolic Device Market 82421.4 DRIVERS AND LIMITERS 83121.4.1 Market Drivers 83121.4.2 Market Limiters 83121.5 COMPETITIVE MARKET SHARE ANALYSIS 834
APPENDIX I: DRUG-COATED BALLOON CATHETER MARKET 839
22.1 MARKET ANALYSIS AND FORECAST 83922.2 DRIVERS AND LIMITERS 84822.2.1 Market Drivers 84822.2.2 Market Limiters 848
APPENDIX II: INTRAVASCULAR LITHOTRIPSY MARKET 849
23.1 INTRODUCTION 84923.2 MARKET ANALYSIS AND FORECAST 85123.3 DRIVERS AND LIMITERS 85323.3.1 Market Drivers 85323.3.2 Market Limiters 85323.4 COMPETITIVE MARKET SHARE ANALYSIS 855
APPENDIX III: PERIPHERAL IVUS CATHETER MARKET 856
24.1 INTRODUCTION 85624.2 MARKET ANALYSIS AND FORECAST 85724.3 DRIVERS AND LIMITERS 86024.3.1 Market Drivers 860
The Peripheral Vascular Devices Market Report Suite | Europe | 2020-2026 | MedSuite includes analysis on the following companies currently active in this market: • Aachen Resonance GmbH. • Boston Scientific • Abbott Vascular • C. R. Bard • Acandis GmbH • Cardinal Health • ACIST Medical • Cardionovum GmbH • Acrostak • Cardiovascular Systems Inc. • Affluent Medical • Cardiva • AngioDynamics • Celenova Biosciences Inc. • Argon Medicalv • Concept Medical • Asahi Intecc • Contego Medical • Avimedica • Control Medical Technology • Avinger • Cook Medical • B. Braun • Endospan • BiO2 • Eurocor • Biosensors International Group Ltd. • Infraredx Inc. • Biotronik • InSeal Medical • Biovic • Invamed • Blockade Medical • Jotec
iData's 9-Step Research Methodology
Our reports follow an in-depth 9-step methodology which focuses on the following research systems:
Original primary research that consists of the most up-to-date market data
Strong foundation of quantitative and qualitative research
Focused on the needs and strategic challenges of the industry participants
Step 1: Project Initiation & Team Selection During this preliminary investigation, all staff members involved in the industry discusses the topic in detail.
Step 2: Prepare Data Systems and Perform Secondary Research The first task of the research team is to prepare for the data collection process: Filing systems and relational databases are developed as needed.
Step 3: Preparation for Interviews & Questionnaire Design The core of all iData research reports is primary market research. Interviews with industry insiders represent the single most reliable way to obtain accurate, current data about market conditions, trends, threats and opportunities.
Step 4: Performing Primary Research At this stage, interviews are performed using contacts and information acquired in the secondary research phase.
Step 5: Research Analysis: Establishing Baseline Estimates Following the completion of the primary research phase, the collected information must be synthesized into an accurate view of the market status. The most important question is the current state of the market.
Step 6: Market Forecast and Analysis iData Research uses a proprietary method to combine statistical data and opinions of industry experts to forecast future market values.
Step 7: Identify Strategic Opportunities iData analysts identify in broad terms why some companies are gaining or losing share within a given market segment.
Step 8: Final Review and Market Release An integral part of the iData research methodology is a built-in philosophy of quality control and continuing improvement is integral to the iData philosophy.
Step 9: Customer Feedback and Market Monitoring iData philosophy of continuous improvement requires that reports and consulting projects be monitored after release for customer feedback and market accuracy.