Gastrointestinal Endoscopic Devices Market Size, Share & Trends Analysis | China | 2020-2026 | MedSuite | Includes: Hemostasis Device Market, Stenting & Dilation Market, and 4 more
Year:

2020

Scope:

10 Years

Region:

China

Pages:

275

Published Date:

3/18/2020

Type:

MedSuite
In 2020, the Chinese gastrointestinal endoscopic device market size was valued at approximately $1.3 billion, with over 12.5 million colonoscopy procedures performed every year. The market value is expected to increase at a compound annual growth rate (CAGR) of 5.1% to approach $1.9 billion in 2026.
Throughout this medical market research, we analyzed 43 endoscopic device companies across China and used our comprehensive methodology to understand the market sizes, unit sales, company market shares, and to create accurate forecasts.
While this MedSuite report contains all the Chinese Gastrointestinal Endoscopic Devices market data and analysis, each of the market segments is also available as stand-alone MedCore reports. This allows you to get access to only the market research that you need.
DATA TYPES INCLUDED
Unit Sales, Average Selling Prices, Market Value & Growth Trends
Forecasts Until 2026, and Historical Data to 2016
Market Drivers & Limiters for Each Gastrointestinal Endoscopic Device market
Competitive Analysis with Market Shares for Each Segment
Recent Mergers & Acquisitions
Gastrointestinal Endoscopy Procedure Volumes
Disease Overviews and Demographic Information
Related Press Releases from Top Competitors
Market Value and Industry Trends
The growth of the Chinese gastrointestinal endoscopic device market will likely be limited by the prevalence of government hospitals. Since government hospitals dominate the GI treatment space, their purchasing decisions have large impact on ASPs. Government hospitals tend to buy in bulk, which is often associated with discounted deals, depressing ASPs in the GI space. On top of that, the government has started purchasing GI devices from local manufacturers, rather than premium, international companies.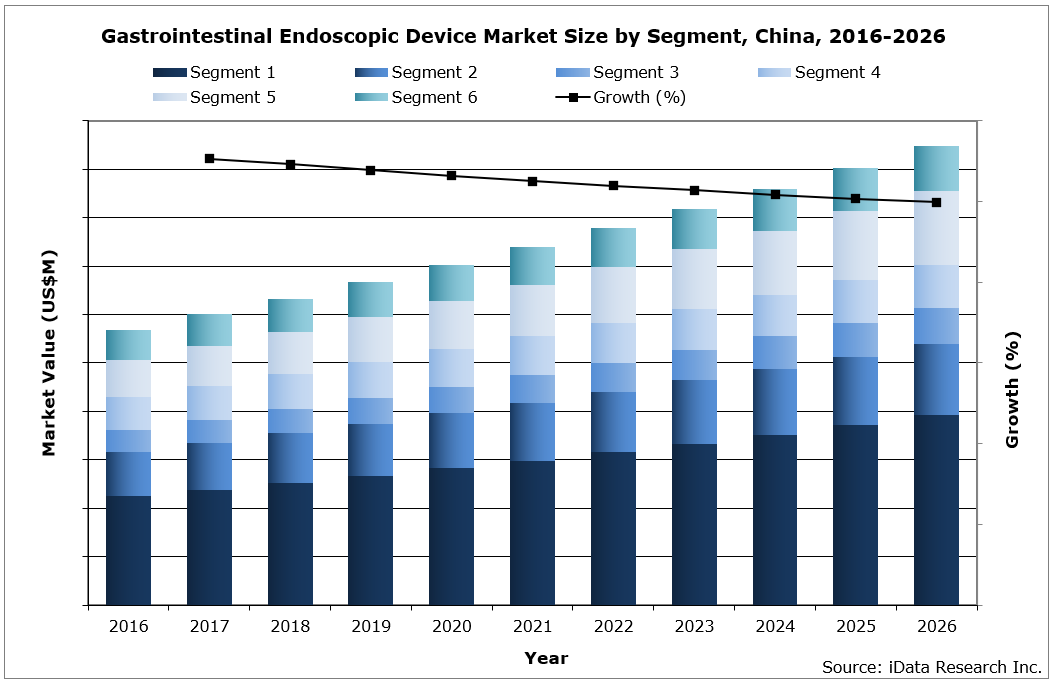 As endoscopy represents a major segment of the Chinese market, technological improvements to these devices will propel the growth of the total GI market moving forward. The HD format, and now HD+, along with advanced magnification capabilities, which penetrated the GI endoscope market only recently, resulted in a greater detection rate for polyps.
Unlike the system in the United States, Chinese government hospitals operate on a rebate system. After purchasing a GI device, a hospital may then receive a discount through a partial reimbursement strategy. The percentage of this discount varies according to the hospital, product purchased, size of the order, and the manufacturer involved.
Competitive Analysis

By 2020, Olympus was the leading competitor in the GI endoscopic device market and held market positions across all segments of the market. The company has an extensive network of distributors and a far-reaching sales force. Olympus is known for the high quality of its products and the technological innovation that it introduces to the market.
Boston Scientific was the second leading competitor in the Chinese market. The company has experienced significant growth in the biliary and pancreatic stent market since launching the AXIOS™ lumen-apposing covered-metal stent in 2016. The lumen-apposing covered-metal stent market is one of the latest innovations in the ERCP space, indicated for transgastric or transduodenal endoscopic drainage of symptomatic pancreatic pseudocysts and walled-off necrosis under EUS imaging guidance.
The third-leading competitor in the Chinese gastrointestinal endoscopic device market was Mirco-Tech. The company's strong position in the market is attributed mainly to its leading position in the hemostasis device market, and specifically, its dominance in the ligation clip market. The company represented more than half of the revenue generated by ligation clips in China.
Segments Covered
Feel free to click on each title to view detailed segmentation.
DETAILED MARKET SEGMENTATION
DON'T SEE THE SEGMENT OR DATA YOU NEED?
Feel free to contact us or send a request by pressing one of the buttons below.
TABLE OF CONTENTS FOR THE CHINESE GASTROINTESTINAL ENDOSCOPIC DEVICE MARKET REPORT SUITE
TABLE OF CONTENTS ILIST OF FIGURES VIILIST OF CHARTS XIEXECUTIVE SUMMARY 1CHINESE GASTROINTESTINAL ENDOSCOPIC DEVICE MARKET OVERVIEW 1COMPETITIVE ANALYSIS 4MARKET TRENDS 7MARKET DEVELOPMENTS 9PROCEDURE NUMBERS 11MARKETS INCLUDED 12KEY REPORT UPDATES 14VERSION HISTORY 14RESEARCH METHODOLOGY 15Step 1: Project Initiation & Team Selection 15Step 2: Prepare Data Systems and Perform Secondary Research 18Step 3: Preparation for Interviews & Questionnaire Design 20Step 4: Performing Primary Research 21Step 5: Research Analysis: Establishing Baseline Estimates 23Step 6: Market Forecast and Analysis 24Step 7: Identify Strategic Opportunities 26Step 8: Final Review and Market Release 27Step 9: Customer Feedback and Market Monitoring 28
CHINESE GASTROINTESTINAL ENDOSCOPIC DEVICE MARKET OVERVIEW
2.1 INTRODUCTION 292.2 CURRENCY EXCHANGE RATE 302.3 MARKET OVERVIEW 312.4 TREND ANALYSIS BY SEGMENT 372.5 DRIVERS AND LIMITERS 402.5.1 Market Drivers 402.5.2 Market Limiters 412.6 COMPETITIVE MARKET SHARE ANALYSIS 432.7 MERGERS AND ACQUISITIONS 50
PROCEDURE NUMBERS
3.1 PROCEDURES 523.1.1 GI Endoscopic Device Procedures 523.1.2 Gastrointestinal Endoscopy Procedures 553.1.2.1 EGD Procedures 553.1.2.2 Colonoscopy Procedures 553.1.2.3 Enteroscopy Procedures 553.1.2.4 Ultrasound Endoscopy Procedures 553.1.2.5 Capsule Endoscopy Procedures 553.1.3 ERCP Procedures 583.1.4 Stenting and Dilation Procedures 603.1.4.1 Stenting Procedures 603.1.4.2 Dilation Procedures 603.1.5 Tissue Sampling Procedures 623.1.6 Hemostasis Procedures 64
GASTROINTESTINAL ENDOSCOPE MARKET
4.1 INTRODUCTION 664.2 MARKET OVERVIEW 684.3 MARKET ANALYSIS AND FORECAST 744.3.1 Total Gastrointestinal Endoscope Market 744.3.2 Colonoscope Market 764.3.3 Duodenoscope Market 784.3.4 Enteroscope Market 804.3.5 Ultrasound Endoscope Market 824.3.6 Gastroscope Market 844.4 DRIVERS AND LIMITERS 864.4.1 Market Drivers 864.4.2 Market Limiters 874.5 COMPETITIVE MARKET SHARE ANALYSIS 89
CAPSULE ENDOSCOPY MARKET
5.1 INTRODUCTION 935.2 MARKET OVERVIEW 955.3 MARKET ANALYSIS AND FORECAST 1005.3.1 Camera Capsule Market 1005.3.2 Workstation Market 1035.3.3 Data Recorder Market 1055.4 DRIVERS AND LIMITERS 1075.4.1 Market Drivers 1075.4.2 Market Limiters 1085.5 COMPETITIVE MARKET SHARE ANALYSIS 110
STENTING & DILATION DEVICE MARKET
6.1 INTRODUCTION 1146.2 MARKET OVERVIEW 1166.3 MARKET ANALYSIS AND FORECAST 1226.3.1 Gastrointestinal Stent Market 1226.3.1.1 Esophageal Stent Market 1276.3.1.2 Duodenal Stent Market 1296.3.1.3 Colonic Stent Market 1316.3.2 Gastrointestinal Dilation Device Market 1336.3.2.1 Esophageal Dilation Balloon Market 1386.3.2.2 Duodenal Dilation Balloon Market 1406.3.2.3 Colonic Dilation Balloon Market 1426.4 DRIVERS AND LIMITERS 1446.4.1 Market Drivers 1446.4.2 Market Limiters 1456.5 COMPETITIVE MARKET SHARE ANALYSIS 148
ENDOSCOPIC RETROGRADE CHOLANGIOPANCREATOGRAPHY DEVICE MARKET
7.1 INTRODUCTION 1527.2 MARKET OVERVIEW 1537.3 MARKET ANALYSIS AND FORECAST 1597.3.1 Sphincterotome Market 1597.3.2 Biliary Stone Removal Balloon Market 1627.3.3 Biliary Stone Removal Basket Market 1657.3.4 Biliary Dilation Balloon Market 1687.3.5 Biliary Lithotripter Market 1707.3.6 ERCP Guidewire Market 1727.3.7 ERCP Cannula Market 1757.4 DRIVERS AND LIMITERS 1777.4.1 Market Drivers 1777.4.2 Market Limiters 1787.5 COMPETITIVE MARKET SHARE ANALYSIS 180
ENDOSCOPIC TISSUE SAMPLING DEVICE MARKET
8.1 INTRODUCTION 1838.2 MARKET OVERVIEW 1848.3 MARKET ANALYSIS AND FORECAST 1898.3.1 Biopsy Forceps Market 1898.3.1.1 Disposable Biopsy Forceps Market 1948.3.1.1.1 Cold Disposable Biopsy Forceps Market 2008.3.1.1.2 Hot Disposable Biopsy Forceps Market 2028.3.1.2 Reusable Biopsy Forceps Market 2048.3.1.2.1 Cold Reusable Biopsy Forceps Market 2108.3.1.2.2 Hot Reusable Biopsy Forceps Market 2128.3.2 EUS Needle Market 2148.3.2.1 Fine Needle Aspiration Market 2198.3.2.2 Fine Needle Biopsy Market 2218.3.3 Polypectomy Snare Market 2238.3.3.1 Cold Polypectomy Snare Market 2288.3.3.2 Hot Polypectomy Snare Market 2308.3.4 Cytology Brush Market 2328.4 DRIVERS AND LIMITERS 2348.4.1 Market Drivers 2348.4.2 Market Limiters 2358.5 COMPETITIVE MARKET SHARE ANALYSIS 237
HEMOSTASIS DEVICE MARKET
9.1 INTRODUCTION 2419.2 MARKET OVERVIEW 2439.3 MARKET ANALYSIS AND FORECAST 2489.3.1 Hemostasis Probe Market 2489.3.1.1 Electrosurgical Probe Market 2539.3.1.2 Argon Plasma Coagulation Probe Market 2559.3.2 Ligation Device Market 2579.3.2.1 Ligation Band Market 2629.3.2.2 Ligation Clip Market 2649.3.3 Sclerotherapy Needle Market 2669.4 DRIVERS AND LIMITERS 2699.4.1 Market Drivers 2699.4.2 Market Limiters 2709.5 COMPETITIVE MARKET SHARE ANALYSIS 272
ABBREVIATIONS
The
Gastrointestinal Endoscopic Device Market Report Suite | China | 2020-2026 | MedSuite
includes analysis on the following companies currently active in this market:
Alton (Shanghai) Medical Instruments
Anrei Medical
Argon Medical
Beijing ZKSK Technology
BioAGS
CapsoVision
Changzhou Chenmao Medical Instrument
Changzhou Health Microport Medical
China Hua Mei Industrial
CONMED
Dongguan Microview Medical Technology
ERBE
Fude Technology Group
Guangzhou DODODO Medical
Guangzhou MeCan Medical
Guangzhou Medsinglong Medical
Guangzhou Yueshen Medical
Healicom Medical
Hunan Injection High Technology
ICEN Technology
Inner Mongolia Dekang
IntroMedic

Jiangsu ATE Medical
Jingrui
Karl Storz
Leo Medical
Medogen Medical LLC
Nantong Makii Micro-Electric Tech
Perlong Medical
PRIDE IMP AND EXP (Group) CO.
Qingdao Goodpro International
Sainty International
Shanghai Eco Precision Extrusion Tech
Sonoscape
Sure Care Corp
Telemed Systems
Transmed (Nanjing) Medical
Vedkang
Wilson
Wuhan Darppon Medical
Zhejiang Chuangxiang Medical
Zhengzhou Safute Electronic
Zhuji Pengtian Medical Instrument
iData's 9-Step Research Methodology
Our reports follow an in-depth 9-step methodology which focuses on the following research systems:
Original primary research that consists of the most up-to-date market data
Strong foundation of quantitative and qualitative research
Focused on the needs and strategic challenges of the industry participants
Step 1: Project Initiation & Team Selection During this preliminary investigation, all staff members involved in the industry discusses the topic in detail.
Step 2: Prepare Data Systems and Perform Secondary Research The first task of the research team is to prepare for the data collection process: Filing systems and relational databases are developed as needed.
Step 3: Preparation for Interviews & Questionnaire Design The core of all iData research reports is primary market research. Interviews with industry insiders represent the single most reliable way to obtain accurate, current data about market conditions, trends, threats and opportunities.
Step 4: Performing Primary Research At this stage, interviews are performed using contacts and information acquired in the secondary research phase.
Step 5: Research Analysis: Establishing Baseline Estimates Following the completion of the primary research phase, the collected information must be synthesized into an accurate view of the market status. The most important question is the current state of the market.
Step 6: Market Forecast and Analysis iData Research uses a proprietary method to combine statistical data and opinions of industry experts to forecast future market values.
Step 7: Identify Strategic Opportunities iData analysts identify in broad terms why some companies are gaining or losing share within a given market segment.
Step 8: Final Review and Market Release An integral part of the iData research methodology is a built-in philosophy of quality control and continuing improvement is integral to the iData philosophy.
Step 9: Customer Feedback and Market Monitoring iData philosophy of continuous improvement requires that reports and consulting projects be monitored after release for customer feedback and market accuracy.