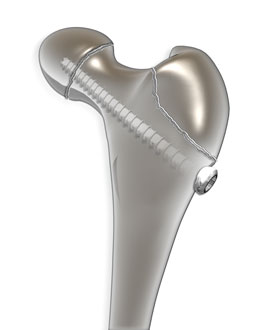 OrthoPediatrics Launches Large Fragment Cannulated Screw System
OrthoPediatrics announced the limited U.S. launch of its Large Fragment Cannulated Screw System.
The design is engineered to improve treatment for children with slipped capital femoral epiphysis (SCFE) and children with large bone or large fragment fractures such as fractures of the femoral neck, tibial plateau, intercondylar femur, subtalar arthrodesis and fixation of the pelvis and iliosacral joint.
The screws feature 2mm increments for added precision, dual lead threads to accelerate screw insertion, as well as screw thread run out in the head and threaded cannulation to facilitate removal.
OrthoPediatrics is determined to change the neglected field of orthopedic implants for children. After observing adult implants being modified in the operating room to suit the needs of children, the founders of OrthoPediactrics began designing orthopedic implants that are anatomically appropriate for pediatric patients. To design the Large Fragment Cannulated Screw system, the company collaborated with four pediatric surgeons. In regards to the system, pediatric orthopedic surgeon Dr. Scott Hoffinger states:
"The engineering group at OrthoPediatrics completely reconfigured the screw system and precisely designed it specifically for the pediatric patient. This will help overcome challenges we encounter in the operating room every day."
Via: OrthoPediatrics
Cannulated Screws Market
Cannulated screws are a specialized type of screw with a hollowed center that allows for precision placement using guide wires. Newer technologies in cannulated screws include headless cannulated screws, which do not protrude into soft tissue, preventing damage and increasing patient comfort. Headless screws also offer compression threading on both ends of the screw, as opposed to the single-ended compression capabilities of headed screws.
The screws are made from either stainless steel or titanium. Stainless steel is more popular in the United States market and is used more often in applications where strength is an issue. However, titanium is quickly gaining in popularity, spurring many manufacturers to offer titanium alternatives. Titanium metal is lighter, more malleable and more biocompatible than steel and is frequently used despite the increased strength of steel.
The total cannulated screw market is expected to be largely flat over the forecast period, but growing slightly. The growth is driven by the increasing use of titanium screws over stainless steel, as the stainless steel cannulated screw market is predicted to decline. Furthermore, the stability of the market is the result of growing unit sales that are being offset by declining prices.
To read more on the trauma devices market, please refer to iData Research's 2019 report Trauma Devices Market Analysis |Global featuring interviews, procedural volumes, and forecasts up to 2025.