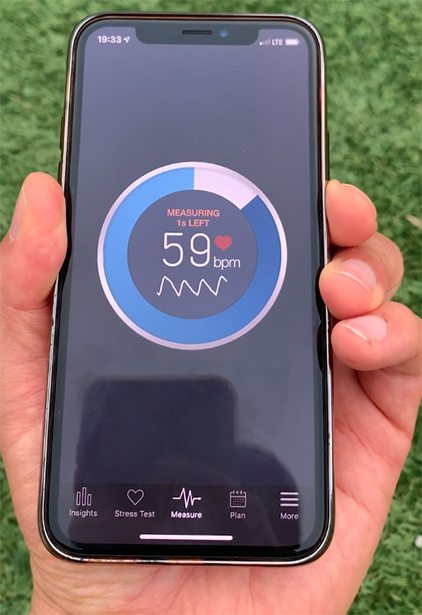 Researchers at UCSF have developed a method to help detect diabetes using a smartphone. They have developed a deep-learning technology that can be combined with a mobile app to offer a low-cost method of detecting diabetes.
Instant Heart Rate Measurement
The Azumio Instant Heart Rate app was recently used as part of the Health eHeart study for heart disease. A total of 53, 870 patients took part in this study. To use this app, participants placed their fingertips over their smartphone's flashlight and camera, and their photoplethysmography (PPG) is measured by distinguishing the changes in color in the fingertip that correspond with their heartbeat. Nearly three million PPG recordings were taken over the course of this study.
Although this information was being gathered to study heart disease, many heart metrics can be indicators of other conditions such as diabetes mellitus, allowing researchers to use this information for diabetes research as well. Diabetes is the seventh-largest global cause of death, and it also raises the risk of heart disease, which is the leading global cause of death.
Diabetes can often go undetected, as it can be asymptomatic for a long period of time. There are few widely-available methods that can be used to non-invasively test for diabetes. Because there are few low-cost and convenient methods of testing for diabetes, those who do not show any symptoms often do not get tested, leading to high levels of undetected cases.
Smartphone-Based Diabetes Detection Technology
The large amount of data gathered using the Smartphone Instant Heart Rate app was used to test and validate the deep-learning algorithm recently developed at UCSF and its ability to detect diabetes. The technology has shown promise thus far in providing a low-cost, widely-available test for diabetes.
The algorithm was shown to have high accuracy in some respects among participants in the study, with a false positive diabetes detection rate of only 3-8%. When the PPG readings were combined with other patient information such as BMI, age, and gender, the false positive rate further declined. However, when examining some data sets the algorithm had a false negative rate of up to 19%. Nevertheless, this is an exciting advancement towards more accessible methods of detecting diabetes.
Jeffrey Olgin, MD, a professor and chief of the Division of Cardiology at UCSF, said:
"We demonstrated that the algorithm's performance is comparable to other commonly used tests, such as mammography for breast cancer or cervical cytology for cervical cancer, and its painlessness makes it attractive for repeated testing. A widely accessible smartphone-based tool like this could be used to identify and encourage individuals at higher risk of having prevalent diabetes to seek medical care and obtain a low-cost confirmatory test."
Telemedicine Device Market
The telehealth market is a hotspot of innovation and improvement. Smartphones are beginning to be a major source of telehealth uses as their technology improves, and their potential is far from exhausted.
For more information on this market, iData's Telemedicine Device Market Reports contain detailed international market analyses that are based on primary interviews with industry leaders. Each study covers Units Sold, ASPs, Market Share, Procedural Data, Revenue, Growth Rates, and Market Value for each of the market segments. Request your complimentary research summary today!