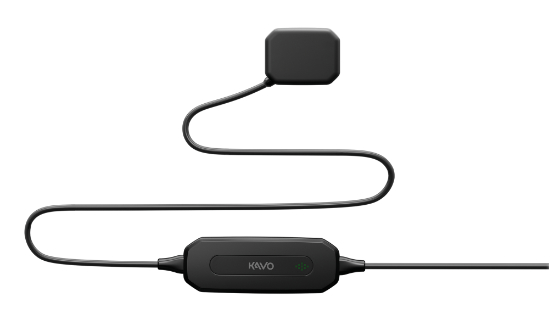 KaVo Kerr unveiled three new products at a dental industry press event in its booth during the recent Midwinter Meeting, providing media representatives with hands-on demonstrations of the devices. The DEXIS FS Ergo by KaVo intraoral sensor is already available to order. The KaVo X Pro intraoral scanner and Dex Voice will be available in coming months.
"These are transforming what's happening in the industry," KaVo Kerr Vice President of Marketing, North America, Phil Prentice said when introducing the additions to the company's extensive imaging-systems portfolio.
Prior to describing the products in more detail, Filippo Imperi, KaVo Kerr vice president commercial, imaging, said, "We have increased our investment in imaging to expand the pace of innovation."
The FS Ergo is described as representing a new category of intraoral sensor, designed to improve patient comfort and diagnostic detail. According to the company, the size and flexibility of the FS Ergo make it particularly well suited for patients with low tolerance for standard sensors. The sensor can "give" as X-rays are being captured to provide patients with as comfortable a radiographic experience as possible.
The sensor housing is described as being resistant to bite marks and able to withstand a wide variety of disinfection chemicals. The cable-to-sensor connection passed rigorous testing of pulling, twisting, straining and bending. The USB connector held up to high-frequency testing of insertion and removal. The positioning system enables the sensor to easily exit and protects the longevity of the cable from wear and tear.
The KaVo X Pro intraoral scanner for digital impressions, which will be available later in the year, also was demonstrated. Imperi said patient and practitioner ergonomics were the starting points for the instrument's design, with high accuracy and seamless integration with other imaging-system components and the Dexis platform serving as the foundation for performance.
Also planned for release in coming months is Dex Voice, which is built on the Amazon Echo/Alexa platform and fully integrates with the Dexis software. The smart speaker will enable clinicians to deliver voice commands to Alexa to perform Dexis actions that normally would require keyboard or other manually entered commands.
Source: https://us.dental-tribune.com/news/kavo-kerr-unveils-new-products-in-chicago/
For Further Information
More on the dental imaging device market in the US can be found in a series of reports published by iData entitled the US Market Report Suite for Dental Imaging Devices. This report covers the following market segments: intraoral X-ray devices, extraoral X-ray devices and CBCT scanners.
The iData series on the market for dental imaging devices covers the U.S. and 15 countries in Europe including Germany, France, the United Kingdom (U.K.), Italy, Spain, Benelux (Belgium, Netherlands and Luxemburg), Scandinavia (Finland, Denmark, Sweden and Norway), Portugal, Austria and Switzerland. Reports provide a comprehensive analysis including units sold, procedure numbers, market value, forecasts, as well as detailed competitive market shares and analysis of major players' success strategies in each market and segment. To find out more about dental imaging market data or procedure data, register online or email us at info@idataresearch.net for a US Market Report Suite for Dental Imaging Devices brochure and synopsis.