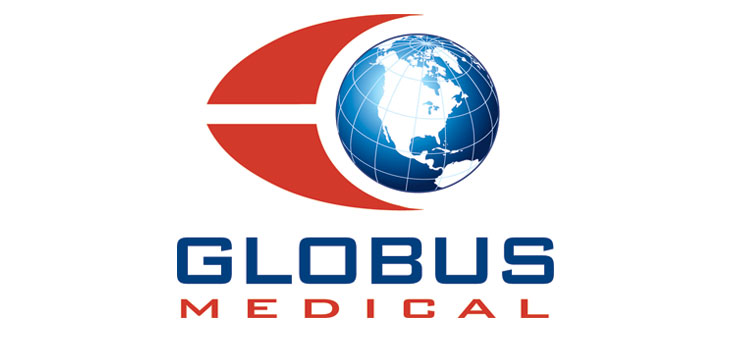 Globus Medical, Inc., a leading musculoskeletal solutions company, announced the expansion of its orthopedic trauma product portfolio with two new product offerings, the ANTHEM® Ankle Fracture System and the ANTHEM® Proximal Humerus Fracture System, marking the Trauma division's fourth and fifth comprehensive product launches over the last 10 months.
"This is an exciting time for Globus Trauma as we continue to execute our product launch strategy and build a comprehensive Trauma product portfolio," said Barclay Davis, Vice President, Orthopedic Trauma. "With each new product introduction, our goal is to design systems that help streamline the procedure, increase versatility, reduce operative time, and improve patient care."
ANTHEM® Ankle Fracture Plating and other lower extremity systems will be exhibited at the annual American Orthopedic Foot and Ankle Society Meeting in Boston, Massachusetts July 11th-14th.  Globus Medical invites meeting attendees to Booth 206 to experience its recent product innovations and discuss trauma advancements with the company's product development experts.
– The ANTHEM® Ankle Fracture System is an extensive range of 7 unique plating options for treatment of virtually any ankle fracture. Over 25% thinner than the market leader's plate, ANTHEM®'s low profile ankle fracture plates are designed to minimize soft tissue irritation from implant prominence. Anatomically contoured plates, extensive screw options and instruments specifically designed for ankle anatomy are rolled into one efficient and comprehensive system for treating ankle fractures.
– The ANTHEM® Proximal Humerus Fracture System is designed to treat a wide variety of shoulder fractures and streamline procedural flow. The unique polyaxial screw technology allows for more accurate targeting of dense calcar bone to enhance fixation, independent of plate position. Large suture holes simplify suture attachment for soft tissue or rotator cuff repair. This comprehensive stand-alone system includes small fragment instruments and innovative retractors to help streamline the surgical procedure, aid in visibility of the fracture site, and optimize surgical time.
Indications
The ANTHEM™ Fracture System is indicated for fixation of fractures, osteotomies, arthrodesis and reconstruction of bones for the appropriate size of the device to be used in adult patients, including the clavicle, scapula, humerus, radius, ulna, small bones (metacarpals, metatarsals, phalanges), wrist, pelvis, femur, tibia, fibula, ankle, and foot. The clavicle hook plate may be used for dislocations of the acromioclavicular joint.
Small fragment, proximal tibia, clavicle and distal fibula plates may be used in all pediatric subgroups (except neonates) and small stature adults.  Distal radius plates may be used in adolescents (12-21 years of age). Plating may be used in patients with osteopenic bone.
Source: https://globenewswire.com/news-release/2018/07/03/1532926/0/en/Globus-Medical-Adds-Two-Innovative-Solutions-to-Growing-Trauma-Portfolio.html
For Further Information
More on the orthopedic trauma market in the U.S. can be found in a series of reports published by iData entitled the U.S. Market Report Suite for Orthopedic Trauma Devices. This report covers the following market segments:  plate and screw, bioabsorbable trauma fixation, intramedullary nails, cannulated screws, intramedullary hip nails, conventional hip fixation, bone staples, bone pins, external fixation and bone growth stimulators.
The iData series on the market for orthopedic trauma covers the U.S. and 15 countries in Europe including Germany, France, the United Kingdom (U.K.), Italy, Spain, Benelux (Belgium, Netherlands and Luxemburg), Scandinavia (Finland, Denmark, Sweden and Norway), Portugal, Austria and Switzerland. Reports provide a comprehensive analysis including units sold, procedure numbers, market value, forecasts, as well as detailed competitive market shares and analysis of major players' success strategies in each market and segment. To find out more about orthopedic trauma device market data or procedure data, register online or email us at info@idataresearch.net for an U.S. Market Report Suite for Orthopedic Trauma Devices brochure and synopsis.