Coronavirus and Ibuprofen: Is it safe to take?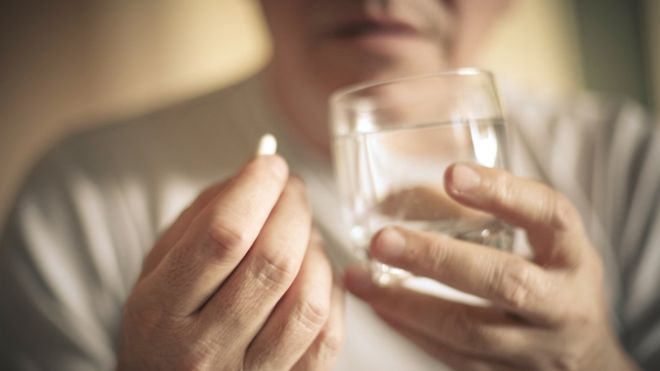 Medical professionals no longer recommend using ibuprofen to manage coronavirus symptoms.
The health minister of France, Olivier Véran has warned citizens to avoid taking ibuprofen to treat symptoms of the coronavirus after a report was published linking "grave adverse effects" to the use of anti-inflammatory drugs (NSAIDs).
The coronavirus infects other cells by attacking angiotensin-converting enzyme 2 (ACE2) receptors on the surfaces of cells. The report theorizes that patients taking drugs that increase the number of ACE2 receptors, such as ibuprofen, may leave patients more vulnerable to the virus. However, medical experts have come out to say there is not enough evidence to support the report's claim.
Acetaminophen and ibuprofen both help to reduce fever and treat flu-like symptoms. The report aside, acetaminophen may be preferable anyways because it is less likely to cause side effects such as an upset stomach, nausea, or kidney irritation.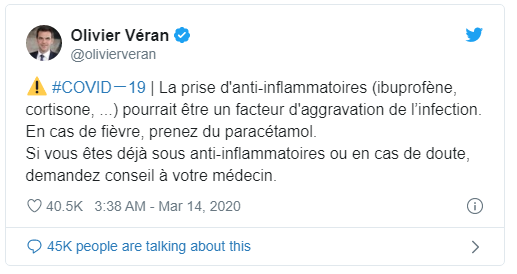 Véran sent out a tweet over the weekend recommending citizens to take paracetamol, commonly known as acetaminophen in North America, instead of ibuprofen. The tweet, which was shared over 43,000 times, claims that ibuprofen "could be an aggravating factor of the infection." Those who are already taking anti-inflammatory drugs to treat another condition should contact their doctors for advice.
"I am not aware of any studies that have specifically linked the use of ibuprofen with increased risk of complications with the COVID-19," Eudene Harry, a board-certified physician in emergency medicine and medical director for the Oasis Wellness & Rejuvenation Center in Orlando, Florida.
National Health Services (NHS) stated that "there is currently no strong evidence that ibuprofen can make coronavirus (Covid-19) worse" but advises that " until we have more information, take paracetamol to treat the symptoms of coronavirus unless your doctor has told you paracetamol is not suitable for you."
While there is no direct evidence that ibuprofen can worsen the effects of the coronavirus, due to lack of research and the number of unknowns involved dealing with a new virus, experts are erring on the side of caution recommending acetaminophen over ibuprofen to the general public. They urge those who have concerns to contact their doctor.
Many medical device markets are being affected by the coronavirus. At iData Research, it is our prime responsibility to keep you updated on the latest market trends in the industry. We will be working hard to update reports within our report library to reflect on the changes in the market due to the effects of the coronavirus.