The Asia Pacific medical device market presents immense opportunity for companies specializing in intravenous (IV) therapy equipment and consumables. Most prominently, the Chinese and Indian infusion therapy device markets grew at CAGRs of about 7% and 6%, respectively, between 2014 and 2017. Meanwhile the Australian, Japanese and South Korean markets recorded low-single digit growth.
IV infusions allow direct access to the blood stream of a patient for a quick intervention. Doctors and medical personnel in the Asia Pacific region use different methods of IV therapy for infusing medications, saline water for hydration, reagents, and blood in more than a hundred million procedures every year. Doctors often require the use of intravenous procedures for addressing dehydration, pain, gastrointestinal conditions, sepsis, osteomyelitis, hemophilia, sclerosis, arthritis, immune deficiencies and cancer.
Hundreds of local and international suppliers provide this sector with intravenous infusion pumps (IV pumps), intravenous infusion line sets (IV sets), needless connectors for IV sets (NLCs), blood IV lines, and other consumables, such as in-line filters and in-line stopcocks for IV sets.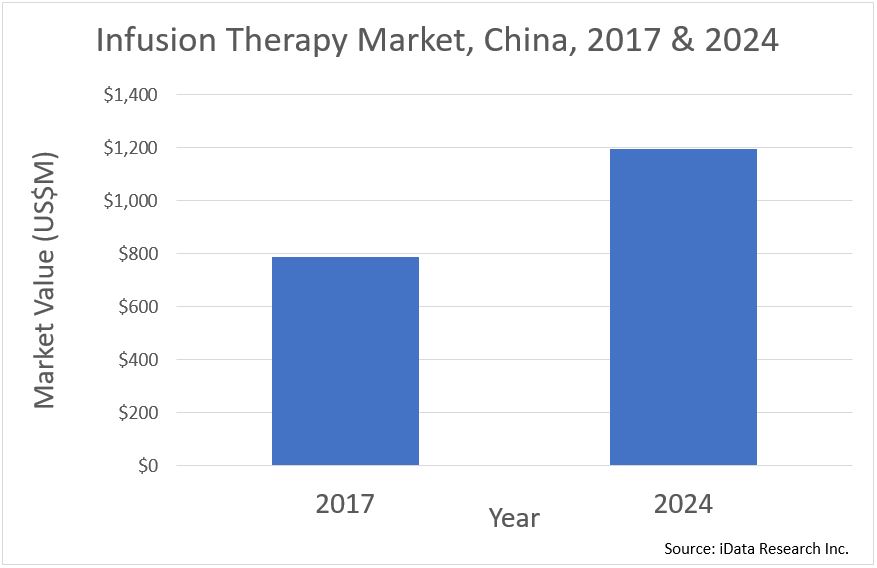 In China, the IV therapy method of medication has become universally preferred to oral medication. In 2017, there were over 5 billion IV sets used nationwide, or 44.5 IV sets per hospital bed. However, in recent years, IV therapy has become widely overused and misused in China. By 2016, infusion therapy had become such a popular method of medication in China that the government acted to limit its use in non-essential procedures, encouraging doctors to use other methods instead.
In 2011, the Chinese National Development and Reform Commission reported that the average use of infusion therapy was 8.4 infusions per capita, while the average in other countries was 3 infusions per capita. 30% of outpatients received drugs via intravenous infusions in 2014. Adverse events, related to infusion therapy, were observed in 0.73% of patients. As a result, in 2016, infusion therapy in outpatient facilities was banned in several jurisdictions in China, including the Shanxi and Jiangsu provinces. The goal to limit the use of IV infusions included decreasing the use of antibiotics and increasing the use of alternative methods of medication.
So where is the growth coming from? One factor driving growth in the Chinese infusion therapy market is the adoption of technologies available in other countries and other fields of medicine. The success of American and European suppliers of IV therapy solutions in the region has energized a swarm of market followers from around the world, leading to a dramatic decrease in prices due to economies of scale, competitive pressure and the expiration of patents.
Another factor driving growth in the Chinese infusion therapy market is the expansion of local health care markets in general via increased government healthcare spending and improved health insurance coverage. Governments in the Asia Pacific region led the globe in raising spending on health care: China increased health care spending by 18% from 2006 to 2011, Korea raised spending by 5.7% from 2013 to 2014, India bumped up expenditure by 19.6% from 2001 to 2011, Australia allocated an additional 4.7% from 2006 to 2016, and Japan expanded spending by 2.4% from 2013 to 2016. Additionally, health insurance coverage is increasing. In China, where health care is mostly public, health insurance coverage increased from 43% in 2006 to 95% in 2011. In India, where health care spending is mostly private, health care insurance coverage was expected to grow from 15% of the population in 2014 to 27% in 2017.
This article was originally published on BioVoice News, to read the full article please visit https://www.biovoicenews.com/asia-pacific-infusion-therapy-device-market-notches-strong-growth/.
For Further Information
More research on the Asia Pacific infusion therapy market can be found in the Asia Pacific Infusion Therapy Market report suite, which provides a comprehensive report on units sold, market values, average selling prices, forecasts, as well as detailed competitive market shares and analysis of all major competitors. This infusion therapy suite of reports includes segmentation for infusion pumps, intravenous (IV) sets, needleless connectors (NLCs) and stopcocks.