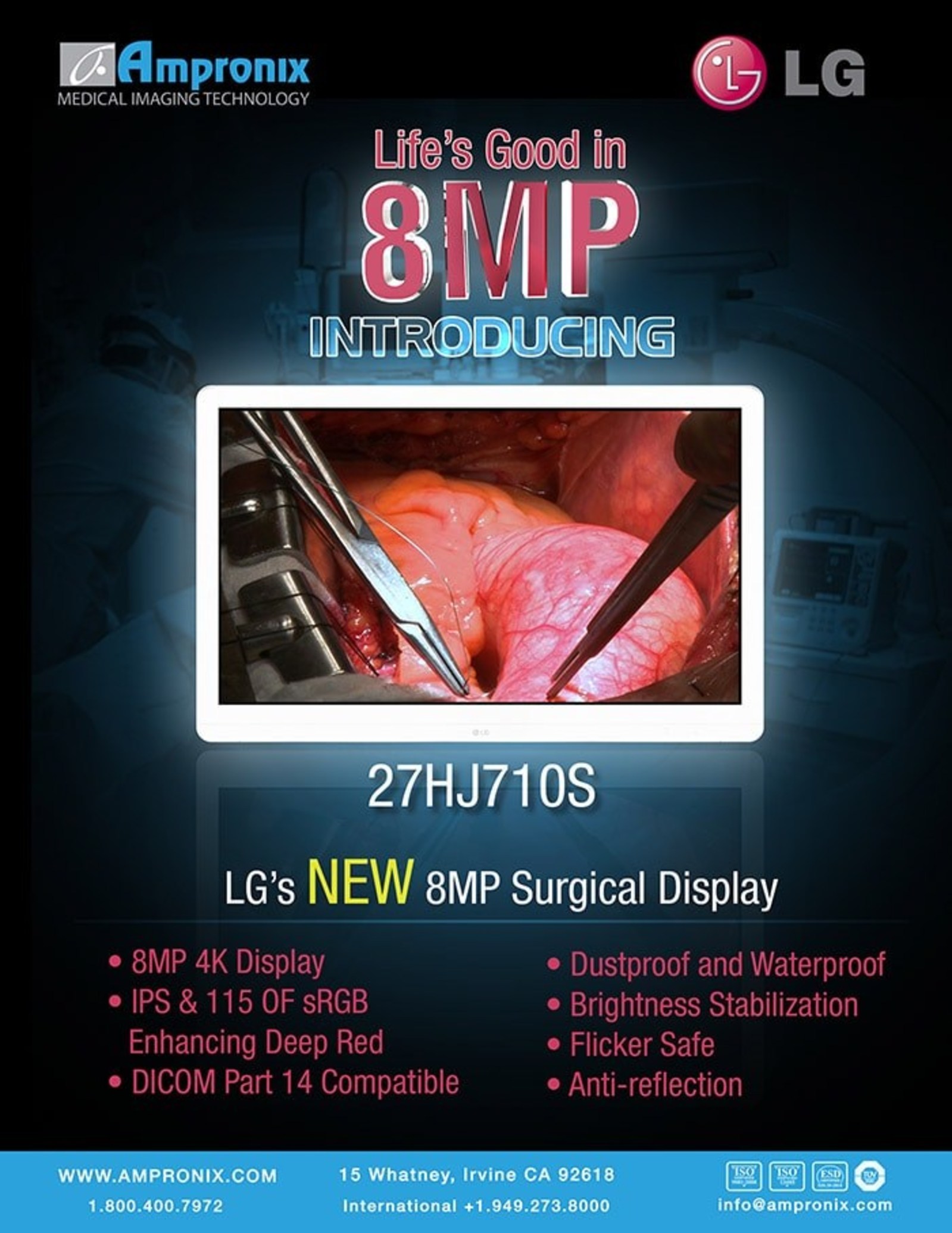 Ampronix is proud to announce their expanded surgical monitor line-up with the 8MP Surgical Monitor from LG Electronics USA Business Solutions. Ampronix will be highlighting the monitor at the upcoming FIME 2017 summer trade fair in Florida. As a leader in the medical imaging field, Ampronix believes this collaboration to be mutually beneficial as LG seeks to expand their display technology prowess into the industry.
"LG is diving head-first into the U.S. medical imaging device market with advanced display technologies designed to improve the accuracy, quality, and efficiency of diagnostic procedures," said Kimun Paik, senior vice president of LG Electronics USA Business Solutions. "To serve this highly competitive market, we plan to build on LG's position both as a worldwide leader in premium display technologies and as the largest provider of hospital patient room TVs in the U.S."
LG Surgical Monitor
The 27-inch LG 8MP Surgical Monitor 27HJ710S-W is designed for precise observations pertinent to operating room practice. The unmatched clarity of images produced by the 8MP UHD panel helps surgeons' accuracy in intricate procedures. The monitor's IPS technology allows multi-angle viewing without significant color shift, fortifying the screen for operating room lighting conditions.
To guarantee consistency and precision accuracy, the LG monitor measures and sets grayscale tones to DICOM Part 14 guideline compliancy. For visual distinction of different types of tissue and blood vessels, the sRBG color space is enhanced with adherence to the deep red spectrum. This enhancement ensures authentic color reproduction in the surgery room. LG's multi-coated glass is highly durable and scratch-resistant and protects the panel during surgical procedures. The front panel is IP35 rated and the back panel is IP32 rated, protecting against dust, water or fluids that may contact it during an operation. In addition to the waterproofing safeguards, its flat surface allows for easy cleaning of the 8MP panel and control buttons. Additionally, LG's optically bonded glass reduces internal reflection between itself and the LCD, allowing for brighter and sharper imagery of the highest quality. These are a few of the various reasons LG's technology is the optimal choice for supplying equipment in healthcare facility suites.
Coming August 2017
Ampronix is pleased to divulge its collaboration with LG at the FIME 2017 conference, August 8-10 in Orlando, Florida. Described as 'The Largest Medical Trade Fair Across the Americas' this trade fair is an annual must-see with over 1,650 exhibitors from over 40 countries. Michael Thomas, Director of Marketing at Ampronix, says "We are very excited to partner with LG at FIME 2017 and debut their latest medical display monitors. LG is one of the most renowned brands in all of display technology and should do very well in the medical industry." To experience the functionality of these displays in person and meet the individuals behind the brands, contact Michael Thomas with Ampronix at [email protected], or visit their booth at FIME 2017, booth #B.J19.
For Further Information
More on the surgical camera market in the US can be found in the report published by iData entitled US Market for Video, High-Tech and Integrated & Hybrid Operating Theatre Equipment. The market segments covered in this report include integrated operating rooms, hybrid operating rooms, surgical camera systems, digital image capture and recording devices, surgical display and PACS monitors, medical printers, surgical light sources, surgical headlights, surgical lighting, surgical booms, surgery tables, surgical microscopes, and insufflation devices.
The iData series on video, high-tech and integrated & hybrid operating theatre equipment covers the U.S., Japan, and 15 countries in Europe encompassing Germany, France, the United Kingdom (U.K.), Italy, Spain, Benelux (Belgium, Netherlands and Luxemburg), Scandinavia (Finland, Denmark, Sweden and Norway), Portugal, Austria and Switzerland. Full reports also provide a comprehensive analysis including units sold, procedure numbers, market value, forecasts, as well as detailed competitive market shares and analysis of major players' success strategies in each market and segment. To find out more about video, high-tech and integrated operating theatre equipment market data or procedure data, register online or email us at [email protected] for a US Market for Video, High-Tech and Integrated & Hybrid Operating Theatre Equipment report brochure and synopsis.