AI Predicts Heart Failure Hospitalization up to 10 Days in Advance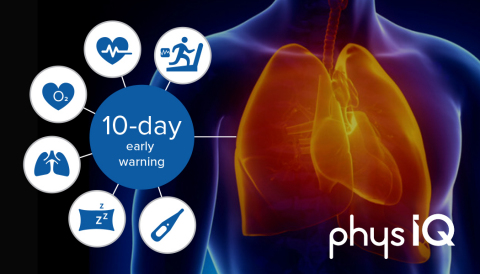 PhysIQ and U.S. Veteran's Affairs have published successful clinical trial results showing how artificial intelligence (AI) can be used to predict heart failure hospitalization up to 10 days in advance.
The study, published in Circulation: Heart Failure, assesses PhysIQ's pinpointIQ™ continuous data collection and analytics platform. The system collects data from wearable sensors, allowing for noninvasive, continuous remote monitoring of patient vitals.
The Centers for Disease Control (CDC) has estimated that around 6.5 million adults in the United States have heart failure. There are a reported one million annual hospitalizations due to heart failure with almost 20% of patients being readmitted to hospitals within 30 days. Early detection of further heart complications would allow for intervention and prevent rehospitalization.
100 patients recently discharged from U.S. Veteran's Affairs hospitals for heart failure participated in the study, donning disposable 4-day adhesive sensors patches on their chest that transmit data to physIQ's cloud. From the cloud, physIQ analytics were able to establish a baseline for each patient and then detect even the slightest of physiological changes that indicated the need for rehospitalization 7-10 days in advance. Patients were monitored for up to 90 days without interference. Post hoc indicated the platform had a mean detection time of 10.4 days prior to rehospitalization with 88% sensitivity and 86% specificity. Early detection by physIQ's analytics should provide enough time for intervention and prevent rehospitalization.
"By giving doctors the information they need to preemptively intervene and prevent patient deterioration, rather than react to what has already happened, physIQ is bringing the power of AI to healthcare delivery in ways that will transform patient care and improve care value."

-Dr. Stephen Ondra, Chief Medical Officer for physIQ
Via: BusinessWire
Telehealth Market
The market for telehealth includes both remote monitoring of people with chronic conditions, and individuals with cardiac implantable electronic devices (CIEDs). Heart conditions that can benefit from telehealth monitoring include chronic heart failure (CHF) or conditions that require a cardiac implant, such as arrhythmias like bradycardia and tachycardia.
The telehealth monitoring market has grown tremendously in recent years, fueled by increasing awareness of the benefits of remote monitoring and home healthcare. Growth was heavily driven by telehealth monitoring for disease management, which represented approximately more than half of the total telehealth market value in 2018.
Currently, the U.S. boasts the most mature telehealth market in the world, as well as a diverse competitive landscape, attributable to a trend towards reimbursement reform and successes of large-scale deployment initiatives. Moreover, the Veteran's Health Administration (VHA), America's largest purveyor of home telehealth, continues to rapidly expand the size of its remote patient monitoring (RPM) programs and funding.
In 2018, the total market for telehealth monitoring valued at approximately $1.1 billion, a 12.6% increase over 2017, and is expected to grow at a CAGR of 11.4% by 2025.
To read more on the telehealth market, refer to iData Research's report page: Telemedicine Market Analysis, Size, Trends | Global | 2019-2025 | MedCore