New Orleans, a city full of history and culture, has been outstanding this year for AAOS 2018. People seem to really enjoy the unique atmosphere here, live music, and the sunny weather.
The show has been a great success so far for the iData team doing the annual surgeon surveys, and the extraordinary number of exhibitors in this massive hall is more impressive every year. Our analysts anticipate a very robust analysis coming from these survey questions around Hyaluronic Acid, Joint Reconstruction, Stemless Shoulder Implants, and Superior Capsular Construction (SCR). (Contact us to learn about obtaining the results from this survey)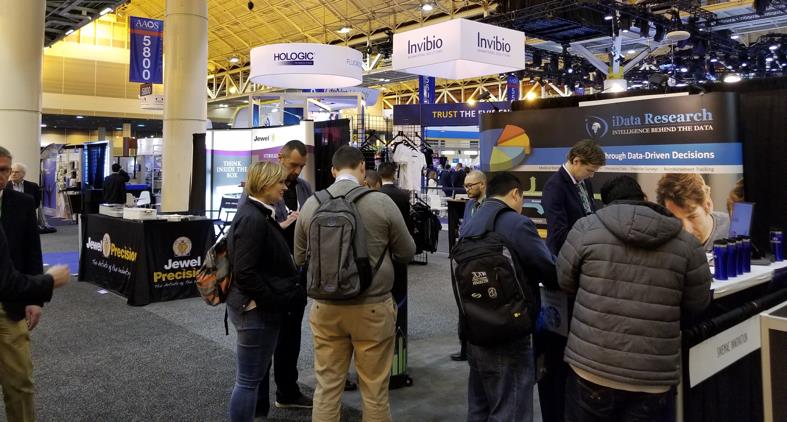 We've heard doctors comment about, "many companies here that they've never even heard of", and they appreciate the exposure to new sources of devices and technology. However, for the major players it seems to be a continuation on some of the trending technology that we've seen increasing promotion for.
Integrated Operating Technology Focus for Major Players at AAOS
High tech operating room equipment and state of the art imaging equipment played a large role at AAOS 2018. Key orthopedic competitors such as Arthrex and Stryker dedicated large portions of their booths to showing off their latest innovations in the integrated operating room space.
Karl Storz featured their 80" Collaborator touchscreen wall mounted display. This first to market screen is capable of displaying dozens of separate feeds and allows healthcare workers to drag each feed using the touchscreen. By simply tapping a feed, the information can be printed or emailed directly to patients or other rooms and institutions. While Karl Storz focuses primarily on endoscopy and neurology, their technology and instruments are also applicable to the orthopedic space.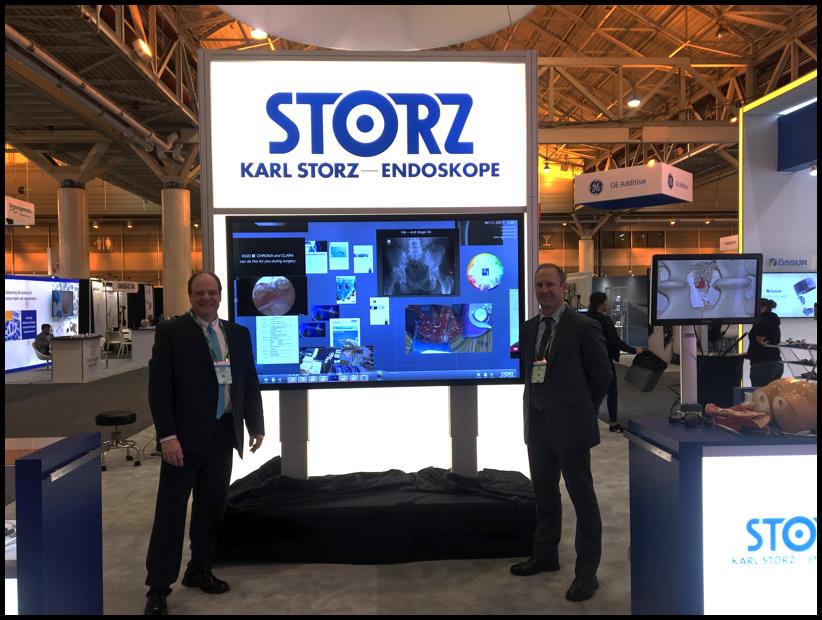 Karl Storz also featured their 3D camera system, IMAGE1 S, which offers surgeons the ability to expand the depth of field when performing procedures. This technology also helps reduce neck strain when mounted to a surgical microscope, which is a common complaint among physicians.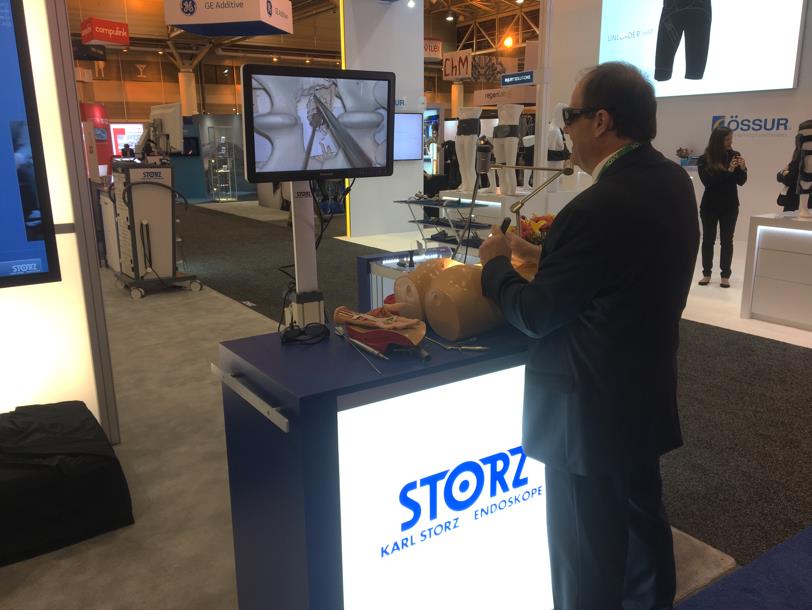 Arthrex's successful synergy 4K surgical camera system fully setup with premium TRUMPF surgical lighting and boom systems all connected through a software based platform. The setup was topped off with a large 70" wall mounted 4K display featuring high definition surgical intervention with a vivid color gamut and deep contrast.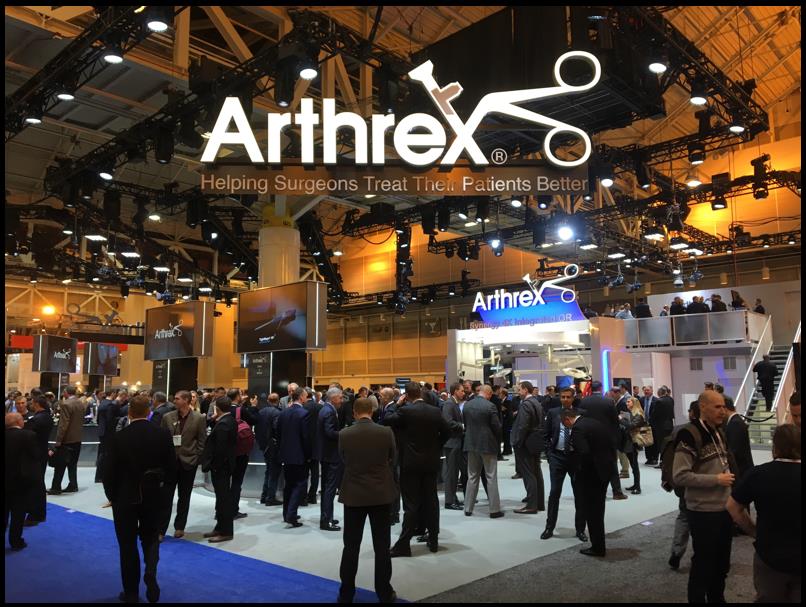 The appeal of this software based platform has allowed Arthrex, a traditionally orthopedic focused company, to branch out into other surgical specialties such as endoscopy. Arthrex's sole competitor in the 4K camera market, Olympus, offers the VISERA 4K surgical camera system which has also made a strong impression on the market. Conversely to Arthrex, Olympus specializes in endoscopy fields and is looking for more exposure in the orthopedic market.
In addition to their expansive selection of orthopedic implants, Stryker also showed off their integrated operating room setup featuring the AIM platform. This camera system setup includes five separate imaging modules covering a wide spectrum of modalities including Clarity, DRE, Desaturation, ENV, and IRIS. The 1588 AIM camera head is one of the most successful surgical cameras on the market.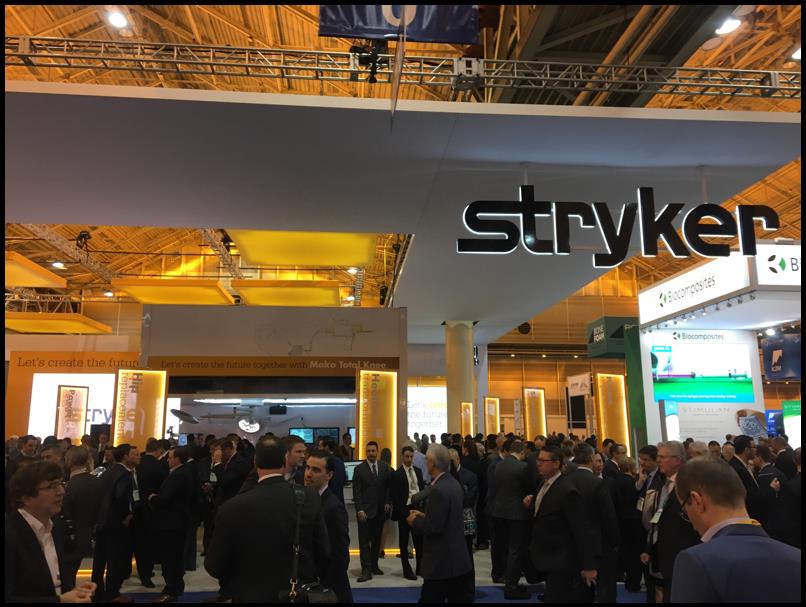 If you missed meeting us this time around, contact us next year at AAOS 2019 to have a live demo of our research, or even sponsor our survey to have specific questions asked.