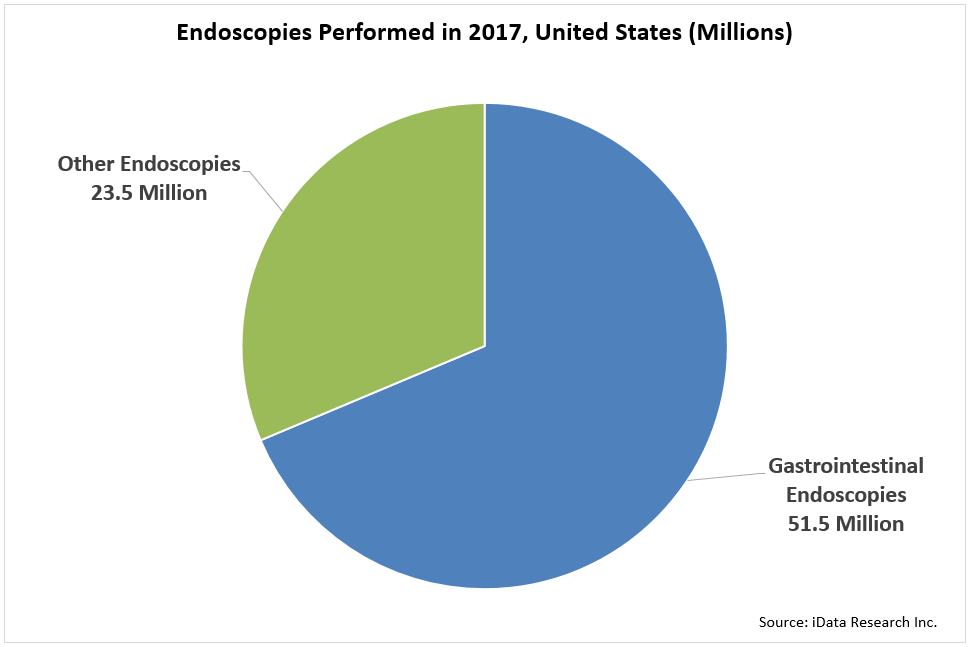 iData Research, a leading international market research and consulting firm, has published numerous studies from their latest endoscopic research that quantifies nearly 700 CPT® and ICD codes across the United States. Research showed that in 2017, there were approximately 75 million endoscopies performed annually in the United States.
Included in this total are the ear, nose and throat, laparoscopy, gynecology, urology and gastrointestinal endoscopy markets. Of the approximately 75 million endoscopies performed every year, 68%, or 51.5 million, are attributed to gastrointestinal endoscopic procedures. The majority of these procedures are screenings related to colon cancer or the removal of abnormalities from the GI tract. It is important to note that there is a great deal of procedural overlap, as a patient can (and often does) undergo multiple procedures at one time.
"The number of GI procedures, estimated to grow at a compound annual rate of 2.6%, is largely dependent on macro factors, such as aging demographics and the growing prevalence of GI related conditions, coupled with the tremendous growth in the adoption of the colorectal cancer screening programs. These substantial market drivers will create a net positive effect on future growth in the GI space," explains Dr. Kamran Zamanian, CEO of iData.
According to the American Society of Gastrointestinal Endoscopy (ASGE), colorectal cancer is the third-leading cause of cancer deaths in the United States. Over the past decade, media campaigns initiated by cancer awareness organizations and governmental bodies have done a lot to increase awareness of the condition and the necessity of screening for it. The stigma attached to the procedure has also been drastically reduced, and many people realize that a colonoscopy every five to ten years can greatly reduce their chances of developing life-threatening cancer. With the ongoing support from GI lobbying groups, the growth in screening programs will continue to contribute positively to the market and, thus, to the volume of endoscopies.
For a deeper analysis of the gastrointestinal endoscopic market, the U.S. Market Report Suite for Gastrointestinal Endoscopic Devices provides a comprehensive report on units sold, market values, average selling prices, procedure volumes, forecasts, as well as detailed competitive market shares and analysis of all major competitors.
Reports include research for devices related to GI flexible endoscopy, capsule endoscopy, virtual colonoscopy, endoscopic retrograde cholangiopancreatography (ERCP), stenting and dilation, biopsy, specimen and foreign-body removal, hemostasis, enteral feeding, anti-reflux, and Barret's Esophagus.