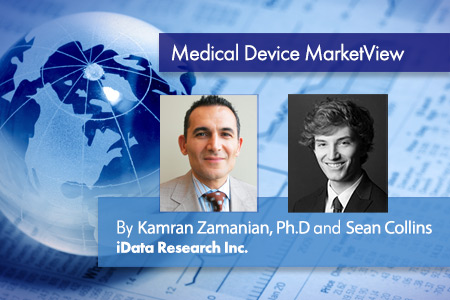 Growth of the United States' elderly population has driven a steady increase in the number of patients requiring treatment for peripheral vascular lesions. Meanwhile, the availability of increasingly sophisticated technology has improved patient outcomes and broadened the range of patient anatomies that can be endovascularly treated. The subsequent rise in procedural volume has applied upward pressure on the value of the U.S. market for peripheral vascular devices.
Read more at Med Device Online
For Further Information
More on the markets for peripheral vascular devices in the US can be found in the latest report suite published by iData entitled US Peripheral Vascular Device Market Report Suite – 2016, which covers the US as well as the following markets: peripheral vascular stents, PTA balloon catheters, atherectomy devices, chronic total occlusion devices, embolic protection devices, stent-grafts, surgical grafts, AV access thrombectomy devices, inferior vena cava filters, diagnostic and interventional catheters, standard and hydrophilic guidewires, introducer sheaths, vascular closure devices, and transcatheter embolization devices.
The iData series on the market for peripheral vascular devices also covers China, India, Japan, and 15 countries in Europe. Full reports provide a comprehensive analysis including units sold, procedure numbers, market value, forecasts, as well as detailed competitive market shares and analysis of major players' success strategies in each market and segment.
Register online or email us at [email protected] for a US Peripheral Vascular Device Market – 2016 report brochure and synopsis.