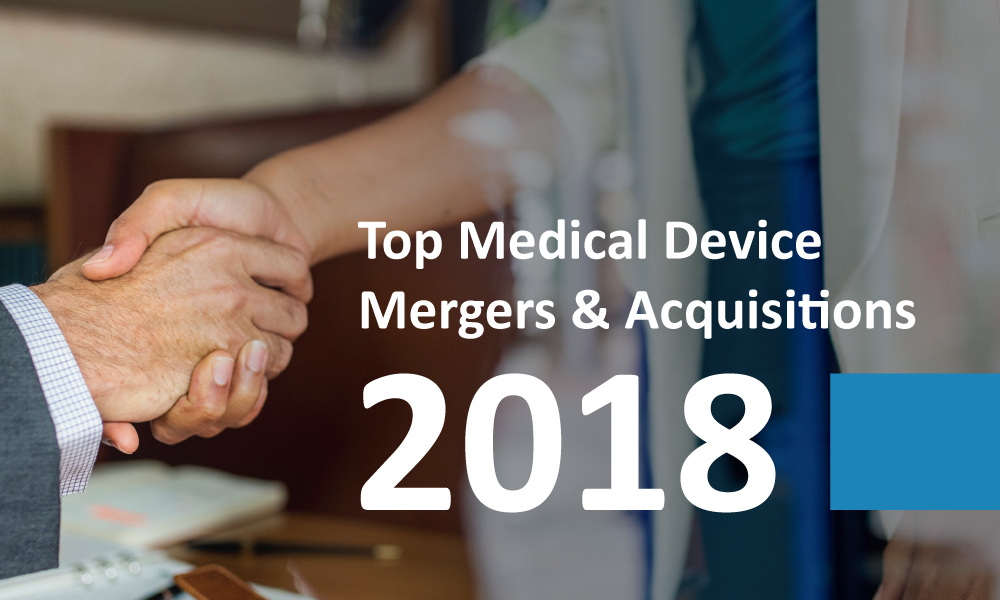 At a similar pace to the previous year, 2018 marked the emergence of several high-profile mergers and acquisitions in the medical device industry – many of which were made by two industry giants, Stryker and Boston Scientific. And let's not forget the widely-circulated rumors of the acquisition of Boston Scientific itself by Stryker back in June, which were later dismissed.
Below is a list of the most notable healthcare acquisition news this year ranked by deal value. If you are interested in learning about the market shares, trends or unit sales of these manufacturers, please contact us today.
Boston Scientific Announces Intent to Buy BTG – $4.2 Billion USD [PENDING]
While this isn't expected to close until the first half of 2019, it marks the biggest acquisition news of 2018. We'll be looking to see how this deal pans out in the near future, but it certainly will disrupt the MedTech industry.
"The acquisition of BTG and its rapidly growing peripheral interventional portfolio is an exciting extension of our category leadership strategy that will augment our capabilities in important areas of unmet need such as cancer and pulmonary embolism," said Mike Mahoney, chairman and chief executive officer, Boston Scientific. "We are confident that the addition of these therapies to our portfolio will ultimately advance patient care in ways that could not be realized by either company alone, while also allowing us to realize substantial revenue and cost synergies and provide a strong return for investors."
Johnson & Johnson Sells Subsidiary LifeScan to Platinum Equity – $2.1 Billion USD [CLOSED]
LifeScan reaches nearly 20 million patients across more than 90 countries. Their $1.5bn in net revenues will be a strong addition to the portfolio of Platinum Equity.
"We share an unwavering commitment to patient care and know there is tremendous opportunity for LifeScan to grow and evolve. With LifeScan's talent and capabilities, our iconic OneTouch brand, and Platinum's support, there's no limit to what we can achieve."
Medtronic Acquires Mazor Robotics – $1.6 Billion USD [CLOSED]
Medtronic has announced a definitive merger agreement with Mazor Robotics, a pioneer in the field of robotic guidance systems.
"We believe robotic-assisted procedures are the future of spine surgery, enhancing surgeons' abilities to perform complex procedures with greater precision, consistency and control. Medtronic is committed to accelerating the adoption of robotic-assisted surgery and transforming spine care through procedural solutions that integrate implants, biologics and enabling technologies," said Geoff Martha, executive vice president and president of the Restorative Therapies Group at Medtronic.
Under the agreement, Medtronic will acquire all outstanding ordinary shares of Mazor for $58.50 per American Depository Share, or $29.25 per ordinary share, in cash, for a total of approximately $1.64 billion, or $1.34 billion net of Medtronic's existing stake in Mazor and cash acquired.
In the middle of planning for 2019?
Browse Our Report Store to See Our Medical Market Research
or Contact Us for a custom quote.
Stryker Acquires K2M – $1.4 Billion USD [CLOSED]
Stryker acquired rival spine company K2M Group Holdings in a deal worth approximately $1.4 billion. K2M will become a wholly-owned subsidiary, joining Stryker's spine division to broaden its current traditional and minimally invasive offerings.
"Joining Stryker will be a very exciting next chapter for our global team and surgeon customers around the world," said Chairman, Chief Executive Officer, and President of K2M, Eric D. Major in a press release.
The deal is slated to close by the end of 2018 and K2M's chairman, Eric D. Major, will assume the role of division head for Stryker's spine division upon the completion of this acquisition.
ResMed Acquires MatrixCare – $750 Million USD [CLOSED]
While this acquisition pertains to software, it is a significant play for ResMed to become a leader in out-of-hospital care, and integrating patient records across care settings.
"ResMed is the world's top tech-driven medical device company, and we are well on our way to being the top provider of out-of-hospital software," said ResMed CEO Mick Farrell. "It all fits into our mission of changing millions of people's lives, whether it's by treating and preventing the advance of chronic disease or helping someone easily navigate out-of-hospital healthcare settings so they and their loved ones can live their best life."
Stryker Acquires Entellus Medical – $664 Million USD [CLOSED]
Entellus has a broad portfolio of ENT products that are highly complementary to Stryker's existing portfolio. While this announcement originally came in December 2017, the deal was closed on February 28, 2018.
"The combination of Stryker's established commitment to making healthcare better and Entellus' innovative products within the ENT segment will continue to provide our customers the tools they need for cost effective solutions," said Robert White, CEO of Entellus. "I look forward to the additional progress we will make together."
Boston Scientific Acquires Augmenix – $600 Million USD [CLOSED]
Augmenix's core offering is the SpaceOAR® system, a hydrogel designed to limit negative side effects of prostate cancer radiotherapy. With a CE Mark, FDA approval, and use on over 30,000 patients worldwide, Boston Scientific is in a good position to see significant growth of this product next year.
"The acquisition furthers our category leadership strategy in urology and the SpaceOAR hydrogel is a crucial addition to our growing prostate health treatment portfolio of products that improve the quality of life and clinical outcomes for men with prostate cancer and benign prostatic hyperplasia," said Dave Pierce, executive vice president and president, MedSurg, Boston Scientific. "The injection of this hydrogel during a minimally-invasive, in-office procedure can reduce the unwanted and unintended side effects of prostate radiation and provide substantial peace of mind for patients and their treating physicians."
Boston Scientific Acquires NxThera – $400 Million USD [CLOSED]
NxThera has developed a very successful business since its start in 2008. This is particularly evident with the development of the Rezūm® system, a minimally invasive therapy (MIT) for patients with symptomatic benign prostatic hyperplasia (BPH). This acquisition was first announced on March 21, 2018, and later closed on April 30, 2018.
"We are confident in the potential for this system to help patients with BPH and increase the number of men choosing MITs, because it offers long-term relief from symptoms without the side effects of medications," said Dave Pierce, executive vice president and president, MedSurg, Boston Scientific. "The minimally invasive therapy segment is the fastest growing category in the treatment of BPH and, as an office-based procedure, the Rezūm system is appealing to patients, clinicians and payers."
RTI Surgical Acquires Paradigm Spine, LLC – $300 Million USD [PENDING]
This acquisition was announced on November 1, 2018, and is expected to close in the first quarter of 2019. Paradigm Spine's primary product is the coflex® Interlaminar Stabilization® device, which is designed to treat severe lumbar spinal stenosis (LSS) in conjunction with decompression.
"With coflex®, the Paradigm Spine team has created a differentiated implant that has a demonstrated track record of improving patient outcomes and addresses a critical and growing need in the spine surgery space," said Camille Farhat, President and CEO of RTI. "Coflex® is FDA PMA approved and an established treatment that we believe is poised for accelerated and sustainable long-term growth given its clinical efficacy and ongoing progress toward insurance coverage. We look forward to working with the Paradigm Spine team to complete this compelling addition to the RTI Surgical family."
Boston Scientific Acquires nVision – $275 Million USD [CLOSED]
Earlier this year Boston Scientific announced the acquisition of nVision Medical Corporation, a privately held company focused on women's health. nVision was working on a solution for early detection of ovarian cancer through its first and only device to collect cells from the fallopian tubes.
"I started nVision with a goal of creating a tool to address an unmet need in women's health," said Surbhi Sarna, founder and chief executive officer, nVision. "I am proud of our achievements in advancing efforts to help with the early detection of ovarian cancer and look forward to working with Boston Scientific to move this technology forward."
Boston Scientific Acquires Claret Medical – $270 Million USD [CLOSED]
The agreement announced in July was originally awaiting a milestone payment based on the pending NTAP designation of Claret Medical's Sentinel System. The wait wasn't long as the announcement of its closure, and the aforementioned NTAP designation came just 13 days later.
"The Sentinel System is an exciting platform technology designed to reduce the risk of procedure-related stroke in TAVR and other left-heart and endovascular procedures, and is an increasingly important consideration for patients and physicians as the TAVR indication expands to treat a younger patient population," said Kevin Ballinger, president, Interventional Cardiology, Boston Scientific. "The recent CMS NTAP designation underscores the clinical value of the Sentinel System and will allow for accelerated adoption of this adjunctive therapy amongst structural heart centers."
ResMed Acquires Propeller Health – $225 Million USD [PENDING]
Announced December 3, 2018, this acquisition may change the ownership of Propeller Health, but they will continue to operate as a standalone business within ResMed's Respiratory Care portfolio. This deal is expected to close before the end of March 2019.
"Acquiring Propeller is a significant step for ResMed toward becoming the global leader in digital health for COPD," ResMed CEO Mick Farrell said in a statement. "By working with Propeller's existing partners to offer digital solutions for respiratory care pharmaceuticals and building our own proven ability to support digital solutions at scale, we can positively impact the lives of even more of the 380 million people worldwide who are living with this debilitating chronic disease."
Stryker Acquires Hyperbranch Medical Technology – $220 Million USD [CLOSED]
Hyperbranch has one of only two FDA-approved dural sealants on the market, an attractive addition to Stryker's Craniomaxillofacial division. With an announcement on October 1, 2018, it's supposed to have an immaterial impact on net earnings in 2018.
"The acquisition of HyperBranch supports our growth strategy within our Neurotechnology business," said Spencer S. Stiles, Group President, Neurotechnology, Instruments and Spine for Stryker. "The addition of Adherus to our cranial closure portfolio strengthens our position of excellence in the dural repair space and aligns with Stryker's mission of making healthcare better."  
Boston Scientific Announces Agreement to Acquire Cryterion Medical – $202 Million USD [PENDING]
Boston Scientific announces an agreement to acquire Cryterion Medical, a privately-held company developing a single-shot cryoablation platform for the treatment of atrial fibrillation.
"Initial clinical study results demonstrate that our system has a promising safety profile as well as acute efficacy," said Keegan Harper, president and chief executive officer, Cryterion Medical, Inc. "We look forward to bringing this advanced cryoablation system to market with the support of Boston Scientific."
Boston Scientific has been an investor in Cryterion since its inception in 2016 and the transaction price for the approximately 65% remaining stake, not already owned by Boston Scientific, consists of $202 million in up-front cash.
Stryker Acquires Invuity – $190 Million USD [CLOSED]
Invuity, Inc., has entered into a definitive agreement with Stryker Corporation, pursuant to which Stryker will acquire all of the outstanding shares of Invuity for $7.40 per share in cash, implying a total equity value of approximately $190 million.
"Invuity's innovative products in the single-use lighted instrumentation and hybrid energy markets provide best in class illumination and help make surgery safer," stated Spencer S. Stiles, Group President, Neurotechnology, Instruments and Spine. 
Following the completion of the transaction, Invuity Inc.'s shares will be delisted from NASDAQ.
Boston Scientific Acquires VENITI, Inc. – $160 Million USD [CLOSED]
Boston Scientific announced a signed agreement to acquire VENITI, Inc. on Aug 8, 2018. VENITI is a privately-held company which specializes in treating venous obstructive disease through its VICI VENOUS STENT®.
"This stent system was designed with the distinctive demands of the venous system in mind, and built to provide physicians with a high-quality lumen across a variety of venous anatomies and disease states," said Jeff Elkins, president and Chief Executive Officer of VENITI. "We are excited to see this stent technology become even more accessible to physicians and the patients they treat under the leadership of Boston Scientific."
While $100 million dollars isn't a "small amount" in the context of 2018 acquisitions, they definitely don't top the list. More of 2018 medical device mergers and acquisitions can be seen here: