By Kamran Zamanian, Ph.D, and Steven Zhu, iData Research Inc.
The small bone and joint device market in the Europe consists of reconstructive implants for the extremities, including the shoulder, elbow, hand, and foot. Significant growth in unit sales of key segments is counteracting across-the-board price cuts that are caused by competition and tendering processes in many EU countries. These price declines are causing many niche markets in extremity reconstruction to shrink, despite otherwise stable unit sales.
However, there still is significant potential for growth, pending improvements in prosthesis design for a number of niche joint replacements, such as total ankle replacement and total elbow replacement. In a number of countries, significant demographic shifts in the 50+ population also are expected to impact more niche segments and to drive product innovation.
Small Bone & Joint Orthopedic Devices Market, Europe, 2011 – 2021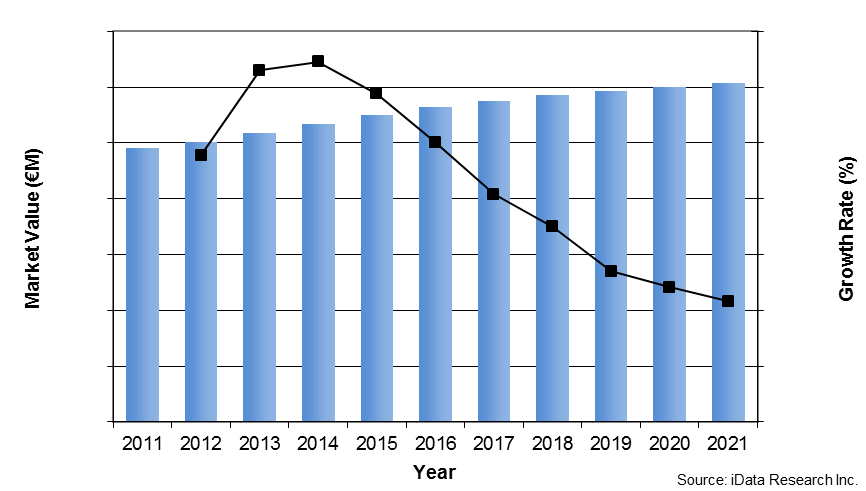 The shoulder reconstruction market is made up of total, reversed, partial, and resurfacing sub-segments. An emerging stemless implant segment is rapidly replacing many of these segments — even the previously rapidly growing reversed shoulder replacement. At first glance, the stemless implant is similar to a resurfacing, with the main differences being the thicker metaphyseal anchorage and the larger head component that replaces part of the humeral head, rather than just the surface.
These stemless implants already have an established presence in Germany and Austria, and are expected to accelerate the rapid decline of shoulder resurfacing in all European markets. Their popularity lies in the anatomical advantage provided by the absence of a humeral stem and their ease of revision. In the competitive landscape for shoulder implant manufacturers, Depuy Synthes leads in market share, followed closely by Zimmer Biomet Holdings. Wright Medical Group N.V., the proposed merged entity consisting of Wright Medical Group Inc. and Tornier N.V., is expected to take third place after the transaction is finalized in late 2015.
Elbow reconstruction is a much smaller segment in Europe since the elbow is not a load-bearing joint, so the incidence of degenerative arthritis is less common. The radial head implant is twice as numerous as the total elbow replacement implant but, because of its lower ASP, its market value is less than half that of the total elbow. Zimmer Biomet leads in market share in this segment, followed by Wright Medical N.V.
Under hand and wrist reconstruction there are a number of niche sub-segments, including total wrist replacement and wrist fusions. Total wrist arthroplasty is a highly invasive procedure that replaces the entire radiocarpal articulation. It is a much more complex procedure compared to wrist fusion, a more common alternative. However, wrist fusion has the downside of limiting the wrist's range of motion. Until technological improvements can be made in total wrist arthroplasty, wrist fusions are expected to remain the standard of care for wrist deformities.
In the domain of foot and ankle reconstruction, the total ankle implant is a device that, like total elbow and wrist replacements, has had mixed clinical results and has potential to surge out of niche territory if technological innovation renders it clearly superior to fusions. In several European countries, including Switzerland and Italy, the trend for fixing ankle fractures and treating ankle arthritis is moving toward ankle arthrodesis, instead of total ankle arthroplasty.
Multinationals Vs. Local Competitors
The overall competitive landscape for small bone and joint devices in Europe has been transformed by two significant mergers of large multinational companies: Biomet Inc., which received the DePuy trauma line as part of the DePuy Synthes merger, was merged with Zimmer for about $13.4 billion in cash and stock on June 23, 2015 to form Zimmer Biomet Holdings Inc. Wright and Tornier, with 2013 revenues of $242 million and $311 million, respectively, will combine to create Wright Medical Group N.V., valued at $3.3 billion. The full transaction, pending regulatory approval, is expected to occur in late 2015 and will be fully dedicated to both the upper and lower extremities.
Although the mergers differ greatly in monetary value, they share some strategic motivations. Both mergers reflect an attempt to diversify product portfolios into a more comprehensive offering across the upper and lower extremities. Wright Medical is strong in foot and ankle reconstructive implants, while Tornier is strong in the upper extremities, such as shoulder.
Both merged entities also benefit from an expanded sales force. In the orthopedic reconstruction industry, particularly within the rapid-growing segment of extremities implants, the relationship between sales representatives and surgeons is crucial to maintaining business relationships. Sales and product specialists frequently observe surgeries in the operating room and inform surgeons of the specifics of the implants to assist in their proper implementation. Therefore, acquiring more experienced and knowledgeable salespeople is perhaps the most important motivation behind large-scale mergers.
The European implications of these mergers depend on the focus these large multinational businesses place on their European subsidiaries, as well as the reactions of smaller, more local competitors. For example, in 2014, Zimmer reported net sales of $40.6 million in its European extremities reconstruction business, representing just 1 percent of total revenue from its global reconstruction unit.
Since many extremities product segments — such as stemless shoulders, radial heads, and many foot and ankle implants — have high growth potential, larger companies may be better positioned to dedicate more resources to capturing the expanding market. On the other hand, public companies with significant sales in the U.S. market may be pressured by shareholders to focus on their U.S. operations, where price deterioration is not as dramatic. Their smaller European operations, such as the extremities businesses, could be vulnerable to aggressive marketing campaigns by small- to mid-sized companies based solely in Europe.
About The Authors
Steven Zhu is a research analyst at iData Research and was the lead researcher for the report on European Markets for Small Bone & Joint Orthopedic Devices. He is currently conducting research on the U.S. market for hip and knee reconstruction implants.
Kamran Zamanian, Ph.D., is president, CEO, and a founding partner of iData Research. He has spent over 20 years working in the market research industry.
About iData Research
iData Research is an international market research and consulting group focused on providing market intelligence for medical device and pharmaceutical companies. iData covers research in: diabetes drugs, diabetes devices, pharmaceuticals, anesthesiology, wound management, orthopedics, cardiovascular, ophthalmics, endoscopy, gynecology, urology, and more.