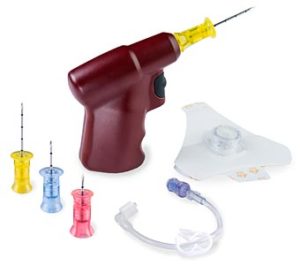 Teleflex has announced its receival of 510(k) clearance from the U.S. Food and Drug Administration (FDA) to expand the indications for the use of the Arrow® EZ-IO® Intraosseous Vascular Access System. This device is used to provide procedural guidance within the establishment of intraosseous vascular access, especially when intravenous access is difficult to obtain in emergent situations. The new expansion allows the device to be used for 48 hours rather than 24 hours. This allows clinicians additional time to establish vascular access safely when patients require long term access.
COVID-19 Impact on the Vascular Access Market
According to the lead Vascular Access market analyst at iData research, the overall negative impact of COVID-19 on the U.S. market is expected to be minimal. Commodity markets, such as Peripheral Intravenous Catheter (PIVCs) and syringes and needles, are expected to maintain their current usage volumes. Despite the possibility of an overall decrease in the number of hospitalization days recorded in 2020, these low-cost disposables are so widely used that they are expected to continue to be sold in high volumes.
Central Venous Catheters (CVC) may see an overall increase in sales, because they are commonly used to treat patients with respiratory illnesses, especially in the ICU. The sales of Peripherally Inserted Central Catheters (PICC) are expected to decline in compensation. However, the recently published Gli Accessi Venosi Centrali a Lungo Termine (GaVeCeLT) guidelines suggest that there are many advantages to using a PICC over a CVC to treat COVID-19 patients in the ICU.
In regards to the indicator expansions, Ms. Fox stated:
"These benefits are of particular importance in a time of constrained resources and patient surge," With the COVID-19 pandemic causing an influx of patient hospitalization and more resource constraints, this expansion will prove to be greatly beneficial."

Michelle Fox, corporate vice president and chief medical officer, Teleflex
Teleflex Market Positioning
According to a recent market study, Teleflex holds about 6% of the total market share in the US Vascular Access market. The company has shown its dominance in the CVC segment and notable presence in the PICC, midline, tip-placement system, and dialysis catheter segments making it the fourth-leading competitor in the US market in 2019. The top competitors in the US market were Becton Dickinson, with over 50% market share, followed by 3M with over 10% and Cardinal Health with over 7%.
Vascular Access Market Forecast
Concerns about catheter-related infections and failures have been applying a significant downward pressure on the vascular access market. Many central line catheters, such as CVCs and dialysis catheters, are associated with high infection rates. Treating any infections or complications caused by a catheter can be costly and time consuming for the facility. As such, clinician preference has trended towards alternative modes of access that have lower complication rates, such as using AV fistula instead of long-term dialysis catheters.
Register to receive a free Vascular Access Devices Market Report Suite for U.S. 2020-2026 synopsis
Overall, the Vascular Access Devices Market Research in estimates that the US market size was valued at $4.8 billion in 2019. This value is expected to increase at an aggregate growth rate of 2.7% to reach $5.7 billion in 2026.
Via: Teleflex