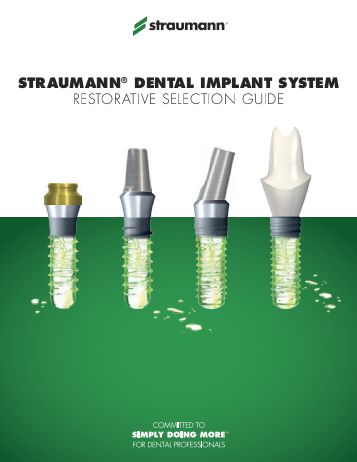 According to a new series of reports on the European dental implant fixture and final abutment market by iData Research, stock abutments dominated the final abutment market in Europe but there has been a shift towards customized and technology-driven solutions in recent years. Generic products from low-cost competitors have largely contributed to price depreciation and diminishing revenue growth in the market across Europe. However, the growing popularity of CAD/CAM abutments will limit average selling price (ASP) depreciation since they are priced higher than stock abutments and custom cast abutments. Unit sales growth will be driven by the overall growth of the dental implant fixture market and the increased focus on patient-individualized treatments, which has also contributed to the growing popularity of CAD/CAM abutments.
"Recent improvements in production capability and technological innovations, such as Ti-Base abutments, have made CAD/CAM abutments significantly more affordable than in the past," explains Dr. Kamran Zamanian, CEO of iData. "CAD/CAM abutments are now relatively comparable in price to custom cast abutments and are more easily accessible; especially in regions where milling labs with CAD/CAM production are in greater abundance."
The rise in CAD/CAM abutment popularity has made it the fastest growing segment within the final abutment market in Europe. Increased penetration of dental implants within less developed markets, such as France and the United Kingdom, as well as mature markets, will exhibit a positive effect on final abutment growth in the next several years. Although the overall volume of final abutments is growing, the unit market share of each segment is expected to shift and will have an effect on overall prices. Additionally, a growing number of local laboratories have emerged to produce and distribute CAD/CAM abutments, making them more accessible.
Straumann is the leading competitor in the Europe dental abutment market. Despite declining stock abutment sales, Straumann was able to remain competitive through its improved CAD/CAM milled abutment product portfolio and leading dental implant market share in the region. Imitation products of Straumann's stock abutments are widespread throughout Europe, especially in Spain and Italy. Though Straumann was one of the first companies to offer CAD/CAM abutment products to the Italian market, it has lost significant market share as dental labs producing far more cost-effective products have diminished revenues and acquired business away from Straumann. The company is expected to face competitive pressures within the stock and CAD/CAM abutment market, especially in regions such as Italy, Spain and to a lesser extent in France and the United Kingdom, where fewer dental labs offer inexpensively milled CAD/CAM and imitation stock abutments. Additional competitors in the Europe final abutment dental market include Dentsply Sirona, Nobel Biocare, Zimmer Biomet, CAMLOG, Sweden & Martina, BEGO, MIS Implants and Medentis among others.
For Further Information
More on the dental implant market in Europe can be found in a series of reports published by iData Research entitled the European Market Report Suite on Dental Implant Fixtures and Final Abutments. The suite covers reports on the following markets: dental implant fixtures, final abutments, treatment planning software and surgical guides.
The iData report series on dental implants covers the U.S., Japan, South Korea, Australia, China,India, Brazil, Argentina, Mexico and 15 countries in Europe including Germany, France, the United Kingdom (U.K.), Italy, Spain, Benelux (Belgium, Netherlands and Luxemburg), Scandinavia (Finland, Denmark, Sweden and Norway), Portugal, Austria and Switzerland. Reports provide a comprehensive analysis including units sold, procedure numbers, market value, forecasts, as well as detailed competitive market shares and analysis of major players' success strategies in each market and segment. To find out more about dental implant market data or procedure data, register online or email us at [email protected] for a European Market Report Suite on Dental Implant Fixtures and Final Abutments brochure and synopsis.
About iData Research
iData Research is an international market research and consulting firm, dedicated to providing the best in business intelligence for the medical device industry. Our research empowers our clients by providing them with the necessary tools to achieve their goals and do it right the first time. iData covers research in: Laparoscopy, Urology, Gynecology, Endoscopy, Dental Operatory Equipment, Dental Material, Dental Lasers, Dental Prosthetics, Dental CAD/CAM, Dental Bone Graft Substitutes, Ophthalmics, Ultrasound, X-Ray Imaging, Diagnostic Imaging, Oncology, Vascular Access, Interventional Cardiology, Cardiac Surgery, Cardiac Rhythm Management, Electrophysiology, Operating Room Equipment, Surgical Microscopes, Robotics and Surgical Navigation, Spinal Implants and VCF, Spinal MIS, Orthopedic Soft Tissue Repair and Regeneration, Orthopedic Trauma, Large & Small Joints, Anesthesiology, Wound Management, Orthopedics and more.
We have built a reputation and earned our clients' trust based on consistent and uniquely intelligent research that allows our customers to make confident decisions and impact their businesses. A combination of market expertise and over a decade of experience has resulted in a deep understanding of the medical device industry that has inspired innovation and propelled our clients to success.