By Kamran Zamanian, Ph.D, and Andrew Bieg, iData Research Inc.
Chronic sinusitis is a highly prevalent condition, with approximately 12.5 percent of the American population affected annually. It is categorized by an inflammation of the sinuses lasting more than 12 weeks, with symptoms ranging from nasal congestion to maxillofacial pain. Although chronic sinusitis cases can be subdivided into those with polyps or without, all cases are associated with impaired sinus drainage and secondary bacterial infections.
In the past, patients who did not respond to medication for their chronic sinusitis were left with the singular option of nasal surgery, also known as functional endoscopic sinus surgery (FESS).  FESS allows for a targeted approach to the affected sinuses by reducing tissue and sinus disruption through the use of a powered shaver. This requires the patient to receive a local anesthetic. Additionally, utilization of a powered instrument will result in bleeding within the nose and, in rare cases, can cause a spinal fluid leak (1/1000).2
Although the risks of FESS are minimal, some patients have expressed an aversion to surgical procedures or are unsuitable for FESS treatment due to adverse reactions to anesthesia. Until recently, these patients were left attempting to cope with their sinusitis through nasal saline irrigation, oral glucocorticoids or antibiotics – none of which perform the same function as a FESS.
Emergence Of Non-Surgical Sinus Dilation Device Market
Since 2005, there has been an FDA-approved, non-surgical, in-office alternative procedure in the form of balloon sinus dilation (BSD).3 Balloon sinus dilation opens inflamed sinuses in the same way that heart surgeons open up blocked arteries during balloon angioplasty. This results in a non-surgical restructuring of the ostium. Clinical trials suggest that, over an extended period, FESS and BSD have similar outcomes.  However, BSD requires no anesthetic, results in no bleeding, and allows patients to return to work within an average of two days (compared to one week or more with FESS).4
Initially, the introduction of BSD devices was met with limited success. This was largely due to a lack of insurance coverage and an associated slow uptake by ear, nose, and throat (ENT) surgeons.5 However, upon receiving comprehensive healthcare coverage, this market has experienced rapid growth.  Additionally, reimbursement rates for BSD procedures are approximately 10 times greater than those for FESS procedures, thereby encouraging health care practitioners' usage and assisting market growth.6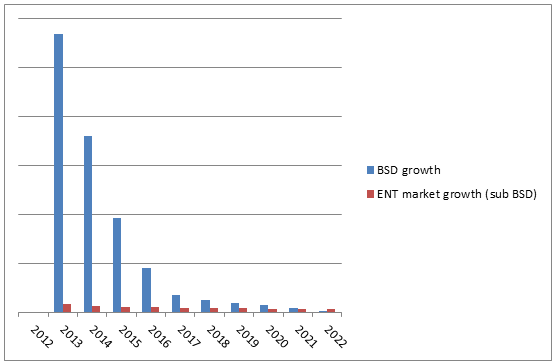 Balloon sinus dilation device market growth in relation to the overall ENT market growth (without BSD), U.S., 2012-2022
Approximately 552,000 patients undergo FESS procedures annually in the United States.7 Of these, over 50 percent are well-suited for balloon sinus dilation, and an additional 30 percent are suited for hybrid balloon sinus dilation (BSD with FESS). In addition to these patients are individuals who are unsuitable for FESS. This suggests a massive treatment market. Due to this potential for growth, the BSD segment is expected to represent over 40 percent of the entire ENT device market by 2022.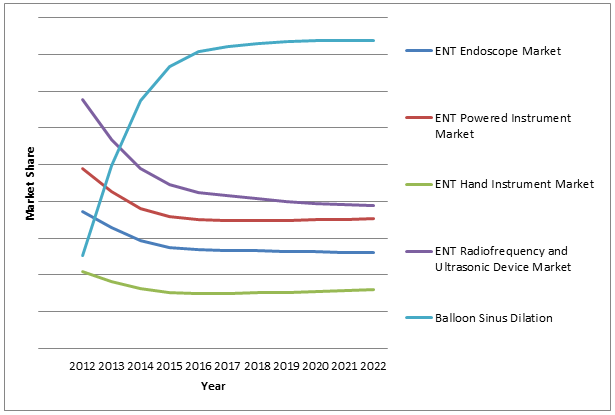 ENT market breakdown by device, U.S., 2012-2022
Increasing Demand For Minimally Invasive Surgery (MIS)
The strength of BSD devices lies in their minimally invasive nature. Patients are increasingly eager to undergo treatments that will alleviate their symptoms while minimizing down time. This trend has been present in the laparoscopy market since the early 1980s, and has been recorded in the prostatectomy market at a 2013 conversion rate of approximately 90 percent to MIS procedures.8 Due to this, the demand for BSD devices is expected to remain strong throughout the foreseeable future.
Market Acceptance And Increased Competition
The ENT industry is rapidly realizing the market demand for BSD. This has resulted in the creation of interrelated devices and increased market competition.9 Since 2011, IntersectENT has been the sole producer of drug-eluting sinus stents for post-FESS. Recently, they applied for FDA approval of a post-BSD device. Similarly, the increasing interest of medical super companies in the BSD market is widespread.
Acclarent, the original BSD device developer, was acquired by medical super power Johnson & Johnson in 2010.10 Additionally, both Medtronic and Smith & Nephew now provide competing BSD devices. Despite the marketing and sales power of these companies, the current second-largest market share holder is Entellus, a company with $60 million in annual earnings.11 In the immediate future, increasing market competition is expected to occur. Companies that desire to offer full ENT device portfolios cannot avoid acquiring a BSD device. Differentiating factors within this industry are expected to be the ability to pair BSD devices with powered shavers, image guidance systems, and post-BSD devices.
Impact Of BSD Devices On ENT Market
Although some BSD patients will be those who were unsuitable for FESS, many will be individuals who would have received FESS in the past. The major impact of this development is expected to occur in the powered shaver market. As FESS procedures represent a large portion of powered instrumentation use, decreases in the market value of this segment can be expected in the future.
In particular, decreased demand will drive powered shaver instrumentation average sales prices (ASPs) down to a very low rate. Additionally, devices to be used in conjunction with BSD devices, such as drug-eluting stents, will continue to improve and grow the balloon sinus dilation market.
The information in this article was taken from a report suite, published by iData Research, entitled the U.S. Market Report Suite for ENT and Bronchoscopic Devices. The suite covers reports on the following markets: ENT Endoscopes, ENT Powered Instruments, ENT Hand Instruments, ENT Radiofrequency Devices, Balloon Sinus Dilation Devices, Bronchoscopes, Bronchoscope Hand Instruments, Bronchial Stents, Bronchial Forceps, Transbronchial Aspiration Needles, and Foreign Body Removal Devices.
About the Authors
Andrew Bieg is a research analyst at iData Research and was the lead researcher for the 2016 U.S. ENT report. He is currently working on a report on the U.S. urological devices market, scheduled for release early in 2016.
Kamran Zamanian, Ph.D., is president, CEO, and a founding partner of iData Research. He has spent over 20 years working in the market research industry.
About iData Research
iData Research is an international market research and consulting group focused on providing market intelligence for medical device and pharmaceutical companies. iData covers research in: diabetes drugs, diabetes devices, pharmaceuticals, anesthesiology, wound management, orthopedics, cardiovascular, ophthalmics, endoscopy, gynecology, urology, and more.
Resources
Hamilos DL. Chronic rhinosinusitis: epidemiology and medical management. Journal of Allergy and Clinical Immunology 128(4): 693–707
British Academic Conference in Otolaryngology and the British Association of Otorhinolaryngology amalgamation. Accessed Nov. 17, 2015.
US Market for ENT and Bronchoscopic Devices Report Suite – 2016, iData Research Inc.
Karanfilov B, Silvers S, Pasha R, Sikand A, Shikani A, Sillers M; for the ORIOS2 study investigators. Office-based balloon sinus dilation: a prospective, multicenter study of 203 patients. Int Forum Allergy Rhinol. 2013;3(5):404-411.
US Market for ENT and Bronchoscopic Devices Report Suite – 2016, iData Research Inc.
US Market for ENT and Bronchoscopic Devices Report Suite – 2016, iData Research Inc.
US Market for ENT and Bronchoscopic Devices Report Suite – 2016, iData Research Inc.
Tsuie C, Klein R, and Garabrant M. Minimally invasive surgery: national trends in adoption and future directions for hospital strategy.   Surgical Endoscopy. 2013;27(7):2253-2257
US Market for ENT and Bronchoscopic Devices Report Suite – 2016, iData Research Inc.
US Market for ENT and Bronchoscopic Devices Report Suite – 2016, iData Research Inc.
US Market for ENT and Bronchoscopic Devices Report Suite – 2016, iData Research Inc.