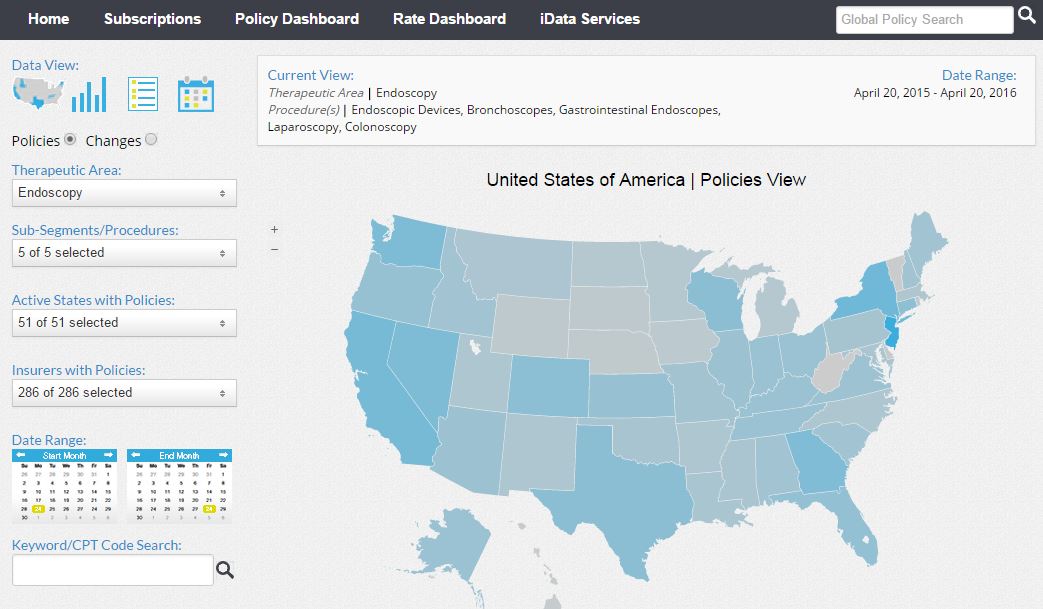 iData Research, a leading international market research and consulting firm, has published results regarding the effects of reimbursement changes on the U.S. gastrointestinal (GI) endoscopic market. Research has shown that market demand continues to undergo consolidation with hospitals acquiring outpatient facilities and expanding the reach of group purchasing organizations (GPOs) coupled with reimbursement cuts across the GI space. The average selling prices are expected to remain under significant pressure, thus negatively impacting the future growth of the market.
"As more devices enter this market and reimbursement structure becomes more favorable, the market penetration is expected to rise significantly," explains Dr. Kamran Zamanian, CEO of iData. "As a result, the anti-reflux segment, for example, is expected to experience double-digit growth over the next few years."
Contact iData Research to schedule a demo with iData's Reimbursement Tracker Team. They will walk you through the dashboard and show you how Reimbursement Tracker can help you limit any loss of business that may occur as a result of changes to procedural coverage by a given provider, or Medicare rate changes.
iData Research Reimbursement Tracker Key Features Include:
Customize the dashboard to track policies for your specific therapeutic area, CPT or ICD-10 codes and keywords
Search the entire database of 60,000+ active, future and draft policies from government and private insurers
Receive real-time email notifications and avoid the time-consuming manual tracking of policies
View policy and rate changes over time to identify trends
View Medicare reimbursement rates by CPT code, time period and location
See a future outlook and act before changes happen with the Policy Review Date Calendar
Stop making decisions based on guesses and don't waste any more time scouring policies for details and changes. Request a guided demonstration of the Reimbursement Tracker product. iData specialists will walk you through exactly how you can use this easy-to-navigate dashboard to find key information on the private or government insurance policies and reimbursement rates that affect your business.
For Further Information
More on the GI endoscopy market in the U.S. can be found in a series of reports published by iData Research entitled the US Market Report Suite for Gastrointestinal Endoscopic Devices 2017 – MedSuite. The suite covers reports on the following markets: GI flexible endoscopy, capsule endoscopy, virtual colonoscopy, endoscopic retrograde cholangiopancreatography (ERCP), stenting and dilation, biopsy, specimen and foreign-body removal, hemostasis, enteral feeding, anti-reflux, and Barret's Esophagus.
The iData report series on GI endoscopic devices covers the U.S. and 15 countries in Europe including Germany, France, the United Kingdom (U.K.), Italy, Spain, Benelux (Belgium, Netherlands and Luxemburg), Scandinavia (Finland, Denmark, Sweden and Norway), Portugal, Austria and Switzerland. Reports provide a comprehensive analysis including units sold, procedure numbers, market value, forecasts, as well as detailed competitive market shares and analysis of major players' success strategies in each market and segment. To find out more about GI market data or procedure data, register online or email us at [email protected] for a US Market Report Suite for Gastrointestinal Endoscopic Devices 2017 – MedSuite brochure and synopsis.
About iData Research
iData Research (www.idataresearch.com) is an international market research and consulting group focused on providing market intelligence for medical device and pharmaceutical companies. iData covers research in: Dental Operatory Equipment, X-Ray Imaging, Vascular Access, Peripheral Vascular, Endoscopy, Interventional Cardiology, Cardiac Surgery, Cardiac Rhythm Management, Electrophysiology, Diagnostic Imaging, Operating Room Equipment, Surgical Microscopes, Robotics and Surgical Navigation, Oncology, Ultrasound, Laparoscopy, Urology, Gynecology, Spinal Implants and VCF, Spinal MIS, Orthopedic Soft Tissue Repair and Regeneration, Orthopedic Trauma, Large and Small Joints, Anesthesiology, Wound Management, Orthopedics, Ophthalmics and more.