Vascular Access Devices and Accessories Market Report Suite | United States | 2020-2026 | Medsuite
0
The full report suite on the U.S. market for vascular access devices and accessories includes implantable ports, port needles, central venous catheters (CVCs), peripherally inserted central catheters (PICCs), peripheral intravenous catheters (PIVCs), midlines, extended dwell catheters
(EDCs), dialysis catheters, ultrasound machines specialized for vascular access, vein visualization devices, tip-placement devices, catheter securement devices, antibacterial catheter patches, catheter caps and syringes and needles.
Year

:

2020

Scope

:

2016-2026

Region

:

United States

Published Date

:

18/03/2020

Pages

:

821

Type

:

MedSuite
The U.S. market for vascular access includes both medical devices intended to access a patient's veins and arteries and accessories intended to improve safety and performance. Catheters are used for a variety of functions, including administering drugs, drawing blood, and specialized treatments like hemodialysis. Vascular access catheters can be inserted either peripherally in a patient's arm or centrally, such as in the patient's jugular. Depending on the treatment required, a wide range of catheter designs exist for dwell times ranging from a few days to a few months and sometimes in excess of a year.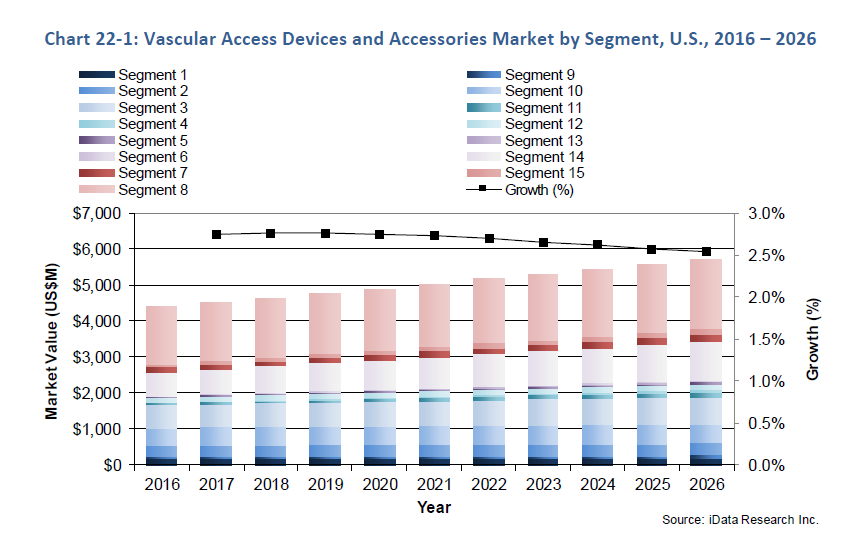 DATA TYPES INCLUDED
Unit Sales, Average Selling Prices, Market Value & Growth Trends
Procedure Volume Analysis and Trends
10 Year Scope and Forecast Range
Market Drivers & Limiters for Each Segment
Competitive Analysis with Market Shares for Each Segment
Recent Mergers & Acquisitions
Disease Overviews and Demographic Information
Company Profiles and SWOT for Top Competitors
HIGHLY DETAILED SEGMENTATION
While this report suite contains all applicable vascular access market data, each of the market segments is also available as stand-alone MedCore reports. This allows you to get access to only the vascular access market research that you need. You can view all these included reports and segmentation here:
Procedure Volumes for Vascular Access Devices – MedPro
Implantable Port Market – MedCore
Port Needle Market – MedCore
Central Venous Catheter Market – MedCore
Peripherally Inserted Central Catheter Market – MedCore
Peripheral Intravenous Catheter Market – MedCore
Midline Market – MedCore
Extended Dwell Catheter Market – MedCore
Dialysis Catheter Market – MedCore
Vascular Access Ultrasound Market – MedCore
Vein Visualization Device Market – MedCore
Tip-placement Device Market – MedCore
Catheter Securement Device Market – MedCore
Antibacterial Catheter Patch Market – MedCore
Catheter Cap Market – MedCore
Syringe and Needle Market – MedCore
The "Vascular Access Devices and Accessories Market Report Suite | United States | 2020-2026 | Medsuite" includes analysis on the following companies currently active in this market: • 3M • Access Scientific • AccuVein • AngioDynamics • Argon Medical • Arrow • Ash Access • B. Braun • Baxter • Becton Dickinson • C.R. Bard • Cardinal Health • Centurion Medical • Christie Medical Holdings • Cook Medical • Covidien • DaVita • Esaote North America • Ethicon • Fresenius • FUJIFILM SonoSite • GE Healthcare • HealthTrust • ICU Medical • Johnson & Johnson • Kawasumi • Lineus Medical • M.C. Johnson • MannKind • Medcomp • Medical Plastic • Medikit • Medline • Medtronic • Merck Millipore • Merit Medical • MidAmerica • Mindray • MYCO Medical • Navilyst • Neo Medical • Nipro Medical • Nostix, LLC • Novation • Novo Nordisk • Owen Mumford, Inc. • Perrigo • PFM Medical
iData's 9-Step Research Methodology
Our reports follow an in-depth 9-step methodology which focuses on the following research systems:
Original primary research that consists of the most up-to-date market data
Strong foundation of quantitative and qualitative research
Focused on the needs and strategic challenges of the industry participants
Step 1: Project Initiation & Team Selection During this preliminary investigation, all staff members involved in the industry discusses the topic in detail.
Step 2: Prepare Data Systems and Perform Secondary Research The first task of the research team is to prepare for the data collection process: Filing systems and relational databases are developed as needed.
Step 3: Preparation for Interviews & Questionnaire Design The core of all iData research reports is primary market research. Interviews with industry insiders represent the single most reliable way to obtain accurate, current data about market conditions, trends, threats and opportunities.
Step 4: Performing Primary Research At this stage, interviews are performed using contacts and information acquired in the secondary research phase.
Step 5: Research Analysis: Establishing Baseline Estimates Following the completion of the primary research phase, the collected information must be synthesized into an accurate view of the market status. The most important question is the current state of the market.
Step 6: Market Forecast and Analysis iData Research uses a proprietary method to combine statistical data and opinions of industry experts to forecast future market values.
Step 7: Identify Strategic Opportunities iData analysts identify in broad terms why some companies are gaining or losing share within a given market segment.
Step 8: Final Review and Market Release An integral part of the iData research methodology is a built-in philosophy of quality control and continuing improvement is integral to the iData philosophy.
Step 9: Customer Feedback and Market Monitoring iData philosophy of continuous improvement requires that reports and consulting projects be monitored after release for customer feedback and market accuracy.