Ultrasound Market Analysis, Size, Trends | 2016-2022 | MedCore
Year:

2016

Scope:

2012-2022

Region:

United States

Pages:

837

Published Date:

10/02/2016

Type:

MedCore
Industry Trends
Apart from market segments for the POC ultrasound market, the U.S. ultrasound market is highly saturated. As such, growth in most segments is expected to remain stable. The main drivers in these markets are the aging population and gradual technological advancement in ultrasound technology. In the POC ultrasound equipment segment, growth is considerably higher due to the spread of POC ultrasound technology and techniques into new environments.
The segments for cardiology and radiology are among the most highly saturated segments of the ultrasound equipment market. However, due to advances in 3D and 4D imaging, as well as elastography and combined MRI/ultrasound imaging techniques, growth rates for these segments are still expected to increase.
Most ultrasound systems cost less than $100,000, which is significantly less than X-ray, magnetic resonance and computed tomography systems. The low cost and increased capabilities of ultrasounds systems are expected to drive sales; these systems will be the preferred modality for healthcare facilities.
The Only Medical Device Market Research With:

✔

Unit Sales Growth Analysis


✔

Average Selling Prices


✔

Competitor Shares by Segment & Country


✔

 SKU-Level Research Methods


✔

 The Lowest Acquisition Cost


Highly Detailed Segmentation
Ultrasound Imaging
Cardiology Ultrasound Equipment Market
Radiology Ultrasound Equipment Market
Obstetrics and Gynecology Ultrasound Equipment Market
Urology Ultrasound Equipment Market
Surgery Ultrasound Equipment Market
Vascular Ultrasound Equipment Market
Ophthalmic Ultrasound Equipment Market
Point of Care Ultrasound Equipment Market
Ultrasound Imaging Procedures
Diagnostic Ultrasound
Ultrasound Guidance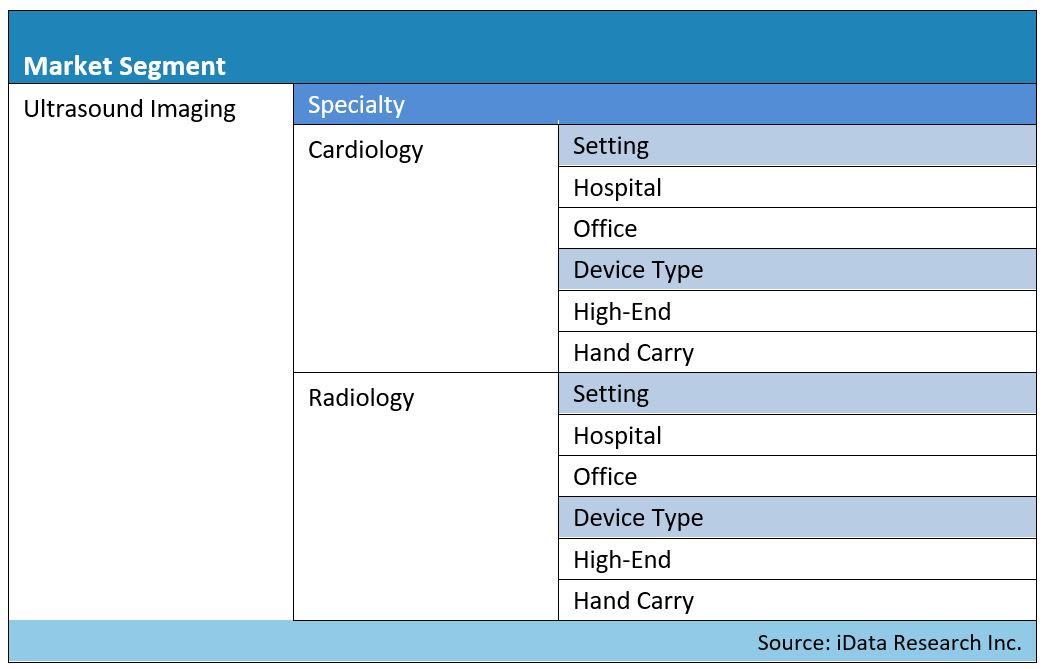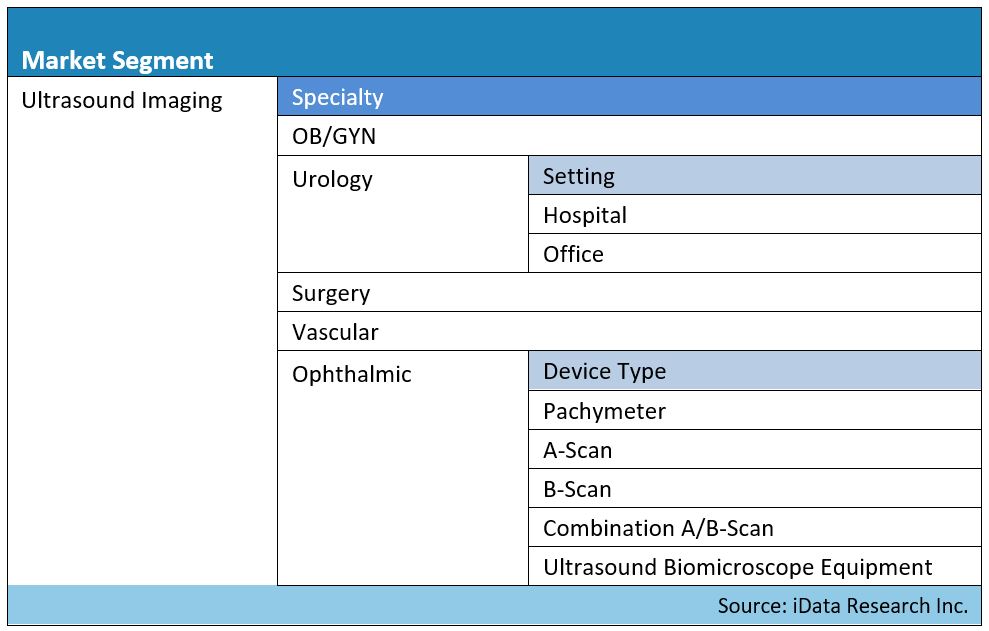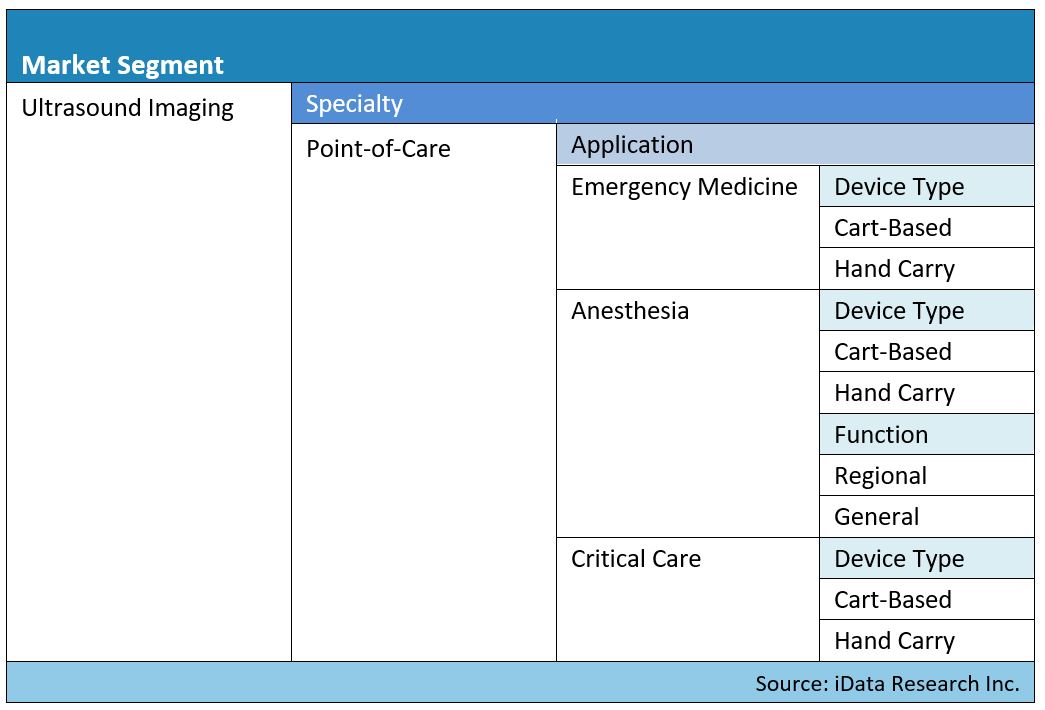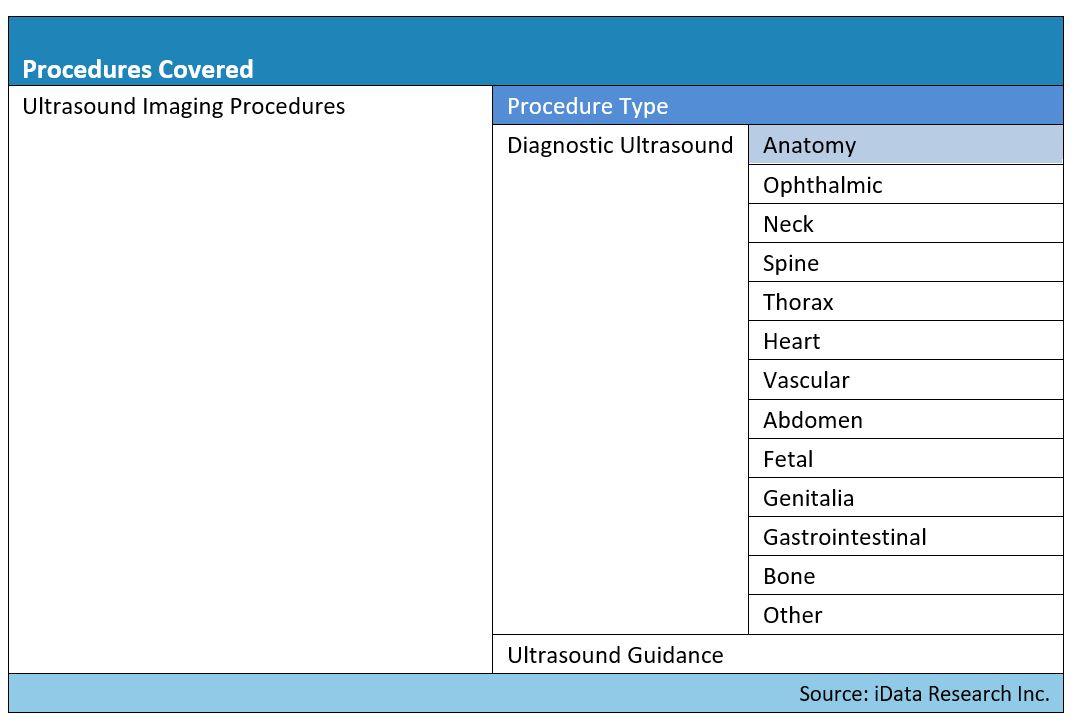 Report Data Types Included
Unit Sales, Average Selling Prices, Market Value & Growth Trends
10 Year Scope (3 Year Historical + 7 Year Forecast Period)
Market Drivers & Limiters for Each Segment
Competitive Analysis with Market Shares
Product Portfolios
Market Share Insights
GE Healthcare is the leading competitor in the U.S. ultrasound market. The company was the market leader in the radiology and OB/GYN segments. The company is very close in market share to Philips Healthcare in the cardiology segment. The markets for cardiology and radiology ultrasound devices are the two largest segments in the overall ultrasound equipment market. The POC segment is among the largest, and is the fastest growing. As such, GE is well positioned to expand in market share in the coming years.
Due to their size, GE Healthcare was able to bundle their different imaging products to allow for discounted sales, increasing their share of the total ultrasound imaging equipment market. GE Healthcare also competes in other imaging modalities such as X-ray, computed tomography and magnetic resonance. Bundles can include products from any of these modalities. Their line of LOGIQ® ultrasound systems includes many features such three and four dimensional scans, color Doppler, portable systems, powerful image processing and large displays.
Philips comes in at second in the overall ultrasound market. Philips distributes many ultrasound systems and has some of the most advanced products on the market in their product portfolio. Their latest device, launched in September 2013, is the EPIQ™ platform. EPIQ™ incorporates the latest software and technology for improved penetration and temporal resolution. One interesting feature of the EPIQ™ platform is that it is more portable than most high-end ultrasound systems. It weighs 230 pounds, compared to the approximately 330 pounds that a typical system weighs. With ultrasound being used in a growing number of new medical settings, the portability of the system may prove to be an important selling feature.
Throughout this entire market study, iData's team of analysts research nearly 50 companies. The full list of companies can be seen below:
All Companies Analyzed in this Study

Accutome
Analogic
C.R. Bard
Ellex/Innovative Imaging
Esaote
eZono
GE Healthcare
Hitachi Aloka
Mindray
Paradigm
Philips Healthcare
Quantel Medical

Samsung Medison
Siemens Healthcare
SonoCiné
Sonogage
Sonomed Escalon
SonoSite
Supersonic
Teleflex
Terason
Tomey
Toshiba Medical Systems
Zonare
About Our In-Depth MedCore Research
Our analysts meticulously research for up to 3 to 4 months to put together one suite of reports (MedSuite), which is a comprehensive analysis on a group of healthcare markets. A MedCore is one portion of that analysis that focuses on one market segment, and provides further detailed segmentation to get a much more granular set of market data.
This MedCore is also found in the full report suite titled Medical Imaging Market – MedSuite

iData's 9-Step Research Methodology
Our reports follow an in-depth 9-step methodology which focuses on the following research systems:
Original primary research that consists of the most up-to-date market data
Strong foundation of quantitative and qualitative research
Focused on the needs and strategic challenges of the industry participants
Step 1: Project Initiation & Team Selection During this preliminary investigation, all staff members involved in the industry discusses the topic in detail.
Step 2: Prepare Data Systems and Perform Secondary Research The first task of the research team is to prepare for the data collection process: Filing systems and relational databases are developed as needed.
Step 3: Preparation for Interviews & Questionnaire Design The core of all iData research reports is primary market research. Interviews with industry insiders represent the single most reliable way to obtain accurate, current data about market conditions, trends, threats and opportunities.
Step 4: Performing Primary Research At this stage, interviews are performed using contacts and information acquired in the secondary research phase.
Step 5: Research Analysis: Establishing Baseline Estimates Following the completion of the primary research phase, the collected information must be synthesized into an accurate view of the market status. The most important question is the current state of the market.
Step 6: Market Forecast and Analysis iData Research uses a proprietary method to combine statistical data and opinions of industry experts to forecast future market values.
Step 7: Identify Strategic Opportunities iData analysts identify in broad terms why some companies are gaining or losing share within a given market segment.
Step 8: Final Review and Market Release An integral part of the iData research methodology is a built-in philosophy of quality control and continuing improvement is integral to the iData philosophy.
Step 9: Customer Feedback and Market Monitoring iData philosophy of continuous improvement requires that reports and consulting projects be monitored after release for customer feedback and market accuracy.