Medical Imaging Market Analysis, Size, Trends | United States | 2016-2022 | MedSuite
Year:

2016

Scope:

2012-2022

Region:

United States

Pages:

909

Published Date:

10/03/2016

Type:

MedSuite
Industry Trends
The development of new technologies will drive the medical imaging equipment market. Digital radiography is cannibalizing the analog segments of both the X-ray imaging and mammography markets, as they offer higher image quality and faster scan times. Additionally, Alternatives to breast MRIs such as breast specific gamma imaging and positron emission mammography are newer technologies that offer alternatives to patients who cannot receive a breast MRI. Another market development is that higher field MRI systems are replacing low field systems due to the enhanced image quality, and threedimensional and four-dimensional obstetric ultrasounds will continue to replace traditional ultrasounds.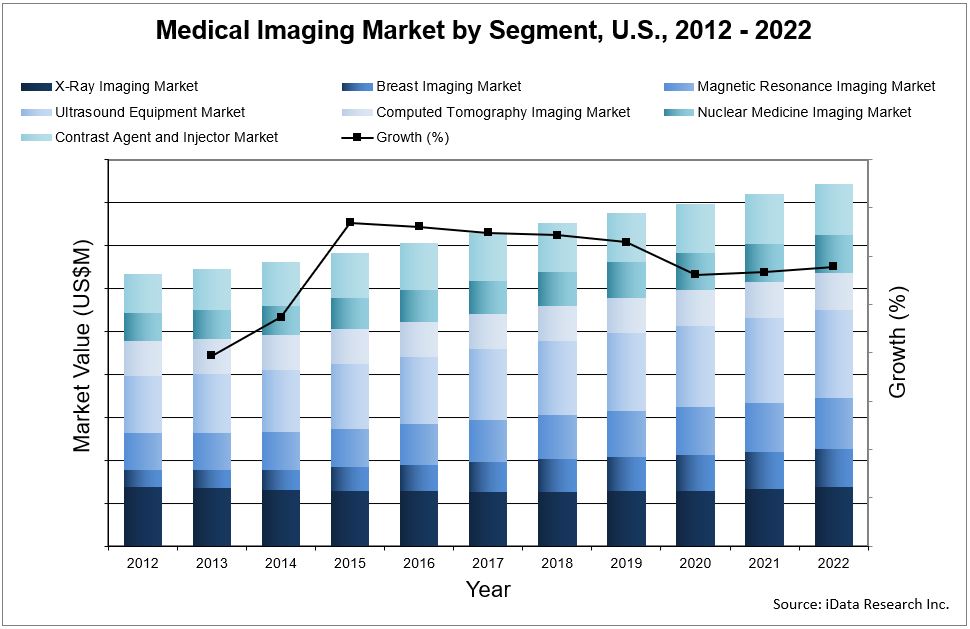 The Only Medical Device Market Research With:

✔

Procedure Volume Data & Trends


✔

Unit Sales Growth Analysis


✔

Average Selling Prices


✔

Competitor Shares by Segment & Country


✔

 SKU-Level Research Methods


✔

 The Lowest Acquisition Cost


Highly Detailed Segmentation
While this report suite contains all applicable United States medical imaging market data, each of the markets are also available as stand alone MedCore reports. This allows you to get access to only the medical imaging market research that you need. You can view all these included reports and segmentation here:
Procedure Numbers for Medical Imaging Devices – MedPro
Market Report for X-Ray Imaging – MedCore
Market Report for Breast Imaging – MedCore
Market Report for Magnetic Resonance Imaging – MedCore
Market Report for Ultrasound Equipment – MedCore
Market Report for Computed Tomography Imaging – MedCore
Market Report for Contrast Agent and Injector – MedCore
Buying all of these reports together in this suite package will provide you with substantial discounts from the separate prices. Request Pricing to Learn More
Full Segmentation Map for the United States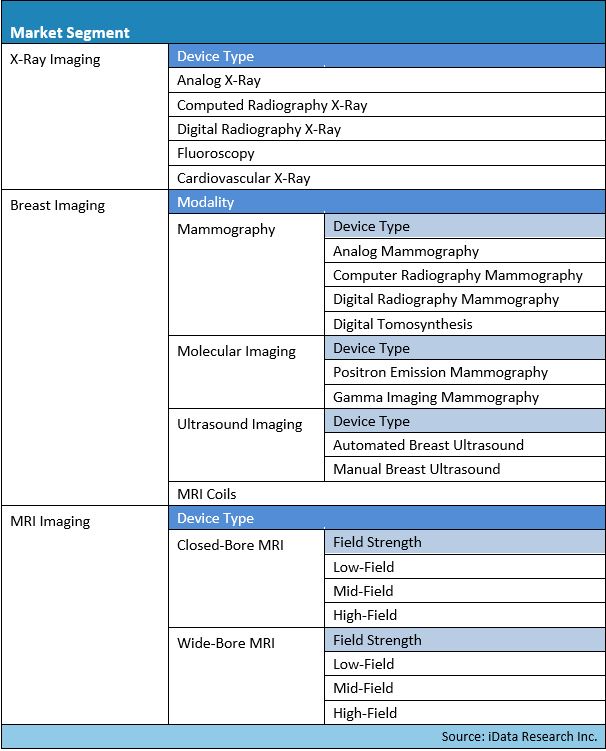 Medical Imaging Market Report Data Types Included
Unit Sales, Average Selling Prices, Market Value & Growth Trends
Procedure Volume Analysis and Trends
10 Year Scope and Forecast Range
Market Drivers & Limiters for Each Segment
Competitive Analysis with Market Shares for Each Segment
Recent Mergers & Acquisitions
Disease Overviews and Demographic Information
Company Profiles, Product Portfolios and SWOT for Top Competitors
Medical Imaging Market Share Insights
GE Healthcare was the leading competitor in the U.S. market for medical imaging equipment, with 30.4% market share. GE Healthcare was the only company to compete in every market segment. The company was the market leader in the ultrasound equipment and nuclear medicine segments, with 28.8% and 38.1% market share, respectively. They also held significant market shares in all other segments, holding the second-leading position in each. Due to their size, GE Healthcare was able to bundle their products to allow for discounted sales, increasing their share of the total medical imaging equipment market.
Siemens Healthcare was the second leading competitor in the total medical imaging equipment market in 2015, with 20.9% market share. They led the MRI and CT imaging segments, accounting for more than one-third of each market. The company was also present in all other segments with the exception of the contrast agent and injector segment. Siemens Healthcare is known for their high-end systems such as their ultra-premium CT scanners.
All Companies Analyzed in this Study

Accutome
Agfa Healthcare
Amrad Medical
Analogic
Arcoma-IMIX
Assured Imaging Mobile Mammography
Bayer
BK Medical
Bracco
C.R. Bard
Canon
Carestream Health
CMR-Naviscan
Cuattro
Del Medical
Digirad
Dilon Technologies
Ellex/Innovative Imaging
Esaote
eZono
Fischer-Giotto
FONAR
Fujifilm
Gamma Medica Inc.
GE Healthcare
Guerbet
Hitachi Medical Systems
Hologic
iCRco
Imaging Dynamics Company
IMRIS

Konica Minolta
Lakeshore Technologies Inc.
Lantheus Medical Imaging
Machnet B.V.
Mallinckrodt
MILabs
Mindray
Neusoft Medical Systems
Paradigm
Philips Healthcare
Planmed OY
Quantel Medical
Rayence
Samsung Medison
Shimadzu
Siemens Healthcare
SonoCiné
Sonogage
Sonomed Escalon
SonoSite
Spectrum Dynamics Medical
SuperSonic Imagine
SuperSonic Imagine
Swissray
Teleflex
Terason
Tomey
Toshiba Medical Systems
TXR
ViewRay
Zonare
Medical Imaging Statistics and Procedure Trends
There are just under 600 million medical imaging procedures performed annually in the U.S. This number will grow at a CAGR of 1.9% to approach 625 million procedures performed by 2022. Imaging will continue to be relied on by physicians and healthcare facilities as a diagnostic tool, and advancements in imaging technology will drive the number of procedures that are performed. As the population ages, more imaging procedures will be required as elderly patients are more likely to be diagnosed with conditions that require imaging.
Computed tomography (CT) imaging and ultrasound imaging will represent the fastest growing type of imaging procedures over the forecast period. Ultrasound systems are growing in preference due to their rising technology and clinical applications as well as their low level of invasiveness for patients. Despite growing concerns of radiation dosages to patients, CT and other radiation-based modalities continue to remain popular as new devices integrate low-dose technology.

One of the the most accurate methods of market research in the medical device industry is to analyze the procedure volumes and trends. Through this study on medical imaging devices, iData Research has performed an analysis on the following procedure segments in order to increase the accuracy of our market sizing, and provide you with the volume of procedures over a 10 year range.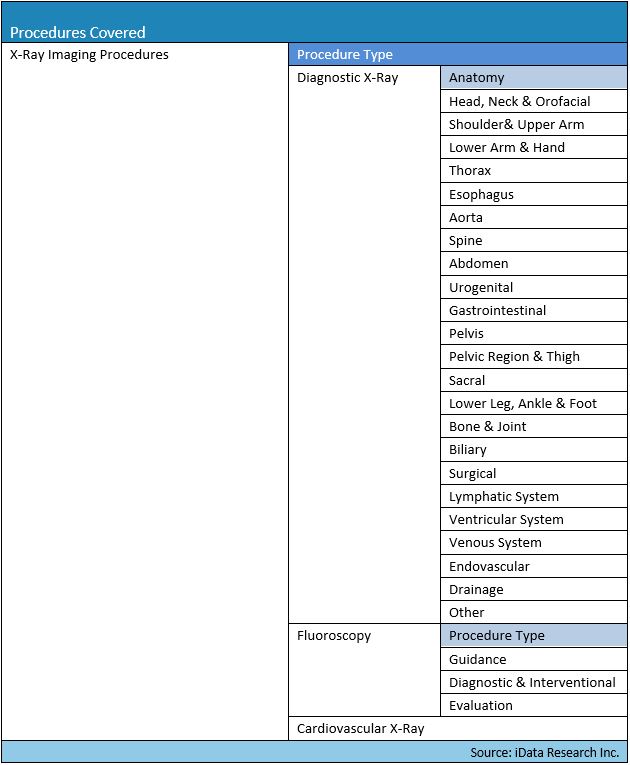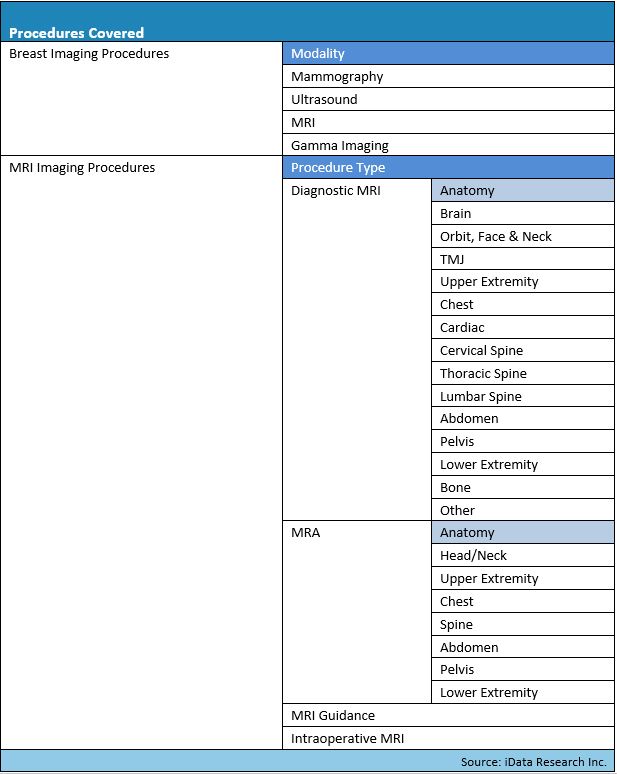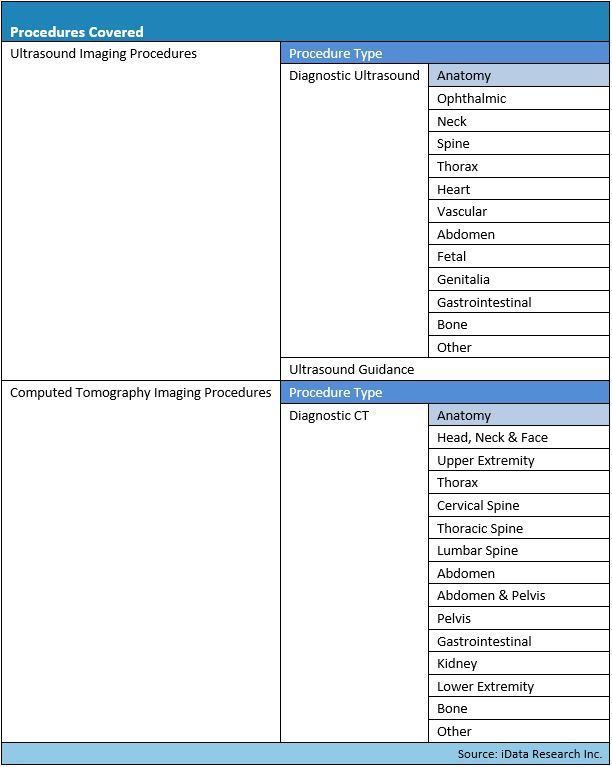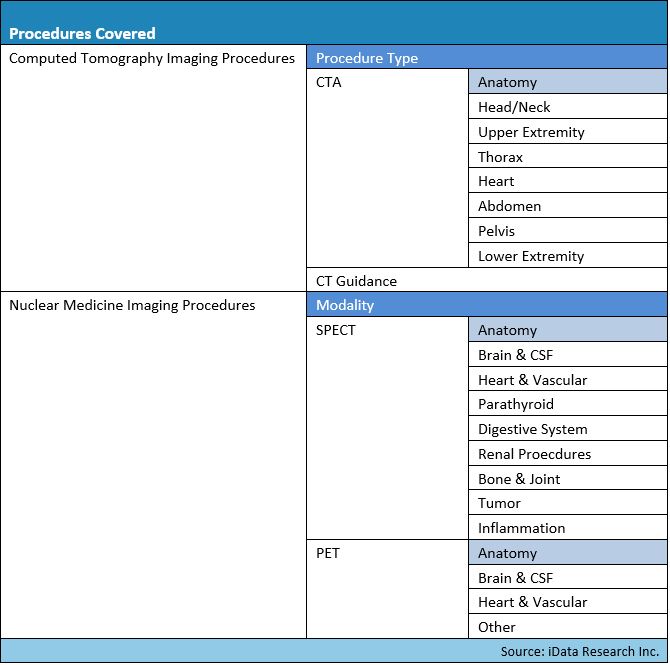 iData's 9-Step Research Methodology
Our reports follow an in-depth 9-step methodology which focuses on the following research systems:
Original primary research that consists of the most up-to-date market data
Strong foundation of quantitative and qualitative research
Focused on the needs and strategic challenges of the industry participants
Step 1: Project Initiation & Team Selection During this preliminary investigation, all staff members involved in the industry discusses the topic in detail.
Step 2: Prepare Data Systems and Perform Secondary Research The first task of the research team is to prepare for the data collection process: Filing systems and relational databases are developed as needed.
Step 3: Preparation for Interviews & Questionnaire Design The core of all iData research reports is primary market research. Interviews with industry insiders represent the single most reliable way to obtain accurate, current data about market conditions, trends, threats and opportunities.
Step 4: Performing Primary Research At this stage, interviews are performed using contacts and information acquired in the secondary research phase.
Step 5: Research Analysis: Establishing Baseline Estimates Following the completion of the primary research phase, the collected information must be synthesized into an accurate view of the market status. The most important question is the current state of the market.
Step 6: Market Forecast and Analysis iData Research uses a proprietary method to combine statistical data and opinions of industry experts to forecast future market values.
Step 7: Identify Strategic Opportunities iData analysts identify in broad terms why some companies are gaining or losing share within a given market segment.
Step 8: Final Review and Market Release An integral part of the iData research methodology is a built-in philosophy of quality control and continuing improvement is integral to the iData philosophy.
Step 9: Customer Feedback and Market Monitoring iData philosophy of continuous improvement requires that reports and consulting projects be monitored after release for customer feedback and market accuracy.