Heart Valve Market Analysis, Size, Trends | Global | 2018 – 2024 | MedCore
Year:

2018

Scope:

2014-2024

Region:

Asia-Pacific, China, Europe, United States

Pages:

1050

Published Date:

06/02/2018

Type:

MedCore
Industry Trends
There are a few components to the heart valve market, including tissue and mechanical non-percutaneous artificial heart valves. Of these two, tissue heart valves are generally preferred over mechanical valves, due to their higher levels of biocompatibility. Tissue valves, which are also known as bioprosthetic valves, are harvested from either human donors or animal tissue. Human tissue valves can either be obtained from donor cadavers in allograft procedures, or from one's own body, which is known as an autograft. Another segment of the heart valve market is the annulopplasty repair device market. Heart valves can be repaired through annuloplasty or valvuloplasty. Annuloplasty involves resizing heart valves and a valvuloplasty procedure involves repairing heart valve leaflets, which have calcium deposits or extra tissue on the leaflets. Although all valves may undergo repair procedures, mitral valve repair is by far the most common procedure, followed by tricuspid valve repair.
Growth of the tissue heart valve market is primarily fueled by a growing number of heart valve replacement procedures, as well as the continued shift in preference for tissue valves over mechanical valves. On top of this, technological improvements to increase durability of tissue valves have further helped to fuel growth. The market for mechanical valves is broken into two segments: mechanical valves without a conduit and mechanical valves with a conduit. The mechanical valves without a conduit make up the majority of the mechanical valve market. Both of the segments are expected to decline slowly during the forecast period, with the mechanical valve without conduits declining more quickly than the mechanical valves with conduits. On the other hand, the aging population of patients requiring heart valve repair will contribute to an increase in the unit sales of annuloplasty repair devices. Of the transcatheter heart valve repair and replacement markets, the transcatheter aortic valve replacement market is a segment that is expected to undergo significant growth. The transcatheter mitral valve repair market, though smaller than TAVR, is also expected to grow over the forecast period, benefitting from many of the same drivers as TAVR.
Report Regional Coverage
Throughout this research series, iData has covered several countries in great detail. Each country may be purchased as a stand-alone report, tailoring the data to your needs. The covered countries are:
United States
Europe (15 countries including: Germany, France, U.K., Italy, Spain, Benelux (Belgium, Netherlands and Luxembourg), Scandinavia (Denmark, Finland, Norway and Sweden) Austria, Switzerland and Portugal)
Asia-Pacific
China
The Only Medical Device Market Research With:

✔

Unit Sales Growth Analysis


✔

Average Selling Prices


✔

Competitor Shares by Segment & Country


✔

 SKU-Level Research Methods


✔

 The Lowest Acquisition Cost


Highly Detailed Segmentation
Tissue Heart Valve Market 

Stented Tissue Heart Valve Market
Stentless Tissue Heart Valve Market
Sutureless Tissue Heart Valve Market
Xenograft Tissue Heart Valve Market
Allograft Tissue Heart Valve Market

Mechanical Heart Valve Market 

Mechanical Heart Valve without Conduit Market
Mechanical Heart Valve with Conduit Market

Annuloplasty Repair Device Market 

Ring Device Market
Band Device Market

Transcatheter Mitral Valve Repair Device Market 
Transcatheter Heart Valve Replacement Device Market 
*Not all segments covered in each country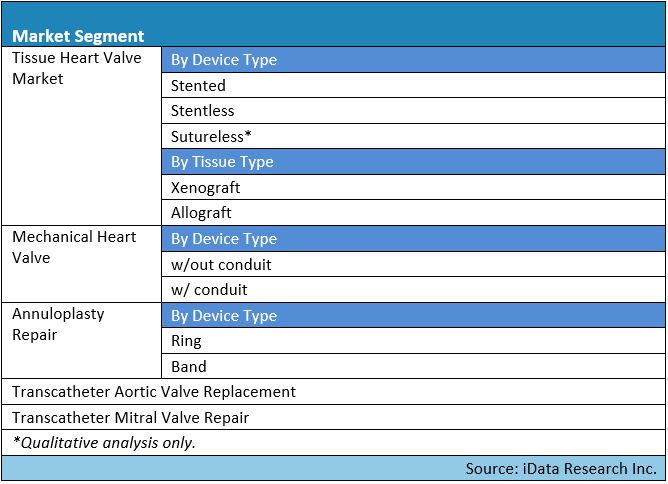 Report Data Types Included
Unit Sales, Average Selling Prices, Market Value & Growth Trends
10 Year Scope (3 Year Historical + 7 Year Forecast Period)
Market Drivers & Limiters for Each Segment
Competitive Analysis with Market Shares
Product Portfolios
Related Press Releases from Top Competitors
Companies Analyzed
In the United States heart valve market, Edwards Lifesciences and Abbott lead the way in the majority of the segments mentioned above. Edwards Lifesciences is the market leader in the tissue heart valve market, the annuloplasty repair device market, and has an especially strong share in the transcatheter mitral valve replacement device market. Abbott leads the way in the mechanical heart valve market, and has 100% of the United States market share in the transcatheter mitral valve repair market. Medtronic is also a significant player in many of these markets.
Edwards Lifesciences and Abbott also lead the way in many of the heart valve market segments in the European market. Similar to the United States, Edwards has the largest market share in the tissue heart valve and the annuloplasty repair market segments, but falls to Abbott in the transcatheter mitral valve replacement market. Abbott also leads the way in the mechanical heart valve market, with almost half of the market share. In the European market for transcatheter aortic valve implantation devices Medtronic leads the way, edging out Edwards Lifesciences.
All Companies Analyzed in this Study

Abbott
BioStable Science & Engineering, Inc.
Boston Scientific
Cardiac Dimensions
CryoLife

Edwards Lifesciences
Labcor
LifeNet Health
LivaNova
Medtronic
Mitralign
About Our In-Depth MedCore Research
Our analysts meticulously research for up to 3 to 4 months to put together one suite of reports (MedSuite), which is a comprehensive analysis on a group of healthcare markets. A MedCore is one portion of that analysis that focuses on one market segment, and provides further detailed segmentation to get a much more granular set of market data.
This MedCore is also found in the full report suite titled Cardiac Surgery Market which contains several other extremities medical device markets.
iData's 9-Step Research Methodology
Our reports follow an in-depth 9-step methodology which focuses on the following research systems:
Original primary research that consists of the most up-to-date market data
Strong foundation of quantitative and qualitative research
Focused on the needs and strategic challenges of the industry participants
Step 1: Project Initiation & Team Selection During this preliminary investigation, all staff members involved in the industry discusses the topic in detail.
Step 2: Prepare Data Systems and Perform Secondary Research The first task of the research team is to prepare for the data collection process: Filing systems and relational databases are developed as needed.
Step 3: Preparation for Interviews & Questionnaire Design The core of all iData research reports is primary market research. Interviews with industry insiders represent the single most reliable way to obtain accurate, current data about market conditions, trends, threats and opportunities.
Step 4: Performing Primary Research At this stage, interviews are performed using contacts and information acquired in the secondary research phase.
Step 5: Research Analysis: Establishing Baseline Estimates Following the completion of the primary research phase, the collected information must be synthesized into an accurate view of the market status. The most important question is the current state of the market.
Step 6: Market Forecast and Analysis iData Research uses a proprietary method to combine statistical data and opinions of industry experts to forecast future market values.
Step 7: Identify Strategic Opportunities iData analysts identify in broad terms why some companies are gaining or losing share within a given market segment.
Step 8: Final Review and Market Release An integral part of the iData research methodology is a built-in philosophy of quality control and continuing improvement is integral to the iData philosophy.
Step 9: Customer Feedback and Market Monitoring iData philosophy of continuous improvement requires that reports and consulting projects be monitored after release for customer feedback and market accuracy.