BPH Treatment Device Market Size, Share & COVID-19 Impact Analysis | Global | 2022-2028 | MedCore | Includes: TURP Market, Laser BPH Fibre Treatment Market, and 2 more
Year:

2022

Scope:

10 Years

Region:

Global

Type:

MedCore
Overall, the global BPH treatment device market was valued at $1.2 billion in 2021. This is expected to increase over the forecast period at a CAGR of 5.2% to reach slightly over $1.7 billion.
The full report suite on the global market for benign prostatic hyperplasia (BPH) treatment devices includes transurethral resection of the prostate (TURP), laser BPH, UroLift® and Rezum® segments. The TURP market is further segmented into monopolar and bipolar electrodes. The laser BPH market includes high-power Holmium equipment and dedicated fiber, as well as thulium equipment and fiber segments. The UroLift® and Rezum® markets are defined by consumables required for each of the procedure.
MARKET REPORT DATA TYPES INCLUDED
Unit Sales, Procedure Numbers, Average Selling Prices, Market Value & Growth Trends
10 Year Scope
Market Drivers & Limiters for Each Segment
Competitive Analysis with Market Shares for Each Segment
Recent Mergers & Acquisitions
Disease Overviews and Demographic Information
Company Profiles, Product Portfolios and SWOT for Top Competitors
GLOBAL BPH TREATMENT DEVICE MARKET TRENDS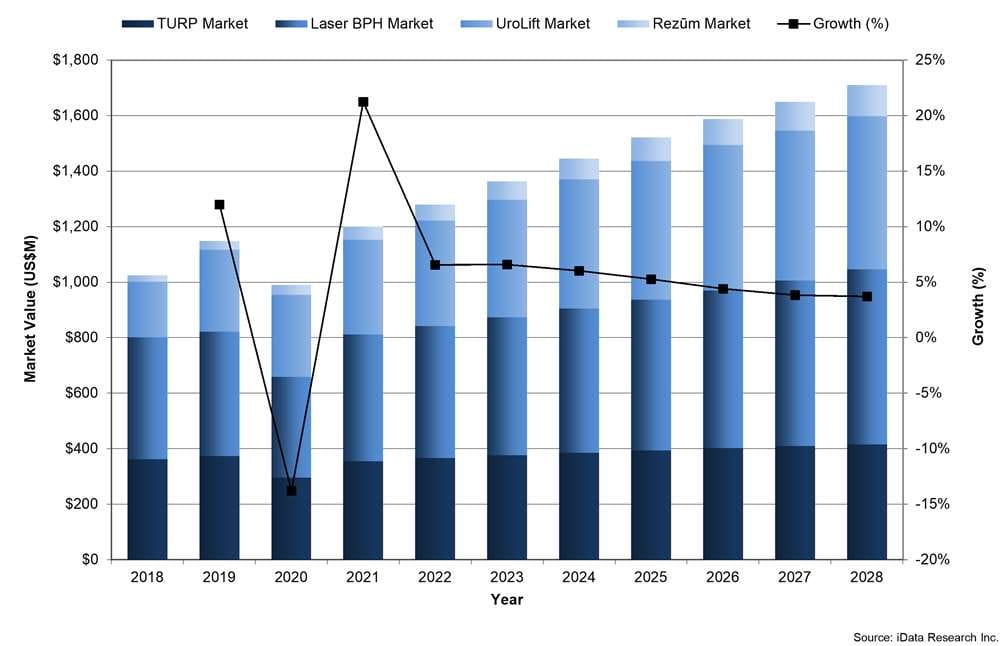 In 2021, the largest segment in the BPH treatment device market was the Laser BPH market, followed by TURP market and UroLift® segment. The Rezum® market generated the smallest portion of the total BPH device market in 2021. Laser BPH market is expected to continue to grow in value as physicians shift towards less invasive techniques and devices.
GLOBAL BPH TREATMENT DEVICE MARKET SHARE INSIGHTS
Overall, within the global urological devices market there are three dominant competitors: Boston Scientific, Teleflex, Olympus.
In 2021, the leading competitor in the BPH treatment device market was Boston Scientific. The company held the dominant leading position in the laser BPH market and a monopolistic position in the Rezūm® market. The company held the second-leading share in North America and was the leading competitor in Western Europe and the rest of the world countries.
GLOBAL BPH TREATMENT DEVICE MARKET SEGMENTATION SUMMARY
TURP Market
Laser BPH Fibre Market
Urolift Market
Rezūm Market
GLOBAL RESEARCH SCOPE
Report Attribute
Details
 Regions
 North America (Canada, United States)
 Latin America (Argentina, Brazil, Chile, Colombia, Mexico, Peru, Venezuela)
 Western Europe (Austria, Benelux, France, Germany, Italy, Portugal, Scandinavia, Spain, Switzerland, U.K.)
 Central & Eastern Europe (Baltic States, Bulgaria, Croatia, Czech Republic, Greece, Hungary, Kazakhstan,   Poland, Romania, Russia, Turkey, Ukraine)
 Middle East (Bahrain, Iran, Israel, Kuwait, Oman, Qatar, Saudi Arabia, United Arab Emirates)
 Asia Pacific (Australia, Cambodia, China, Hong Kong, India, Indonesia, Japan, Malaysia, Myanmar, New Zealand,   Philippines, Singapore, South Korea, Taiwan, Thailand, Vietnam)
 Africa (Algeria, Egypt, Ghana, Kenya, Libya, Morocco, Nigeria, South Africa, Sudan, Uganda)
 Base Year
 2021
 Forecast
 2022-2028
 Historical Data
 2018-2021
 Quantitative Coverage
Market Size, Market Shares, Market Forecasts, Market Growth Rates, Units Sold, and Average Selling Prices.
 Qualitative Coverage
COVID19 Impact, Market Growth Trends, Market Limiters, Competitive Analysis & SWOT for Top Competitors,   Mergers & Acquisitions, Company Profiles, Product Portfolios, FDA Recalls, Disruptive Technologies, Disease   Overviews.
 Data Sources
Primary Interviews with Industry Leaders, Government Physician Data, Regulatory Data, Hospital Private Data,   Import & Export Data, iData Research Internal Database.
WHY CHOOSE iDATA?
Experts Only – iData has been around for over 17 years and is the trusted source of intelligence, and data-driven insights for key industry players. We are made up of specialists with a sole focus on medical devices, dental devices and pharmaceuticals. Our research and consulting field of endeavour never strays from the medical device industry and, because of this, we are the number one choice for leading companies in this field.
Global Coverage – iData's unique methodology, and its expansion to over 70 countries world-wide, has made it one of the most viable sources of intelligence for global companies along with those who plan to expand their portfolio beyond the confines of their own country. Providing procedural data at the country level is another testimony to the trusted global coverage we provide.
Attention to Detail – It's our attention to small details, scheduling of timelines, and keen project management that makes us stand out from the rest. We are creative, and our reports include metrics such as procedure numbers, ASPs, and SKU-level insights that are not found elsewhere.
Pricing – When comparing like-with-like, iData's prices are not only extremely competitive but also the most cost-effective. We strive for success and want the same for our clients. With the level of detail incorporated into each report alongside the extensive segmentation provided, no other report compares at our price point.
This MedCore is also found in the full report suite titled Urology Market which contains several other extremities medical device markets.
The "Global Market Report Suite for BPH Treatment Devices 2022 - MedSuite" includes analysis on the following companies currently active in this market:
Boston Scientific
Teleflex
Olympus
Karl Storz
Richard Wolf
Dornier MedTech
Becton Dickinson
Accu-Tech
Cook Medical
Quanta Systems
Others include: Biolitec, Convergent Laser Technologies, CureStar, Getz Healthcare, Gigaa Laser, High Tech Medical, Innovaquartz, Jena Surgical, Lamidey Noury, Lisa Laser, LocaMed, MaxiFlex, OmniGuide, ProSurg, Trimedyne, Typnex, Urologix, Yuancure, etc.
iData's 9-Step Research Methodology
Our reports follow an in-depth 9-step methodology which focuses on the following research systems:
Original primary research that consists of the most up-to-date market data
Strong foundation of quantitative and qualitative research
Focused on the needs and strategic challenges of the industry participants
Step 1: Project Initiation & Team Selection During this preliminary investigation, all staff members involved in the industry discusses the topic in detail.
Step 2: Prepare Data Systems and Perform Secondary Research The first task of the research team is to prepare for the data collection process: Filing systems and relational databases are developed as needed.
Step 3: Preparation for Interviews & Questionnaire Design The core of all iData research reports is primary market research. Interviews with industry insiders represent the single most reliable way to obtain accurate, current data about market conditions, trends, threats and opportunities.
Step 4: Performing Primary Research At this stage, interviews are performed using contacts and information acquired in the secondary research phase.
Step 5: Research Analysis: Establishing Baseline Estimates Following the completion of the primary research phase, the collected information must be synthesized into an accurate view of the market status. The most important question is the current state of the market.
Step 6: Market Forecast and Analysis iData Research uses a proprietary method to combine statistical data and opinions of industry experts to forecast future market values.
Step 7: Identify Strategic Opportunities iData analysts identify in broad terms why some companies are gaining or losing share within a given market segment.
Step 8: Final Review and Market Release An integral part of the iData research methodology is a built-in philosophy of quality control and continuing improvement is integral to the iData philosophy.
Step 9: Customer Feedback and Market Monitoring iData philosophy of continuous improvement requires that reports and consulting projects be monitored after release for customer feedback and market accuracy.
Explore Options
BPH Treatment Device Market Size, Share & COVID-19 Impact Analysis | Global | 2022-2028 | MedCore | Includes: TURP Market, Laser BPH Fibre Treatment Market, and 2 more
$295 – $8,995
Global

MedCore

2022

10 Years
Request Sample Sheets
Request Customization
Related Reports