Gastrointestinal Endoscopic Devices Market Analysis, Size, Trends | Global | 2019-2025 | MedSuite
0
Year

:

2019

Scope

:

2015-2025

Region

:

Brazil, Canada, China, Europe, India, Japan, United States

Pages

:

3014

Type

:

MedSuite
Industry Trends
In the U.S., the main driver behind the advancement in gastrointestinal endoscopic device market technologies is a natural preference for less and, ideally, non-invasive methods of treatment. This market steadily increases its reach into therapeutic fields addressing conditions that previously were only treatable through more invasive methods and now are treated "through-the-scope".
Technological advancements and product improvements over the past several years have made GI endoscopes more effective in performing GI procedures. The HD format, and now HD+ along with advanced magnification capabilities, which penetrated the GI endoscope market only recently, resulted in a greater detection rate for polyps. Improved designs have also made flexible GI endoscopes easier to handle, and smaller instrumentation has allowed for more specialized devices. As of 2018, the research and development agenda includes 3D and 4K capabilities.
As the European population ages, incidences of colon and rectal cancer are increasing across most of the continent. Colorectal cancer is the second-leading cause of cancer deaths (after lung cancer) in the European Union. Over the past decade, media campaigns initiated by cancer awareness organizations and governmental bodies have done a lot to increase awareness of the condition and the necessity of screening for it.

Report Regional Coverage
Throughout this research series, iData has covered several countries in great detail. Each country may be purchased as a stand-alone report, tailoring the data to your needs. The covered countries are:
United States
Europe (15 countries including: Germany, France, U.K., Italy, Spain, Benelux (Belgium, Netherlands and Luxembourg), Scandinavia (Denmark, Finland, Norway and Sweden) Austria, Switzerland and Portugal)
Japan
India
China
Brazil
Canada
The Only Medical Device Market Research With:

✔

Procedure Volume Analysis


✔

Unit Sales Growth Analysis


✔

Average Selling Prices


✔

Competitor Shares by Segment & Country


✔

 SKU-Level Research Methods


✔

 The Lowest Acquisition Cost


Highly Detailed Segmentation
While this report suite contains all applicable market data, each of the markets are also available as stand alone MedCore reports. This allows you to get access to only the specific market segment research that you need. You can view all these included reports and segmentation here:
Gastrointestinal Endoscopic Devices  Market – MedPro
Gastrointestinal Endoscopes Market – MedCore
Capsule Endoscopy Market – MedCore
Virtual Colonoscopy Market – MedCore
Stenting and Dilation Devices Market – MedCore
Endoscopic Retrograde Cholangiopancreatography Devices Market – MedCore
Biopsy Forceps, Polypectomy Snare and EUS Needle Market – MedCore
Specimen Retrieval and Foreign-Body Removal Devices Market – MedCore
Hemostasis Device Market – MedCore
Enteral Feeding Devices Market – MedCore
Anti-Reflux Devices Market – MedCore
Barrett's Esophagus Ablation Device Market – MedCore
Buying all of these reports together in this suite package will provide you with substantial discounts from the separate prices. Request Pricing to Learn More.
Full Segmentation Map for the United States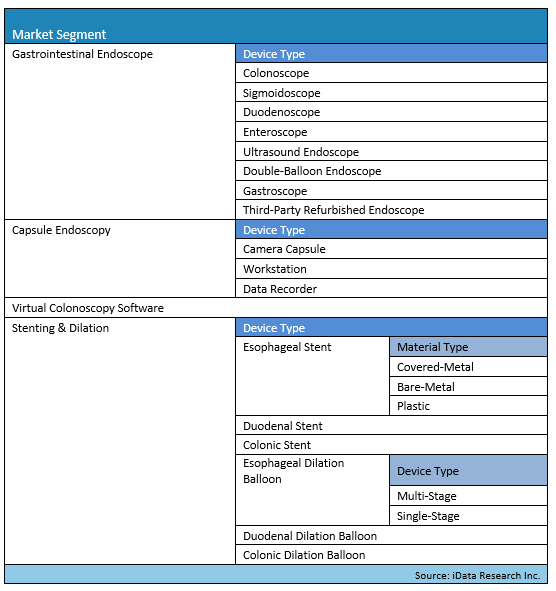 Data Types Included
Unit Sales, Average Selling Prices, Market Value & Growth Trends
Procedure Volumes
10 Year Scope and Forecast range
Market Drivers & Limiters for Each Segment
Competitive Analysis with Market Shares for Each Segment
Recent Mergers & Acquisitions
Disease Overviews and Demographic Information
Company Profiles, Product Portfolios and SWOT for Top Competitors
Gastrointestinal Endoscopic Devices Market Share Insights
In the U.S., Europe and Brazil gastrointestinal endoscopic markets, Boston Scientific holds the leading position. Boston Scientific has a very broad portfolio of products across the gastrointestinal endoscopic device market and is excepted to retain their leading position in the U.S. market for the foreseeable future. Boston Scientific has experienced significant growth in the biliary and pancreatic stent market since launching the AXIOS™ lumen-apposing covered-metal stent. The lumen-apposing covered-metal stent market is one the latest innovations in the ERCP space, indicated for transgastric or transduodenal endoscopic drainage of symptomatic pancreatic pseudocysts and walled-off necrosis under EUS imaging guidance.
Subsequent leading competitors vary by region, for example, Olympus holds the second-leading position in the U.S. gastrointestinal endoscopic device market. The company's position in the overall market is heavily weighted to its dominant position in the GI endoscope market. Olympus has been a competitor in the GI endoscopic device market since the 1950s, when they developed the Gastrocamera™. Olympus is the leading competitor in the Japanese, Indian, Chinese and Canadian markets.
Globally, strong competition is found through top competitors, such as Cardinal Health, Cook Medical, Medtronic, Avanos Medical, Pentax, and others.
All Companies Analyzed in this Study

Abbott
Albyn Medical
Alcor Scientific
Althea Deutschland
Applied Medical Technology
Avanos Medical
BARD
Boston Scientific
C2 Therapeutics
CapsoVision
Cardinal Health
Changzhou Health
Carestream
CONMED
Cook Medical
CORPAK
CSA Medical
Diversatek Healthcare
ELLA-CS
EndoGastric Solutions
Endo-Flex
Endo-Therapeutics
ERBE
Ethicon
Fratelli Pettinaroli
Fresenius Kabi
Fujifilm
GE Healthcare
Genii
GI Supply
Hobbs Medical
IntroMedi
Jinshan Science & Technology
Karl Storz
Leufen Medical

Mederi Therapeutics
Medicina
Medi-Globe
Medigus
Medivators
Medline
Medtronic
Merit Endotek
Micro-Tech Endoscopy
Mobile Instrument
Moog
MTW Endoskopie
Nestlé
Northfield Instruments
Nutricia
Olympus
Pennamed
Pentax
Philips
Rendoscopy
RF
Richard Wolf
S&G Biotech
Siemens
Sonoscape
STERIS
Sumitomo Bakelite
Taewoong Medical
Telemed Systems
TeraRecon
Torax Medical
US Endoscopy
Viatronix
Vital Images
Vygon
Statistics and Procedure Trends
There are currently over 57.43 million total gastrointestinal procedures performed in the United States annually. The largest segment is GI endoscopy, which accounts for approximately 56% of the total procedure volume. GI endoscopy is one of the most widely performed medical procedures in the United States. The majority of these procedures are screenings related to colon cancer or the removal of abnormalities from the GI tract. It is important to note that there is significant overlap between the procedures considered and a patient can, and often does, undergo multiple procedures at one time.
In Europe, this total number is well over 38 million procedures, the largest segment is GI endoscopy, which accounts for approximately 46% of the total procedure volume.
According to the Acid Reflux (GERD) Statistics and Facts, written by Julie-Ann Amos, medically reviewed by George Krucik, MD, June 2012, 60% of the adult population experience some type of GERD within a year and up to 30% have weekly symptoms. Approximately seven million people in the US have some symptom of GERD. GERD affects 20% of Americans, according to the National Institute of Diabetes and Digestive and Kidney Diseases (NIDDK).
Latest Market Developments
August 2018 – Medigus announces exclusive distribution agreement with Micro-Tech Endoscopy
May 2018 – Merit Medical enters strategic alliance and worldwide distribution with NinePoint Medical
June 2018 – Merit Medical announces distribution partnership with Taewoong Medical
See many more by requesting a free sample report of this analysis.
For a Full Table of Contents From Any of the Country Reports in this Global Series, please
Contact iData
One of the the most accurate methods of market research in the medical device industry is to analyze the procedure volumes and trends. Through this study on gastrointestinal devices, iData Research has performed an analysis on the following procedure segments in order to increase the accuracy of our market sizing, and provide you with the volume of procedures over a 10 year range. While the below market segmentation map is representative of the United States, procedure volume data is also provided for the other regions within this complete series.
Procedure Volume Analysis Segments in the United States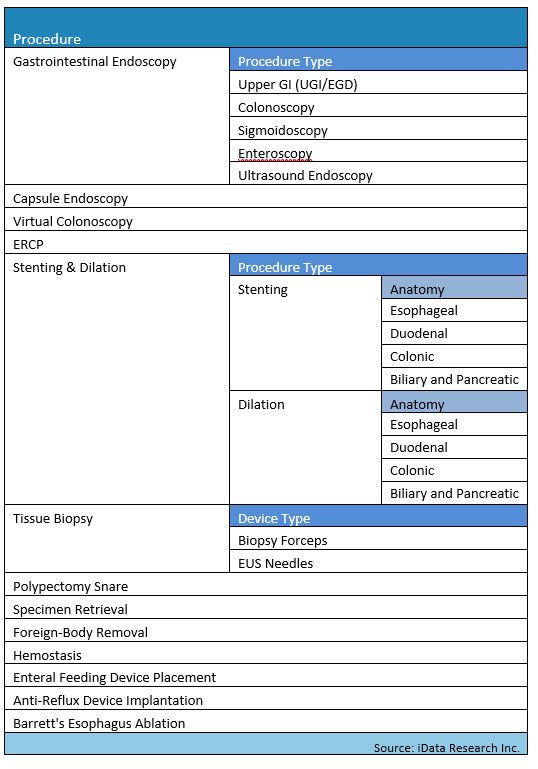 iData's 9-Step Research Methodology
Our reports follow an in-depth 9-step methodology which focuses on the following research systems:
Original primary research that consists of the most up-to-date market data
Strong foundation of quantitative and qualitative research
Focused on the needs and strategic challenges of the industry participants
Step 1: Project Initiation & Team Selection During this preliminary investigation, all staff members involved in the industry discusses the topic in detail.
Step 2: Prepare Data Systems and Perform Secondary Research The first task of the research team is to prepare for the data collection process: Filing systems and relational databases are developed as needed.
Step 3: Preparation for Interviews & Questionnaire Design The core of all iData research reports is primary market research. Interviews with industry insiders represent the single most reliable way to obtain accurate, current data about market conditions, trends, threats and opportunities.
Step 4: Performing Primary Research At this stage, interviews are performed using contacts and information acquired in the secondary research phase.
Step 5: Research Analysis: Establishing Baseline Estimates Following the completion of the primary research phase, the collected information must be synthesized into an accurate view of the market status. The most important question is the current state of the market.
Step 6: Market Forecast and Analysis iData Research uses a proprietary method to combine statistical data and opinions of industry experts to forecast future market values.
Step 7: Identify Strategic Opportunities iData analysts identify in broad terms why some companies are gaining or losing share within a given market segment.
Step 8: Final Review and Market Release An integral part of the iData research methodology is a built-in philosophy of quality control and continuing improvement is integral to the iData philosophy.
Step 9: Customer Feedback and Market Monitoring iData philosophy of continuous improvement requires that reports and consulting projects be monitored after release for customer feedback and market accuracy.